---
Album info
Album including Album cover
I`m sorry!
Dear HIGHRESAUDIO Visitor,
due to territorial constraints and also different releases dates in each country you currently can`t purchase this album. We are updating our release dates twice a week. So, please feel free to check from time-to-time, if the album is available for your country.
We suggest, that you bookmark the album and use our Short List function.
Thank you for your understanding and patience.
Yours sincerely, HIGHRESAUDIO
1

Baghon Main

06:44

2

Diya Hai

05:40

3

Inayaat

07:47

4

Last Night

05:58

5

Mohabbat

07:42

6

Saans Lo

07:31

7

Suroor

05:12

8

Udhero Na

05:03

Total Runtime

51:37
Info for Vulture Prince (Deluxe Edition)

"Vulture Prince" is the third album from Brooklyn-based Pakistani composer Arooj Aftab. Championed by NPR, who praised her composition as one of the "Greatest Songs By 21st Century Women+," and the The New York Times, who celebrated her work as one of the "Best Classical Music Tracks of 2018," Aftab's liminal sound floats between classical minimalism and new age, Sufi devotional poetry and electronic trance, jazz structures and states of pure being. On "Vulture Prince," the composer's remarkable voice, backed by a team of renowned musicians, transports listeners to worlds once known.
"'Vulture Prince' is about revisiting places I've called mine," says Aftab, "places that don't necessarily exist anymore. It's about people, friendships, relationships—some relationships that were unexpectedly short term, and how to deal with that."
While writing "Vulture Prince" Aftab lost her younger brother, Maher, and she dedicates this album to his memory—a signal of emergence from loss and grief. "E quindi uscimmo a revider la stelle," as Dante says at last, out of the inferno, "and thence we came forth to see again the stars."
Acting as a second chapter to Aftab's 2015 debut, Bird Under Water, Vulture Prince opens with a new composition of "Baghon Main," a track from her first album. The lead song, along with the avian album titles, serves to tie the two records together. "The Tower of Silence comes to mind," says Aftab, "the Parsi funeral structure where their beloved deceased are left to be consumed by vultures, thus returning to the cycle of life. These sort of shapeshifting elements, the burning desire to embody and lead this mystic ancestral power, growth as a person and musician, all led to Vulture Prince."
Of course, Aftab's signature songwriting style also led to Vulture Prince. The composer has an uncanny ability to make music with layers upon layers of instrumentation, yet somehow it all feels very light, uncluttered, minimal on the ears. Aftab's music then mirrors her voice, ethereal yet heavy—like a cloud crossed with a boulder.
A graduate of Berklee College of Music, the composer channels artists from Terry Riley to Abida Parveen, and has played venues from Lincoln Center to (Le) Poisson Rouge to the Museum of Modern Art. In 2020, Aftab composed music for the Academy Award-shortlisted film Bittu and sang on Residente's Latin Grammy Award-winning single "Antes Que El Mundo Se Acabe." On Vulture Prince, she is backed by an all-star cast, including Badi Assad, Maeve Gilchrist, Jamey Haddad, Bhrigu Sahni, Kenji Herbert, Lady Jess, Jarvis Benson, Malcom Parson, Jorn Bielfeldt, Shazhad Ismaily, Juliette Jones, Mario Carrillo, Petros Klampanis, Nadje Noordhuis, Gyan Riley, and Darian Donovan Thomas.
So here is "Vulture Prince"—beautiful, powerful, dusky, and, above all, thoughtful. Included on the new album are singles, "Mohabbat" and "Last Night," an old Rumi poem Aftab often sings live, but has never before released. Tucked subtly into "Vulture Prince" is "Saans Lo," a song with words penned by the composer's late friend Annie Ali Khan, who gently advises us to breathe—to move on. After seven minutes, "Saans Lo" fades into a washed-out drone before opening up into the colorful jazz-oriented closer, "Suroor"—a dynamic new world of possibilities.
Arooj Aftab, vocals, production
Maeve Gilchrist, harp (1, 3, 5)
Darian Donovan Thomas, violin (1, 3)
Petros Klampanis, double bass (1), piano (3), double bass (3)
Rootstock Republic: (2)
Juliette Jones, violin
Lady Jess, violin
Jarvis Benson, viola
Malcom Parson, cello
Nadje Noordhuis, flugelhorn (3, 5)
Bhrigu Sahni, guitar (4)
Mario Carrillio, double bass (4)
Jorn Bielfeldt, drums (4)
Jamey Haddad, percussion (5)
Gyan Riley, guitar (5)
Shahzad Ismaily, synthesizer
Kenji Herbert, guitar (6)
Annie Ali Khan, lyrics (6)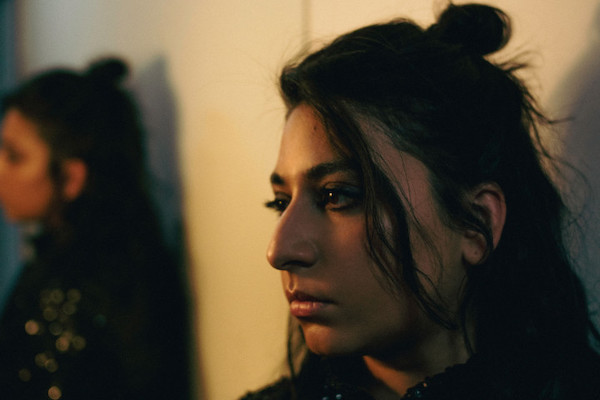 Arooj Aftab
Since the beginning of her career, which followed her musical studies at Berklee, Arooj Aftab has tried to reconcile the different aspects of her life in her compositions. Her origins, the pain of seeing the treatment of immigrants by the great international powers and her new Western life are all intertwined in everything she does. In 2021 she gave us the beautiful Vulture Prince. Less deeply rooted than on her previous releases, the folk music of Asia still shines through in many aspects of this meeting of two worlds.
"Ethereal" is always a hard word to use, but for some reason, it crops up everywhere and for Arooj Aftab: It's just impossible not to feel the full ethereal spirit of her music.
In my head there's always a whole bunch of songs and ideas. And I'm sure that's true of many artists. I feel like I'm just always like piecing things together, subconsciously, as I'm doing other stuff. Now that I'm touring, I've got all these disjointed conversations with myself happening about the next record so I'm just kind of thinking about it all the time. When more ideas start to feel good I feel like we should start going into the studio.

This album contains no booklet.