---
Album info
Album including Album cover
1

Chedvah

02:52

2

Letters from the Border

04:07

3

Fast Awake

03:36

4

Tangles

03:28

5

A Bridge of Starlings

07:05

6

Fields

03:27

7

My Sister the Swimmer

04:24

8

A Guide to Gothenburg for the Sleepless

04:34

9

The Only Thing

02:37

10

Psalm22

05:30

Total Runtime

41:40
Info for Letters from the Border

British poet, songwriter, composer and multi-instrumentalist Ben Osborn presents his debut album Letters from the Border, due out on April 19th 2019. The result of an extraordinary musical partnership with the head of Nonostar Records – German experimental violinist Alex Stolze - the album was created at the remote Nonostar Studio on the German-Polish border in the summer of 2018. It includes the acclaimed singles Fast Awake (November 2018) and A Bridge of Starlings (February 2019).
Channelling Leonard Cohen-esque balladry, Ben's penetrating poetic lyrics are set against ethereal string arrangements, skittering, Bjork-like beats and dreamlike Erik Satie inspired piano chords. The studio's rural location provided another level of sound, as the birds around the building would make their way onto many of the recordings. Ben explains, "I was reading a book about Jewish mythology that said that the voices of sparrows were thought to contain souls, so I made the connection with all the birds around the studio, whose voices made it onto many of the tracks".
A mystical subtext is present from the opening instrumental "Chedvah", named after an obscure Hebrew word for joy. For Ben, it represents "the joy of connecting to something bigger than yourself. The piece follows a numerical sequence based on the Hebrew letters of the word, taught to me as a breathing meditation by the artist Daniel Laufer. These are the first letters from the border."
But the studio's wild borderland setting was also a reminder of the dangerous reality of the border for those who have to cross it. The opening lines of the album's title track - "When the fire swept over this continent / a host of sparrows rose from the broken things" - evoke a strange and broken world, at once the stories of Ben's Eastern-European Jewish ancestry and the struggles faced by migrants and refugees today. "My ancestors came from Europe to the US before WWII," Ben explains. "My great-grandfather was sending letters back to his family in Europe, but he didn't know that they had already been killed. So he never received a reply to those letters."
These themes of mysticism and global scale catastrophe are in turn set against intimate honest tales such as "My Sister The Swimmer", an exploration of nostalgia and unspoken family conflicts, and "A Guide to Gothenburg For The Sleepless" which examines the universal experiences of grief and bereavement from a deeply personal perspective.
Ben Osborn, vocals, guitar
Produced and mixed by Alex Stolze
Additional vocals by Bethany Roberts
Additional electronics by Michael Bleach
Harp on Chedvah by Rowan Coupland
Clarinet on My Sister the Swimmer by Rachel Margetts
Mastered by Andreas Lupo Lubich at Calyx, Berlin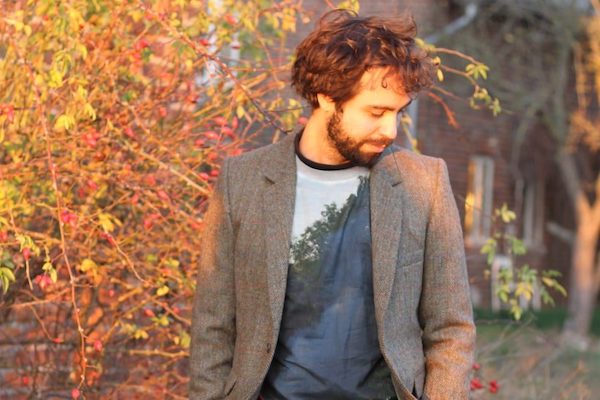 Ben Osborn
is a composer, poet and multi-instrumentalist. Already known as a composer for theatre and film and a lyricist and librettist, 2019 sees the release of his debut album Letters from the Border.
Channelling Leonard Cohen-esque balladry, Ben draws also from electronica, folk and 20th century art music. Ethereal string sections rise and fade, Björk-like beats skitter, Erik Satie piano chords drift into view: in less capable hands it might sound miscellaneous, but he weaves his disparate influences into textural tapestries that sound like nobody but him.
Ben's hotly anticipated debut album Letters from the Border, due for release in early 2019 on Nonostar Records. The result of an extraordinary musical partnership with producer and violinist Alex Stolze, the album was created in two months at the remote Nonostar Studio on the German-Polish border.
Characterised by originality and honesty, Ben's writing is brilliantly offset by the soundworlds that he and Alex craft. In 'Fast Awake', an early morning anxiety attack is described over complex electronic polyrhythms; 'A Bridge of Starlings' explores the surreal side of love in a landscape of found sounds and choral voices; 'A Guide to Gothenberg for the Sleepless' deals unflinchingly with grief over a sea of synthesisers and violins; 'My Sister the Swimmer' contrasts sunlit nostalgia with unspoken family tensions.

This album contains no booklet.