---
You Will Not Die (Deluxe Version) Nakhane
Album info
Album including Album cover
I`m sorry!
Dear HIGHRESAUDIO Visitor,
due to territorial constraints and also different releases dates in each country you currently can`t purchase this album. We are updating our release dates twice a week. So, please feel free to check from time-to-time, if the album is available for your country.
We suggest, that you bookmark the album and use our Short List function.
Thank you for your understanding and patience.
Yours sincerely, HIGHRESAUDIO
1

Violent Measures

04:11

2

Clairvoyant

03:05

3

Interloper

04:09

4

You Will Not Die

03:52

5

Presbyteria

04:34

6

The Dead

04:06

7

Star Red

04:08

8

Fog

04:08

9

By the Gullet

04:34

10

All Along

03:09

11

Teen Prayer

04:19

12

Clairvoyant (Radio Mix) (44.1 khz)

03:00

13

New Brighton (feat. ANOHNI) (44.1 khz)

03:19

14

Sweet Thing (44.1 khz)

05:30

15

Age of Consent (44.1 khz)

04:17

16

Medicine (44.1 khz)

03:05

17

Hey, Lover (44.1 khz)

05:26

18

New Brighton (DJ Maphorisa Version) (44.1 khz)

04:41

Total Runtime

01:13:33
Info for You Will Not Die (Deluxe Version)

Nakhane's album You Will Not Die has received incredible acclaim from the likes of Observer, Q, DIY, Loud & Quiet, Clash and more. Celebrated for its honesty, lyrical prowess and diverse instrumentation, You Will Not Die is the sound of an artist truly finding his voice. The record is underpinned by synthesizers while jumping back and forth between the piano and guitar to uphold the songs' pop structures. The final arrangements came together in London with the help of skilled producer and Bat For Lashes collaborator Ben Christophers.
Having grown up in Port Elizabeth after being born in Alice, South Africa, and armed with a voice so pure it is reminiscent of Anohni's – he admits that "she changed my life, as did James Baldwin" – the polymorphic artist (actor, musician, novelist, poet, songwriter) seems to have fallen from the heavens, so captivating is he. Magnetic, his androgynous, almost painfully juvenile physique conceals the torment that still tore at his soul until recent years under its beauty and grace. "When I was Christian and prayed to God everyday, I had only hatred for myself. Every day of my life, I was doing all I possibly could to be like everyone else, to be heterosexual. I was even convinced I would be able to 'heal' my homosexuality. I was living in constant fear; controlling myself at all times." As the descendant of artists and musicians, only the music and vocal harmonies that this 29-year-old Xhosa (the second biggest ethnic group in South Africa after the Zulu) has been practicing since his childhood with his mother, sisters and aunts had the power – wholly magical – to alleviate him of his burden of shame and anxiety. "All of a sudden on stage I could be precisely who I wanted to be". His first album "Brave Confusion", which was released in his homeland in 2013, already touched upon theses torments and paradoxes.
His second, "You Will Not Die", plays into an even deeper need for emancipation. Having freed himself from the judgment of others by coming out, Nakhane saved himself from that of God – by renouncing his Christian faith. The decision came about after a dream of his that served as inspiration for the album's title. Music was the only thing able to fill this inner emptiness, as overwhelming and stifling as a deep depression. This is what makes Nakhane an alternative artist as unusual as he is universal, and his songs so moving, sometimes to the point of tears. His ability to embrace that moment of intense vulnerability without attempting to subdue it, denature or polish it to excess. To create bold music, all while remaining accessible to the point where some songs occasionally have the ring of an instant classic: These were the guidelines with which he started work on this record, which he spent a long time completing.
With that in mind, Nakhane, a methodic artist, set some fundamental rules. "I knew I wanted some electronic sounds. In Johannesburg, you hear a lot of artists forcing themselves to play acoustic-only to sound more 'authentic', but it doesn't work. The sounds of gay techno clubs rang much truer to me." Writing with a computer and synthesizers while jumping back and forth between the piano and an acoustic guitar to uphold the songs' pop structures, whilst avoiding getting lost in the infinite possibilities of the electronic, soon became his creative method. Next came the testing of stripped down versions of every song on the acoustic guitar. Then came the time for final arrangements in London, with skilled producer Ben Christophers (Bat For Lashes). Both accomplices had a shared desire to explore their experimental follies without ever making room for compromise.
Throughout the album, each of the musical influences that cradled him as a child and defined him as a musician become apparent: American musicals, Marvin Gaye, Nina Simone, Ahnoni, David Bowie, Busi Mhlongo, Simphiwe Dana, Mbongwana Star, TkZee.
And made him what he is today: A South African artist with the potential to become a planetary star.
Nakhane, Gesang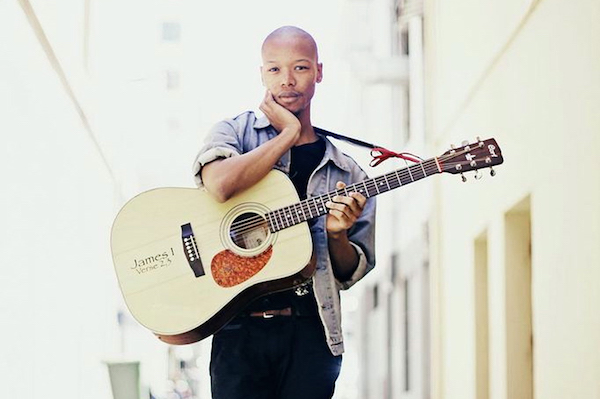 Nakhane Toure
is a Johannesburg-based singer songwriter. Born on 3 February 1988 in Alice, a small town in the Eastern Cape, he grew up predominantly in Port Elizabeth before relocating to Johannesburg at age 15. While his friends listened to Top 40 pop songs on the radio, he spent his time discovering and loving the music that his parents listened to. These include Marvin Gaye, The O'Jays, Paul Simon and choral music. He often sang in choirs his family were members of, intensifying his love for harmony and later vocal multi-tracking. It wasn't until the age of 19 that he took up the guitar after hearing Radiohead's 'In Rainbows' . He had previously played the trombone and steel drums in school bands and orchestras, after losing patience with the piano, which he would later play (albeit in a rudimental fashion). It was also at this point in his life that he began to appreciate folk music and rock bands. While not losing his love for 60s and 70s soul music, his love for 'guitar music' and 70's avant-grade fusion jazz grew. But on top of those international bands was the appreciation for African musicians.
His debut album 'Brave Confusion' put Nakhane as a frontrunner at the 2014 SAMA awards, eventually earning the young singer Best Alternative Act, but missing out in other categories he was nominated in, like Best Newcomer, Best Bale Artist and Album of the Year. Nakhane is also notable for being one of South Africa's few openly gay pop stars.

This album contains no booklet.