---
Album info
Album including Album cover Booklet (PDF)
I`m sorry!
Dear HIGHRESAUDIO Visitor,
due to territorial constraints and also different releases dates in each country you currently can`t purchase this album. We are updating our release dates twice a week. So, please feel free to check from time-to-time, if the album is available for your country.
We suggest, that you bookmark the album and use our Short List function.
Thank you for your understanding and patience.
Yours sincerely, HIGHRESAUDIO
1

In Motion, Pt. 1

05:29

2

Variation 25 (From J.S. Bach: Goldberg Variations, BWV 988)

07:17

3

Vashkar

04:56

4

In Motion, Pt. 2

06:55

5

Glimmer Of Hope

05:52

6

Riders On The Storm

05:43

7

In Motion, Pt. 3

06:46

Total Runtime

42:58
Info for En attendant

"Their years together have resulted in an ensemble with an utterly symbiotic creative flow," observed Don Heckman in the Los Angeles Times, when the Marcin Wasilewski Trio was first making its presence felt on the international jazz scene. The improvisational communication among the players has continued to deepen with the years, along with their range of creative options. En attendant pays testimony to the musicians' far-reaching imagination and to the ways in which the group's lucid musical language can integrate influence from disparate sources.
Recorded just prior to their Arctic Riff collaboration with Joe Lovano, En attendant finds Marcin Wasilewski, Slawomir Kurkiewicz and Michal Miskiewicz in thoughtful, exploratory mood. The multifaceted Polish group illuminates a characteristically wide span of music, the scope extending from Bach to group improvisation. On En attendant, collectively created pieces are juxtaposed with Wasilewski's malleable "Glimmer of Hope", Carla Bley's timeless "Vashkar", The Doors' hypnotic "Riders on the Storm" and a selection from Johann Sebastian Bach's Goldberg Variations, transformed in the context. Fluidity is the hallmark, allied to the deep listening made possible by more than a quarter-century of collaborative music-making.
The tripartite "In Motion" offers the most thorough account yet of the trio's capacity for finding forms in the moment, shaping and developing musical structures with a running sense of architectural proportion. "In Motion Part I" gives way to Variation 25 from the Goldberg Variations, a reminder that all roads lead to Bach, eventually. The trio's take on the minor key aria gently probes its atmosphere of dark passion and encircles its exquisite melody.
Paul Bley's Footloose! recording of 1963 was where many musicians first learned about Carla Bley as a composer. As Marcin Wasilewski recently noted it "opened the gates to something undiscovered", including the inexhaustible mysteries of tunes like "Vashkar," which has become one of the pieces the trio likes to revisit, always finding something new inside it.
Pop and rock cover versions have also long been part of the trio's story. Earlier recordings have found the group re-contextualising Björk's "Hyperballad", Prince's "Diamonds and Pearls", the Police's "Message in a Bottle" and more. The Doors' iconic "Riders on the Storm" now joins the list, in a subtly unconventional arrangement. While the rhythmic feel here hews to a bubbling groove close to the original, bassist Slawomir Kurkewicz is to the fore for much of the tune, soloing inside the form, while Wasilewski mines the harmonies.
Marcin's rubato ballad "Glimmer of Hope" moves like the waves, floating its glistening motive through changing tonalities over Michal Miskiewicz's detailed cymbals and drums.
Marcin Wasilewski Trio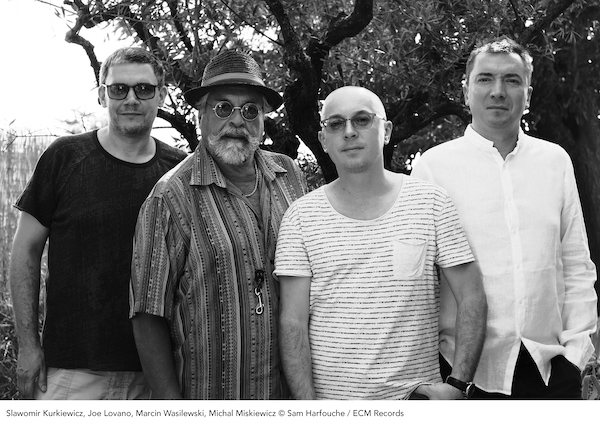 The Wasilewski Trio
The trio's members have been playing together since high school days in Koszalin, Poland; the present line-up was established in 1993. Marcin Wasilewski, Slawomir Kurkiewicz and Michal Miskiewicz first recorded for ECM as members of Tomasz Stanko's quartet on the album Soul of Things in 2001, soon followed by Suspended Night and Lontano. Previous ECM albums in trio format are Trio (2004), January (2007), Faithful(2011), and Live (recorded 2016, released in 2018). For Spark of Life (2014), the trio was joined by Swedish saxophonist Joakim Milder. Wasilewski, Kurkiewicz and Miskiewicz also appear on Norwegian guitarist Jacob Young's album Forever Young (2013).
Joe Lovano made his ECM debut in 1981 with Paul Motian's Psalm. Further recordings with the Motian/Lovano/Frisell are It Should have Happened A Long Time Ago, I Have The Room Above Her, and Time And Time Again. Lovano has also recorded for ECM with John Abercrombie (Open Land, Within A Song), Marc Johnson (Shades of Jade, Swept Away), and Steve Kuhn (Mostly Coltrane). 2019 saw the release of two critically-acclaimed recordings with Lovano – Trio Tapestry, introducing Joe's trio with Marilyn Crispell and Carmen Castaldi, and Roma, a live album with Enrico Rava, Giovanni Guidi, Dezron Douglas and Gerald Cleaver.
As an autonomous force, the trio's biography begins in 1990, when Wasilewski and Kurkiewicz as 15-year old students at the Koszalin High School of Music began playing jazz together. Their first trio was formed the following year. In 1993 drummer Miskiewicz joined them, and the group's line-up has been stable ever since. As the Simple Acoustic Trio they won awards in their homeland and issued five albums on local labels. Their first international release, for ECM, entitled just "Trio" was recorded in 2004 and released the following year, immediately winning the Quarterly Prize of the German Record Critics. In the US, too, critics were taking notice. "Their years together have resulted in an ensemble with an utterly symbiotic creative flow," wrote Don Heckman in the Los Angeles Times.
The release of "January" - recorded in New York with producer Manfred Eicher early in 2007 - also signals a change of name. Henceforth the group is, simply, the MarcinWasilewski Trio. The group continues to be run as a collective of equals, but its members have come to accept the convention that piano trios are traditionally identified by their pianists. Besides, Marcin is the band's principal songwriter: he contributes four pieces to the present disc, including the title track and the beautiful opener, "The First Touch". Wasilewski also, at the urging of the producer, addresses pieces written by Gary Peacock and by Carla Bley - pieces identified with two major pianists, respectively Keith Jarrett and Paul Bley. Wasilewski does not flinch from the challenge but, with his trio partners, makes of this music something of his own.

Booklet for En attendant