---
Album info
Album including Album cover
1

Ways of Opinion

02:59

2

Paddy Fahey's Reel

02:08

3

Smile

04:13

4

The Safe Way Out

03:31

5

The Hollow Man

04:18

6

The Mystery Inch Set

03:20

7

Too Much to Ask

04:47

8

Take the Time

03:55

9

Blank

04:37

10

We Ask How

04:17

Total Runtime

38:05
Info for Turbulence

Strings & Things are a four-piece neo-trad band based in Tipperary with one member in Galway who meld genres of rock, folk, pop, and trad to create their unique sound. They have been entertaining the audiences with energetic live performances, a huge repertoire of traditional music, and thoughtful, innovative original music. Now they release their first single "Jigtime" off there highly anticipated second original album dubbed "The Unsolicited Dance" which is due for release later on in the year. Jigtime" started as a poem by Ethel Mongey, mother of band member Sean, who approached the band and asked them to put music to the poem. The poem is about the unconditional love of a mother for her children, and a mother's realization that her kids are growing up and don't need their parents as much.
Jigtime is an energetic tune based on guitars and steady beats, the lead singer's remarkable voice and accent stand above everything and the pipes wrap everything like a Christmas present. There is an undeniable trad influence and therefore the fiddle is a must. The frantic pace of the music brings hope and the deep lyrics create a unique combination and something that will stay with the listeners.
"my life it goes unnoticed like a rocket lost in space...
"I will always be here for you like a shining star so bright..."
Strings & Things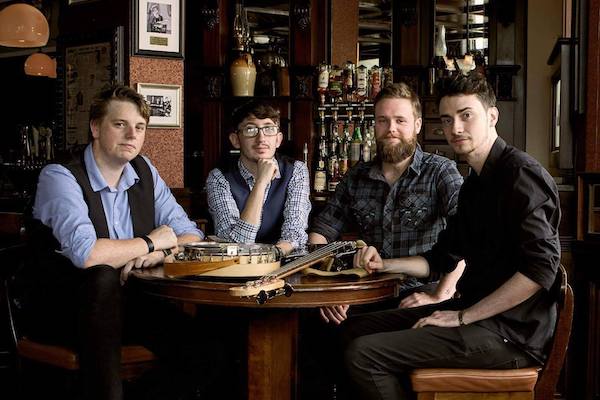 Strings & Things
are a high energy contemporary folk band from Tipperary/Galway, Ireland. Over the years they have created a unique sound mixing various genres from their backgrounds. Influences include, Trad, Folk, Pop and Rock. ​
They are currently at home in Ireland after a long stint playing at Raglan Road in Disney Springs in Orlando, Florida, ended due to current affairs. ​
When at home they frequently gig in various venues and pubs around the country and sometimes go across to London.
They used the opportunity in Florida to record their upcoming album, "The Unsolicited Dance", which is due for release on June 18, 2021.

This album contains no booklet.