---
Album info
Album including Album cover
I`m sorry!
Dear HIGHRESAUDIO Visitor,
due to territorial constraints and also different releases dates in each country you currently can`t purchase this album. We are updating our release dates twice a week. So, please feel free to check from time-to-time, if the album is available for your country.
We suggest, that you bookmark the album and use our Short List function.
Thank you for your understanding and patience.
Yours sincerely, HIGHRESAUDIO
1

Virtue Signal

04:09

2

What Dreams May Come

03:59

3

Heretic in the Modern World

04:09

4

Parachute

04:01

5

Under No Illusion

04:10

6

Down and Out

03:59

7

The Lights Are Going Out

05:12

8

The Bitter Truth

04:03

9

Until the Shadows Fall

04:07

10

Rise Then Fall

03:11

11

Steal the Faith in Me

03:55

Total Runtime

44:55
Info for Demons

Few modern bands embody the true spirit of heavy metal as well as Savage Messiah, whose dogged perseverance, passion and conviction harks back to the hard graft of metal's masters of old. On the band's fifth full-length album, Demons, due to release on May 17th, this has never been more evident. Vintage bullet-belt influences meet modern metal with 11 new songs that will feel as much at home on the airwaves and playlists as reverberating around sweaty mosh-pits.
Demons is punctuated by sentiment more personal than anything the band have shared in the past. Singer and guitarist Dave Silver describes a band reborn on the new record. "I looked at what we've done in the past and knew we could be taking this band way further," says Silver. "When you become a parent, your worries become multi-faceted," he explains. "You worry about what happens to you and those around you. It's the weirdest thing, the love you feel for your child, almost indescribable. I've never thrown myself into my lyrics like that before."
Demons also sees a shift in production for Savage Messiah. After making four albums with Scott Atkins, the group enlisted producer David Castillo, renowned for his work with metal stalwarts including Opeth, Dimmu Borgir and Soilwork. The album was mixed by Jens Bogren (Arch Enemy, Amon Amarth, Kreator) at his Fascination Street Studios in Sweden.
Savage Messiah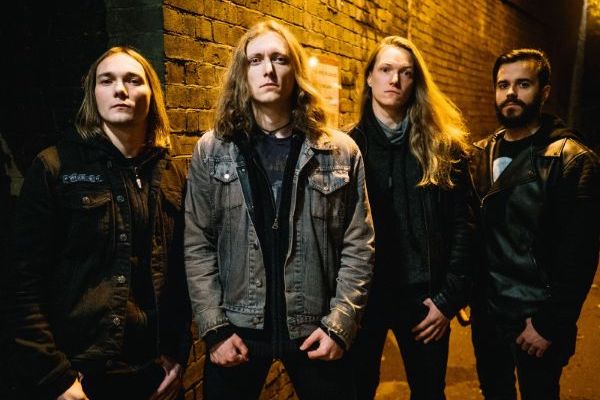 Savage Messiah
If music is a universal language, heavy metal must surely be its most potent and inspirational dialect. Formed in London, Savage Messiah have steadily built a reputation as one of the UK's most distinctive metal bands, with a sound that embraces the best of metallic strains, both past and present, and a tireless devotion to writing life-affirming anthems. As frontman and guitarist David Silver proudly states, 2017 marks the moment that these dedicated purveyors of gleaming British steel reach their moment of optimal, unifying power.
"The zeitgeist of this particular era is division. That's everywhere you look, and the metal scene is no different," David begins. "If you go on Blabbermouth and they post something about, say, Avenged Sevenfold, all you see is 'This band sucks!' You rarely see people saying 'I love this! This is great!' So if we have a USP, it's that we're a band that can have commercial appeal, because we could appeal to a Trivium fan or an Avenged fan, but hopefully we also have some real metal credibility too. We've got something cool to offer and I hope people can hear it in an objective way and decide for themselves."
2017 is destined to be a huge milestone for Savage Messiah, not least because the band have just recorded the finest record of their career so far. Their potential was always apparent: from the youthful, thrash-driven fury of 2009's debut album Insurrection Rising (released through esteemed underground imprint Candlelight Records) to the bold, epic clangour of the two albums the band released through the legendary Earache Records, Plague Of Conscience (2012) and The Fateful Dark (2014), David and his comrades have routinely hit creative heights that their peers could only dream about. Along the way they have gained a huge audience in Japan, where the band famously conquered the legendary Loud Park festival in October 2016, and have played shows across Europe with the likes of Amon Amarth, Trivium and Soulfly. But 2017 marks the moment that Savage Messiah truly live up to and surpass expectations. This time, the band are determined to play to their strengths.
"This time we looked at what we'd done well on previous albums and what we'd done badly!" laughs David. "We wanted to work with [producer/engineer] Scott Atkins again, because we've worked with him on all our records and we feel great loyalty to him. He'd been saying to us, 'Stop doing Exodus riffs!" and that we sounded better doing more straight ahead, song-based heavy metal, and we agreed! So that became the emphasis musically. With everything else, the reset button needed to be pressed. We've ditched the clichéd image and silly imagery and we're focusing on what's important."
…and what's important is songs: huge, euphoric heavy metal anthems with insistent, irresistible melodies, blazing lead work and the fulsome, muscular sound of a great band fizzing with chemistry and commitment. The fourth Savage Messiah album is a revelation and by far the most powerful and memorable collection of songs that the band have produced to date. Upholding a grand tradition of British metal songwriting that stretches back to Maiden, Priest and Sabbath, the band have reached new heights of efficacy by focusing on timeless melodies while embracing both state-of-the-art sonic oomph and a stripped down, unpretentious and streamlined aesthetic that suits their gritty onslaught to a tee.
From the rampaging bluster of the opening Hands Of Fate and the spine-tingling melodic melodrama of Lay Down Your Arms through to the bold refrains and razor-sharp histrionics of Eat Your Heart Out and the emotional powerhouse Wing & A Prayer, Hands Of Fate is the kind of honest, unpretentious and utterly enthralling heavy metal album that has been in short supply in recent times. Both ruthlessly contemporary and reassuringly classic, it amounts to a wholesale rebirth for this most ambitious of modern metal bands. By nailing the essence of metal's unwavering spirit and concentrating on writing songs that demand engagement and emotional connection, Savage Messiah have hit the artistic jackpot. This is heavy metal designed with intelligence and delivered with passion.
With a tentative release date set for autumn 2017, the new Savage Messiah album simply oozes class, clarity and renewed confidence, and it can only propel these devout servants of the riff to the heights that their abilities and charisma have long demanded. While other young bands focus on whichever ephemeral musical trope is red hot this week, Savage Messiah are taking the more shrewd and honest approach of giving heavy music's fundamental principles a robust upgrade. The results make it more than clear that the universal language of heavy fucking metal has seldom been spoken with more conviction.

This album contains no booklet.