---
Endless Forms Most Beautiful (Deluxe Version) Nightwish
Album info
Album including Album cover Booklet (PDF)
I`m sorry!
Dear HIGHRESAUDIO Visitor,
due to territorial constraints and also different releases dates in each country you currently can`t purchase this album. We are updating our release dates twice a week. So, please feel free to check from time-to-time, if the album is available for your country.
We suggest, that you bookmark the album and use our Short List function.
Thank you for your understanding and patience.
Yours sincerely, HIGHRESAUDIO
1

Shudder Before The Beautiful

06:29

2

Weak Fantasy

05:24

3

Élan

04:48

4

Yours Is An Empty Hope

05:39

5

Our Decades In The Sun

06:38

6

My Walden

04:39

7

Endless Forms Most Beautiful

05:08

8

Edema Ruh

05:15

9

Alpenglow

04:49

10

The Eyes Of Sharbat Gula

06:04

11

The Greatest Show On Earth

23:58

12

Shudder Before The Beautiful (instrumental)

06:20

13

Weak Fantasy (instrumental)

05:24

14

Élan (instrumental)

04:46

15

Yours Is An Empty Hope (instrumental)

05:39

16

Our Decades In The Sun (instrumental)

06:39

17

My Walden (instrumental)

04:38

18

Endless Forms Most Beautiful (instrumental)

05:07

19

Edema Ruh (instrumental)

05:16

20

Alpenglow (instrumental)

04:49

21

The Eyes Of Sharbat Gula (Instrumental)

06:03

22

The Greatest Show On Earth (instrumental)

24:08

Total Runtime

02:37:40
Info for Endless Forms Most Beautiful (Deluxe Version)

Eighth album by the Finnish symphonic power metal band. The band's first album with singer Floor Jansen, it debuted at #12 in the UK Albums Chart and features the singles 'Élan' and the title track "Endless Forms Most Beautiful".
Symphonic metallers Nightwish are back with their anticipated new album, "Endless Forms Most Beautiful".
"Endless Forms Most Beautiful" is the first Nightwish studio album to feature Dutch singer Floor Jansen (Revamp, ex-After Forever) - the splendid chanteuse has been a full-time member since Oct 2012. On drums there is also a new face: on account of health problems, long-time drummer Jukka Nevalainen has had to take a break and is replaced by his good friend Kai Hahto (Wintersun) for touring duties. Finally the quintet was extended by the entrance of multi-instrumentalist Troy Donockley.
Songwriter/arranger and keyboardist Tuomas Holopainen says, "The new members were completely motivated and contributed large parts to the arrangements. They worked as a unit - much more than on all the albums before!"
The album was recorded at the Röskö Campsite in Kitee, and Petrax Studios in Hollola and produced once more by Holopainen, & Tero "Teecee" Kinnunen. This double album also features an instrumental version of the album in its entirety.
The "Endless Forms Most Beautiful" title came from Charles Darwin's "The Origin Of Species" book, where he wrote: "There is grandeur in this view of life, with its several powers, having been originally breathed into a few forms or into one; and that, while this planet has gone cycling on according to the fixed law of gravity, from so simple a beginning endless forms most beautiful and most wonderful have been, and are being, evolved."
"This classic quote is where it all began," comments Holopainen. "The underlying theme of the song is nothing less than the meaning of life, which can be something different for all of us. It's important to surrender yourself to the occasional 'free fall' and not to fear the path less travelled by."
"Endless Forms Most Beautiful" is a virtuoso legacy for eternity. Nightwish were never better.
Floor Jansen, vocals
Marco Hietala, bass, lead vocals (tracks 2, 4 and 11), acoustic guitars, backing vocals
Emppu Vuorinen, guitars
Tuomas Holopainen, keyboards, piano
Troy Donockley, Uilleann pipes, low whistle, bodhran, bouzouki, lead vocals (tracks 6 and 8), backing vocals
Additional musicians:
Kai Hahto, drums
Richard Dawkins, spoken words
Pip Williams, orchestral and choir arrangements and directing
James Shearman, conductor
Metro Voices, choir
Recorded August–September 2014 at Röskö Campsite in Eno, Finland
Produced by Tuomas Holopainen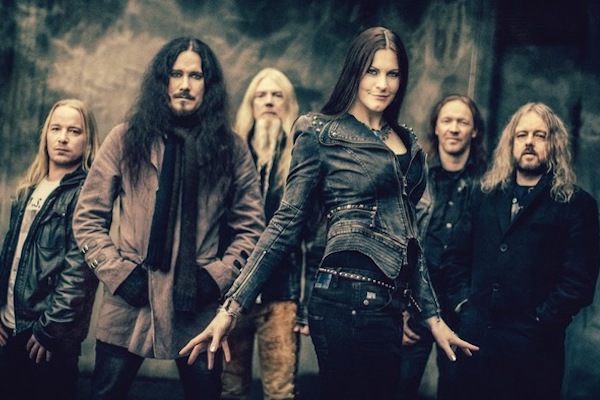 Nightwish
Finland's Nightwish has founded a medium where pure angelic vocal beauty combines with rugged metal guitars, and where intricate keyboard arrangements team up with driving rhythms, creating a soaring stylistic mix. 2003's symphonic metal shining star Century Child has set the band upon a stunning adventure in crafting a unique and genre-defining sound.
Humbly begun in 1997 as keyboardist Tuomas Holopainen's, guitarist Emppu Vuorinen, and trained operatic vocalist Tarja Turunen's ill received acoustic project, they found balance when they added drummer and percussionist Jukka Nevalainen and opted replace acoustic with electric guitars. Entranced with their new identity, NIGHTWISH was quickly signed to Finland's premier label, Spinefarm. Debut Angels Fall First made a huge impression upon the scene thanks to its unique hybrid of sounds and styles, with much of the focus centering on the operatic and enigmatic singing of front woman Tarja. The initial offering was soon followed by the even more progressed and adventurous Oceanborn, which stayed in the Finnish pop charts for over 30 weeks. At this time, they had three singles in the top 10. This success led to packed shows in Finland, and soon to continental European shows and ensuing success. The overseas reactions and a growing cult-like interest in the United States encouraged Century Media to sort out a licensing agreement securing their next studio output for domestic release, as well as the two back catalogue pieces so they could be appreciated by a wider audience. In 2000 the band released their third effort, Wishmaster, immediately going platinum at home and selling well over 20,000 units in the U.S. with very little support or notoriety from the industry and promotional outlets.
The year 2002 was one filled with many successful events for the band. Nightwish acquired bassist Marco Hietala (Tarot, Sinergy), who added another dimension to NIGHTWISH's enveloping sound. Marco, in addition to his commanding bass lines, contributes powerful male vocals. The band returned to long time recording home Finnvox Studios (Stratovarius, Children Of Bodom, Sentenced) to record drum tracks. They then moved to their hometown of Kitee, Finland to record guitars, bass and keyboards. In March 2002 they returned to Finnvox to record vocals, choirs and percussions, and to mix the album. What came out of these recording sessions is sheer magnificence. From the choral introduction of "Bless the Child," the excitement builds into a triumphant tension of rock solid guitar rhythms coupled with the mesmerizing voice that gives pause to angels. "End Of All Hope" mixes the energy and intense excitement of choral arrangements with the sirens' song that is Tarja's voice. Orchestral arrangements add depth and immediacy, which complement the classically trained chorus. The overall feeling is monumental. "Phantom of the Opera" is the band's tribute to the classic story of darkness meets light, and helps to lead into the album's closing track "Beauty of the Beast."
With the release finished, the band embarked on an aggressive European tour. NIGHTWISH also played sold-out shows in Canada and Mexico, and they made their first US appearance headlining the 2003 sold-out ProgPower Fest in Atlanta, Georgia followed by additional sold-out shows at the L'Amour IV Festival in New York.
Continuing to amaze fans with beautifully crafted songs, NIGHTWISH lead listeners on a tremendous journey. From Angels Fall First to Century Child, the band has unrelentingly written music that inspires listeners the way of the world's greatest choirs. To experience NIGHTWISH is to be exalted.
"I only wished to become something beautiful through my music through my silent devotion" - "Ocean Soul", NIGHTWISH, Century Child.

Booklet for Endless Forms Most Beautiful (Deluxe Version)