---
Album info
Album including Album cover Booklet (PDF)
I`m sorry!
Dear HIGHRESAUDIO Visitor,
due to territorial constraints and also different releases dates in each country you currently can`t purchase this album. We are updating our release dates twice a week. So, please feel free to check from time-to-time, if the album is available for your country.
We suggest, that you bookmark the album and use our Short List function.
Thank you for your understanding and patience.
Yours sincerely, HIGHRESAUDIO
1

Return from the Stars

09:35

2

Terminus

07:22

3

Bridgetown

08:56

4

It's Not Alright With Me

10:26

5

Nigeria II

04:37

6

Waste Land

05:16

7

Unacceptable

12:22

8

Lincoln Heights

06:15

Total Runtime

01:04:49
Info for Return from the Stars

Mark Turner's writing for his quartet on Return from the Stars (titled after Stanislav Lem's science fiction novel) gives the players plenty of space in which to move, on an album both exhilarating and thoughtful in its arc of expression. Solos flow organically out of the arrangements and, beneath the often-dazzling interplay of Turner's tenor and Jason Palmer's trumpet, the rhythm section of Joe Martin and Jonathan Pinson roams freely. Although Turner has been a frequent presence on ECM in contexts including the Billy Hart Quartet, the Fly trio, and a duo with Ethan Iverson, Return from the Stars is his first quartet album since 2014's Lathe of Heaven and an essential document of his artistry as a player and his conceptual thinking as a bandleader.
Mark Turner has been a frequent and significant presence on ECM recordings of the last dozen years, bringing his saxophone artistry and his musical commitment to recordings with Enrico Rava, the Billy Hart Quartet, the cooperative Fly trio (with Jeff Ballard and Larry Grenadier), Stefano Bollani and, most recently, Ethan Iverson, on the duo recording Temporary Kings. Albums under Turner's leadership, however, have been rare and Return from the Stars is the first ECM recording to feature his quartet since 2014's Lathe of Heaven.
Turner's writing for his group on Return from the Stars gives the players plenty of space in which to move, on an album both exhilarating and thoughtful in its arc of expression. Solos flow organically out of the arrangements and, beneath the dazzling interplay of Turner's tenor and Jason Palmer's trumpet, bassist Joe Martin and drummer Jonathan Pinson often roam freely. The absence of a chordal instrument keeps the conversational possibilities in the music wide open, as the compositions modulate between the meticulously structured and the loosely guided. Mark Turner puts a lot of faith in intuition and the shared artistic goals of an ensemble, and cherishes the narrative tension arising from the juxtaposition of freedom and responsibility:
"My process in writing is that I write for the people playing," he says. "I don't like to say a lot to them about the compositions. I like to write a piece of music and know that the people I've chosen are going to play it, basically, the way they play. I'd rather they find themselves in the music. The tunes are written in such a way that each musician has a choice in terms of how they take care of what they're supposed to be doing. There are parts written for the horns. Not so much is written for the rhythm section, except for a few 'hits' and maybe time changes in sections. I just give guidelines about how the section should feel and then I let bass and drums figure out how to do it. Whatever makes the rhythm section sound good, that's what we do. Then, the horns will play on top of that. "
Bassist Joe Martin is the sole musician retained from the Lathe of Heaven line-up. He's been playing with Turner in diverse contexts since 1995. And, as he outlined it to Music & Literature magazine: "I always feel, playing with Mark I have to play as well as possible and raise the bar. In the quartet, because there isn't a piano or guitar player to fill a certain harmonic space for everybody, I'm more probably more conscious of my note choices. Just one single note choice changes everything, suggesting tonality, harmony."
Turner met dynamic drummer Jonathan Pinson while playing with Israeli guitarist Gilad Hekselman's group. Pinson's CV begins at a high level: he dived into the music at the deep end, touring with Herbie Hancock, Wayne Shorter and Greg Osby while still in his early twenties. His résumé also includes work with Kamasi Washington, Ambrose Akinmusire, Dave Liebman and many others. Pinson makes his ECM debut with Return from the Stars, as does trumpeter Jason Palmer.
Palmer and Mark Turner first encountered each other as sidemen in bands a decade ago. Mark subsequently played in projects led by the trumpeter, also recording in some of his projects (Places, Rhyme and Reason and The Concert). He singles out Palmer's "willingness to go into zones unknown to him" among his outstanding qualities. The two of them share an encyclopaedic knowledge of the music. The Boston Phoenix has said of Palmer that he "builds fire with his secure tone and the cool deliberation of his solos". The same could be said of Turner, who, according to National Public Radio, "has an innovative sonic signature, a certain floating chromaticism, rhythmic mindfulness and lightness of tone, filled with subtleties."
Return from the Stars takes its title from Stanisław Lem's science fiction novel in which an astronaut returns from an exploratory space mission to find life on earth greatly changed, and his own values out of step with those of a conformist, risk-averse society. Turner's sci-fi enthusiasms are well known, and some observers have perceived a kind of idiomatic 'time travelling' quality in his work: The Guardian described his ECM quartet album Lathe of Heaven (named after an Ursula K. Le Guin story) as "sounding like Birth of the Cool floated over a 21st-century rhythmic concept." Deep study of a range of jazz masters has informed his style, his expressivity on the full range of the tenor saxophone, and the scope of his writing, which brings the music forward while being acutely aware of its history.
Return from the Stars was recorded at New York's Sear Sound Studio and mixed at Studios La Buiss
Mark Turner, saxophone
Jason Palmer, trumpet
Joe Martin, double bass
Jonathan Pinson, drums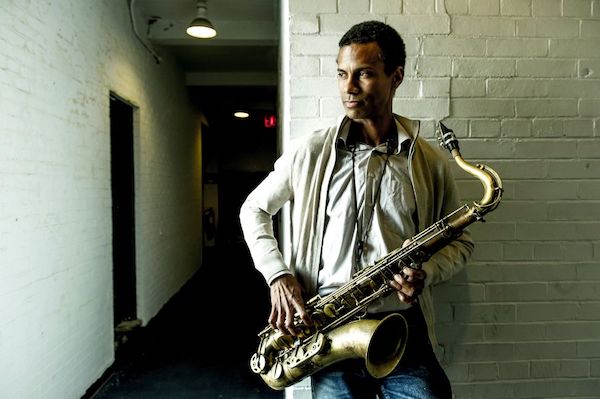 Mark Turner
is recognized as the premier saxophonist of his generation, having influenced an entire worldwide following of young and old saxophonists with his beautifully crafted improvisations, facile ear, graceful and effortless sound and selfless musicianship.
Born November 10, 1965 in Fairborn, Ohio, and raised in Southern California, Turner originally intended to become a commercial artist. In elementary school he played the clarinet, followed by the alto sax and then the tenor in high school. He graduated from Berklee College of Music in 1990 before moving to New York.
Mark Turner's sound is remniscent of that of Warne Marsh, in that he often produces a somewhat dry, woody tone. He also has elements of John Coltrane in his playing. Turner has mentioned both Marsh and Coltrane as influences, and has used elements of both players' styles in his music without resorting to mimicry. Turner's range extends effortlessly up into the high altissimo register, and he makes use of the full range of his instrument in his improvisations. His improvised lines tend to be harmonically and rythmically complex, but with a constant organic flow. His compositions often make use of repeated patterns, odd-metered time signatures, intervallic leaps, and also a selective use of space.
Mark Turner frequently collaborates with Kurt Rosenwinkel, Larry Grenadier, and Jeff Ballard, and has formed various collectives that include these musicians (M.T.B. and prominently, Fly). He has performed with the who's who of international jazz talent, ranging from Lee Konitz to the San Francisco Jazz Collective.

Booklet for Return from the Stars