---
Album info
Album including Album cover
1

Diavolo

03:53

2

Today Not Tomorrow

04:01

3

1243

04:36

4

April Mood

06:15

5

Nachtblau

04:53

6

Seven Days

03:53

7

Spanish Ice Cream

05:31

8

17.3.7

06:08

9

Circle

04:47

10

Ballad for You

03:29

Total Runtime

47:26
Info for Nachtblau - Jazz Thing Next Generation Vol. 93

"Nachtblau" (trans.: Night Blue) already makes it clear with its title that the music on this album stands for the emotional side of jazz. The band of drummer Dominik Hoyer has a clear, transparent sound and exclusively plays the compositions of their bandleader.
"I didn't want to compose typically percussion-like with faster-higher-further, but rather compose quieter things in which the emotions are the focus," the drummer formulated his artistic goal. Dominik Hoyer was born in Rheinfelden, Germany, near the Swiss border in 1994 and started playing his instrument at a very young age. "My grandpa played drums as hobby and had them in his cellar," Hoyer said. "I was allowed to play them as a toddler and received lessons at the age of seven. But before that, I had already been shown a few things by my grandpa." The young Dominik then came to jazz through a drum workshop with Wolfgang Haffner, when he was thirteen or fourteen years old. "I am thrilled by the freedom and interaction between the musicians in jazz," Hoyer admitted, "but also by the entertainment on stage."
It was almost logical that he studied jazz at the Jazz Campus Basel, where he had lessons from the American drum luminary Jeff Ballard, among others. "Jeff Ballard has been a lecturer in Basel for a few years and I had lessons with him in the Master's degree program," Hoyer recalled. "He is very experienced, can talk about a lot of things and has an impressive personality. I felt very comfortable with him, and his natural flow on drums fascinated me." In Basel, the drummer also met the members of his band, which consists of the trombone player Lukas Reinert, the electric bassist Marc Mezgolits and the pianist David Cogliatti.
Together, the gang of four proves to be a clever and emotional storyteller who creatively exploit all facets of their line-up. The focus is often on ballads, in which Hoyer, although he can always be heard succinctly, holds back in favor of his fellow musicians. The clear and lyrical style of Cogliatti on the piano, the sonorous sound of Reinert's trombone and the singing bass of Mezgolits constantly alternate with solo and accompanying parts and make the music tempting and varied. But of course there are also a few up-tempo pieces in the program, where they set stronger marks, such as the casual "Seven Days", the funny "Spanish Ice Cream" or the cleverly structured "Circle". It is precisely this versatility and a sense of musical dialog that Hoyer appreciates in his musicians. "Each of us can create a good sound on his instrument and has something to say," the drummer stated. "Of course, everyone is also super virtuoso. For example, Marc can play super fast, but he uses that very tastefully and plays very musically." Hoyer absolutely wanted a trombone in his band, because he has a very close relation to this brass instrument. "I like the sound and also have contact with Adrian Mears," Hoyer said, whose brother also plays the trombone.
"Nachtblau" has become an album that presents a young band whose enthusiasm for their music and their specific sound can be heard in every tone and which is characterized by an amazing musical depth and maturity. Hoyer often finds the inspiration for his songs in his everyday life. "I like to go out into nature, and melodies and harmonies often come to my mind there," he said. "I came up with the melody of 'Nachtblau' during an evening walk, and it also became the title song because I think it is one of the most successful songs on the album."
Dominik Hoyer Band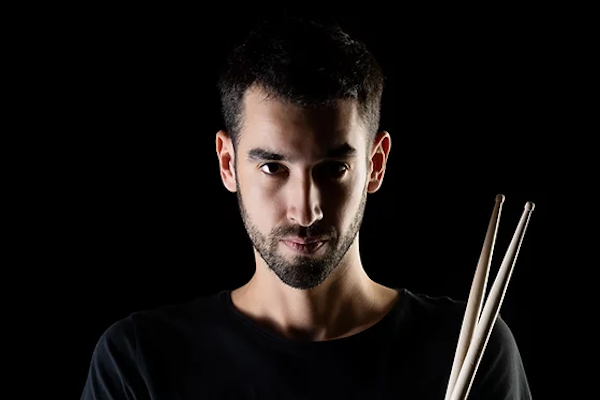 Dominik Hoyer
is a German drummer and composer. He was born on 12 February 1994 in Rheinfelden D and found contact with music early on through his family. His grandfather, who bequeathed him his first drum kit, was particularly influential.
In June 2017 he graduated with a Bachelor of Arts in Music (Jazz) and in 2019 with a Master in Music Education (Jazz) from the Basel University of Music (Jazzcampus). He studied with Julio Barretto, Jeff Ballard, Adrian Mears, Vic Hardt and Christoph Mohler, among others.
Dominik is active both as a sideman and as the leader of the Dominik Hoyer Band, which will release its first studio album in the course of 2021. The album features compositions penned by the drummer.
In addition to his artistic activities, Dominik works as a music teacher for drumset rock/pop/jazz at the music school of both Frenken valleys in Baselland.

This album contains no booklet.