---
Album info
Album including Album cover Booklet (PDF)
Ludwig van Beethoven (1770 - 1827): Sonata for Piano 4-Hands in D Major, Op. 6:

1

Sonata for Piano 4-Hands in D Major, Op. 6: I. Allegro molto

02:47

2

Sonata for Piano 4-Hands in D Major, Op. 6: II. Rondo. Moderato

03:09

8 Variations on a Theme by Count von Waldstein, WoO 67:

3

8 Variations on a Theme by Count von Waldstein, WoO 67: Thema

00:35

4

8 Variations on a Theme by Count von Waldstein, WoO 67: Var. 1

00:29

5

8 Variations on a Theme by Count von Waldstein, WoO 67: Var. 2

00:33

6

8 Variations on a Theme by Count von Waldstein, WoO 67: Var. 3

00:35

7

8 Variations on a Theme by Count von Waldstein, WoO 67: Var. 4

00:26

8

8 Variations on a Theme by Count von Waldstein, WoO 67: Var. 5

00:34

9

8 Variations on a Theme by Count von Waldstein, WoO 67: Var. 6

00:30

10

8 Variations on a Theme by Count von Waldstein, WoO 67: Var. 7

00:49

11

8 Variations on a Theme by Count von Waldstein, WoO 67: Var. 8

04:14

3 Marches, Op. 45:

12

3 Marches, Op. 45: No. 1, Allegro ma non troppo

04:32

13

3 Marches, Op. 45: No. 2, Vivace

04:48

14

3 Marches, Op. 45: No. 3, Vivace

05:13

Variations on "Ich denke dein", WoO 74:

15

Variations on "Ich denke dein", WoO 74: Theme

00:36

16

Variations on "Ich denke dein", WoO 74: Var. 1

00:35

17

Variations on "Ich denke dein", WoO 74: Var. 2

00:32

18

Variations on "Ich denke dein", WoO 74: Var. 3

00:37

19

Variations on "Ich denke dein", WoO 74: Var. 4

00:32

20

Variations on "Ich denke dein", WoO 74: Var. 5

00:36

21

Variations on "Ich denke dein", WoO 74: Var. 6

01:14

Ludwig van Beethoven:

22

Große Fuge in B-Flat Major, Op. 134 (Arr. for Piano 4-Hands)

14:44

Total Runtime

48:40
Info for Beethoven: Works for Piano 4-Hands

The British pianists Peter Hill and Benjamin Frith have teamed up here to take us into some wholly unexpected corners of Beethoven's chaotic work desk. Eight variations on a theme by Count Waldstein, for instance. The theme itself is vapid, but once Beethoven gets to work on variations we are immediately in Eroica territory and all works stops until he's done. Likewise 6 variations on 'Ich denke dein', a little ditty for two pretty sisters that he fancied.
Long-time duo partners Peter Hill and Benjamin Frith mark the 250th anniversary of Beethoven's birth with this survey of his complete output for piano four hands.
Works from his early years in Bonn and from the period of the 'Eroica' Symphony, a decade later, are joined by a unique masterpiece from the year before his death. In 1826 Beethoven was persuaded to publish an arrangement for piano duet of the Grosse Fuge, finale of the String Quartet in B flat, op.130, which had astonished and bewildered listeners at the Quartet's first performance. He took great care over the arrangement, effectively re-imagining the work in terms of the piano, for example in exploiting the added sonority of the bass (Beethoven's Broadwood piano extended an octave below the C string of the cello).
The result is a tour de force of pianistic virtuosity, the equivalent for the nineteenth century of Stravinsky's piano duet version of The Rite of Spring, and like the Stravinsky nothing less than the recreation of a masterpiece in another medium.
"The fifth [work] is the transcription Beethoven made reluctantly, yet with high intensity, of the Grosse Fuge. This new-fangled masterpiece leaps in track 22 like a tiger from the album leaves of Six Variations on "Ich denke Dein", and affords the joy of discovering what, and how, art really matters." (Sunday Times)
Peter Hill, piano
Benjamin Frith, piano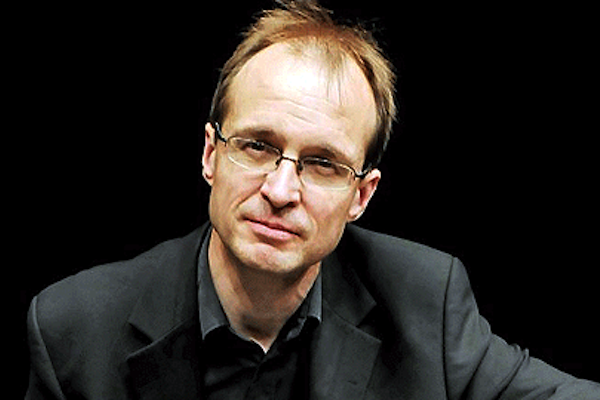 Peter Hill
studied the classical repertoire with Cyril Smith at the Royal College of Music, and with Nadia Boulanger, who described him as 'a born artist, a beautiful natural talent'. He won the senior recital prize at the RCM, and the performance prize at Darmstadt for his playing of Cage and Stockhausen. His recordings of twentieth-century and contemporary music have received superlative acclaim. For his complete Messiaen cycle Peter Hill worked with Messiaen at his home in Paris: the recording has been described as 'one of the most impressive solo recording projects of recent years' (New York Times) and received Messiaen's endorsement – 'Beautiful technique, a true poet: I am a passionate admirer of Peter Hill's playing.' Critics have referred to the series as 'a classic of dedicated virtuosity' (The Times), 'incredible: Hill's strengths are virtuoso control and consummate rhythmic delineating ... in Hill's hands I feel I am getting the composer at his purest and most intense' (Fanfare, USA), or 'remarkable for its accuracy, sense of atmosphere and sheer dynamism … some of the finest Messiaen playing ever to have gone down on disc' (Sunday Telegraph). The Messiaen cycle has been re-released by Regis and by Brilliant Classics.
The recording of Messiaen's Catalogue d'oiseaux is one of three recordings listed in 1001 Classical Recordings You Must Hear Before You Die, the others being of Schoenberg's Three Piano Pieces Op 11 and Suite Op 25 from a CD of the complete piano music of Berg, Schoenberg and Webern which was a recording of the year in The Sunday Times and Editor's Choice in Gramophone. Among other CDs are recordings made with Benjamin Frith (Peter Hill's regular duo partner) of Messiaen's Visions de l'Amen and two CDs of Stravinsky, including the composer's arrangements of The Rite of Spring and Three Movements from Petrushka. Peter's recent recording of Bach's Well-Tempered Clavier (Delphian), the first in a planned series of Bach recordings for Delphian, has received outstanding reviews, with Book II chosen as CD of the Week by BBC Radio 3.
Books include The Messiaen Companion (Fabers), and Stravinsky: The Rite of Spring (CUP). Research on Messiaen led to a biography of the composer (Messiaen), published by Yale University Press in 2005, and reissued in translation in Germany (Schott) and in France (Fayard). Olivier Messiaen: Oiseaux exotiques (Ashgate) was published in 2007. Peter's research on Messiaen continues, and a book on the Catalogue d'oiseaux (co-authored with Roderick Chadwick) is in preparation.
Much in demand for lectures and masterclasses, recent appearances include the Australian National Academy of Music, Brisbane Conservatorium, University of Western Australia, University of Chicago, Boston University, New York University, the Juilliard School of Music, Carnegie Hall, the Library of Congress, McGill University, Uppsala University, the Swedish Collegium for Advanced Study, the Norwegian Academy of Music and the Lucerne Festival, as well as almost all the leading universities and conservatoires in the UK.
In 2008 Peter was awarded the annual prize for musical scholarship by the Académie des Beaux-Arts in Paris. He holds an honorary professorship at Sheffield University and is a Fellow of the Royal Northern College of Music.
Benjamin Frith
was encouraged by his teacher, Dame Fanny Waterman, to pursue a musical career after winning the Dudley National Concerto Competition aged fourteen. Since then he has been a first prizewinner in the Rubinstein Piano Masters Competition where he was also awarded the special prize for chamber music, and was awarded top prize in the Busoni International Piano Competition. With acclaim for his American and Edinburgh Festival debuts, he established himself as an international concert artist, and has given recitals and concerto performances throughout Europe, Northern America, India, Kazakhstan and the Far East. He has appeared with many of the world's finest orchestras including the Berlin Symphony, Israel Philharmonic, Warsaw Philharmonic, Halle, the BBC orchestras, City of Birmingham Symphony Orchestra, Northern Sinfonia, and the Royal Philharmonic, and with such conductors as Zubin Mehta, Antoni Wit, Tamas Vasary, Stanisław Skrowaczewski, Matthias Bamert, Moshe Atzmon, Gianandrea Noseda and Sir Mark Elder. His diverse repertoire ranges from Scarlatti to James Macmillan and includes over fifty concertos, and much praise has been bestowed on his recordings. Frith's enjoyment of chamber music has been fulfilled through his performances and recordings as pianist in the Gould Piano Trio and the formation of his own Piano Quartet.

Booklet for Beethoven: Works for Piano 4-Hands