---
Album info
Album including Album cover
1

Barbara Ann

03:15

2

Habanero

03:33

3

Different Animals

03:08

4

Trim

01:33

5

For Sale: Ford Pinto

02:33

6

Ambrosia

03:45

7

Arrow

03:56

8

Creature of Slime

00:44

9

Brand New Beast

01:38

10

Airport

02:39

11

Dog

02:55

12

Clinic Poem

00:52

13

Peach Pit

03:53

14

How Was It?

01:14

Total Runtime

35:38
Info for Sucker Supreme

It's a coming of age album, yes, and an album that aches with self-discovery, self-definition, and self-redefinition: "Nothing is simple just cause you wish that it is." "I can't believe I'll die before becoming a frog." "Wolfing down Doritos, lickin' on my fingers, anger on my tongue, Doritos in my anger!" "Wouldn't we be perfect together if we wanted exactly the same thing?" But 'Sucker Supreme,' Tucker's first album for Epitaph, is also just the right follow-up to where their last album, 2019's 'Never Not Never Not Never Not,' left off: still playfully observed, still sneakily political, still indebted to folk singers of the past – but also much, much bigger, brighter, louder and noisier than anything Tucker has dared before. It delivers mightily on an ambitious M.O.: to be relentlessly catchy and muscular and noisy but also beautiful; be achingly sad and searching, but never too far away from funny, either; and to spotlight Tucker's empathetic, yearning vocals on top of it all.
In the world of 'Sucker Supreme,' Rosie's openhearted, sing-song alto melodies are king; wry, detailed lyricism is queen; and noise is the old man with the long beard who seems like he came from nowhere. Noise creaks in every layer of these songs: ticking Geiger counters, synthesized whale calls, tape machine slams, walls of distorted guitar rolling in and then blooming out into infinite repeats.
"I've spent a lot of time refusing to come to terms with the fact that I am stuck with myself, being the person I am all the time," says Tucker, who is nonbinary and uses they/them pronouns. "Yes, I've gotten better at using a calendar, and exercising, and telling people about my stupid feelings when it's relevant to do so. Sure, I floss sometimes. I read nonfiction and take out the trash. I'm a paragon of decency. All this to say I have gotten adequate at living while impatiently waiting for the smarter, kinder, better looking version of myself to come along, lead me out back, and put me out of my misery."
Nowhere is this self-exploration more poignant than on "Habanero," a song about waiting for a transformation that isn't coming. "The first two verses are about flirting, which is an important distraction from both the problems of the self and the issue of mortality," Tucker says. "Desire is not the same thing as a sense of self, but it'll work as an added sugar corn syrup kind of substitute. The third verse pulls from an early memory of a stream dense with tadpoles, watching them wriggle around my fingers in the water. I was obsessed – obsessed – with amphibians in general, and frogs in particular. I loved that they couldn't be confined to one environment. I loved that they grow up by way of shape-shifting."
Album leadoff track "Barbara Ann," visits coming of age in an emphatically hard-rocking tale of family conflict, knowing yourself, and agribusiness. "My maternal grandparents worked out a living on a farm in northeast Illinois, and I have many vivid memories of visiting with them, collecting chicken eggs and feeding the cows and rooting around in the mildewy basement. I was allowed total freedom to roam in the corn, or to climb into the hay loft and peer at dead birds. Once, in complete secrecy, I laid an open palm on the electric wire that ran around the property even though I'd been told a million times not to. I desired the knowledge more than I feared my parents," Tucker says. "At birth we inherit our families and spend the rest of our time struggling to make sense of those aspects of our life we have no control over."
It takes a unique group of people to make an album that leaps out of the speakers at you like this one. 'Sucker Supreme' is the first record made by Tucker's current touring band: drummer Jessy Reed, guitarist Jess Kallen, and bassist Wolfy, who also occupied the producer's chair. It's a group of people as eager to share their long-dead folk music heroes as they are to pay homage to their still-kicking pop-punk heartthrobs.
As with all things Rosie Tucker, this album is not easily slotted into a binary like happy or sad. In the world of 'Sucker Supreme,' concepts like male or female, married or divorced, destruction or salvation, are not two opposite sides of the same coin, they are all connected points on the same sphere. It's 2021! Abolish the binary! Transcend genre! Go to therapy!
No one involved with this album is boring enough to say that these are sad songs that sound happy. Some of them are just sad songs that sound sad. Indelible pre-album single "Ambrosia" serves as the centerpiece of 'Sucker Supreme,' with its self-conscious, yearning, but still faintly playful lyrics like, "You've got money stress so I pick up the check / I check my balance as I lean to one side," shortly before bursting open with a blustery sigh of, "Nothing is simple just 'cause you wish that it is: AAAAAAAAAAAAAAAAAAAAAH!!!" But then there is the forceful "Brand New Beast" with its unforgettably bitter riposte of "You won't even eat me out!" And there's the Ralph Nader-inspired ode to a clunker, "For Sale: Ford Pinto," with its imagery of crashing into a cop car, and then, "Time is a trash compactor – I'm feeling pressed, but at least you're here with me and we've got sexual tension." Classic Rosie: sometimes sad, sometimes funny, sometimes singing, sometimes howling, but always saying the exact right thing at the exact right time.
Rosie Tucker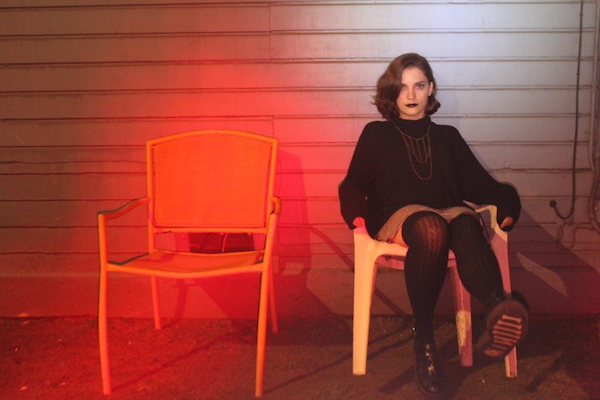 Rosie Tucker
Introducing multi-talented Los Angeles-based singer/songwriter Rosie Tucker, who has just recently received a Bachelor of Music degree from the University of Southern California. During her time in university, Rosie released Lowlight - a collection of 9 original songs she wrote and performed herself, composed music for short films, collaborated and performed with Sokamba Performing Arts Company, and lent her poetry and music to The Altar Collective, a literary magazine and arts collective. In addition, Rosie also co-founded MUSE (Musicians Unite in Support of Equality), a student group dedicated to connecting and educating aspiring female music professionals. Inspired by MUSE, Rosie's undergraduate thesis project investigated gender disparities in post-secondary audio-technology education in the United States.
Now in 2017, Rosie splits her time between playing bass and writing songs for her post-rock band, Gypsum while also working on her solo career. Her latest original offering is called "Fault Lines", an uptempo indie rock ditty that perfectly blends together both twangy and rhythmic guitars while also showcasing her knack for writing clever and witty lyrics. Produced by Wolfy (Maddie Ross, Eliason), "Fault Lines", in Rosie's own words, "is an ode to a particular sort of sun-bleached, So-cal feeling of isolation"

This album contains no booklet.