---
Album info
Album including Album cover
1

The Preacher

04:56

2

Oh Lord

03:59

3

Breakaway

04:27

4

Howlin' Wolf T-Shirt

03:11

5

Midnight in Paris

10:49

6

Can't Bring Me Down

03:10

7

Isil Calad

03:56

8

Everybody

02:34

9

I'll Get Us out of Here

03:19

10

Greatest Day

02:45

11

In the Dead of the Night

04:59

12

On My Way

03:15

13

Together with the Blues

08:58

Total Runtime

01:00:18
Info for 21st Century Blues

Chris Kramer ist ein deutscher Bluesmusiker, talentierter Mundharmonikaspieler und Singer / Songwriter aus Dortmund. Als Markenzeichen des viermaligen "German Blues Award"-Gewinners (Kategorie "Blues Harp" 2010, 2012, 2014) gilt sein gekonntes Harpspiel, er setzt auf der Bühne aber auch Gitarre und Dobro ein. Kramers Langspielplatte "Chicago Blues" wurde 2014 als "bestes Album" ebenfalls mit dem "German Blues Award" ausgezeichnet.
Chris Kramers jüngstes Projekt, um den Blues auch jüngeren Generationen näherzubringen, ist ein "Crossover"-Trio mit dem Namen "Beatbox 'n' Blues". Mit einer dem Hip Hop entlehnten "Beatbox" anstelle eines Schlagzeugs, intoniert vom deutschen Beatbox-Meister Kevin O Neal, schuf Kramer einen frischen neuen Sound, ergänzt durch seine Mundharmonika und die Gitarre des jungen Saitenkünstlers Sean Athens. Die Hingabe der Band und Innovation der Idee wurde mit dem Gewinn der "Geman Blues Challenge 2016" in Eutin (Ostholstein) gewürdigt, was dem Trio das Recht verschaffte, für Deutschland an der "International Blues Challenge 2017" auf der berühmten Beale Steeet in Memphis / Tennessee, USA teilzunehmen.
Chris Kramer und der Blues – beide haben sich gegenseitig beeinflusst, verändert und auf dem jeweils Anderen seine Spuren hinterlassen…
"Und gerade durch die Mundharmonika, vor allem aber Beatboxer O'Neil, der Rhythmen mit dem Mund als Instrument erzeugt, schafft das Trio einen ganz eigenen, unverwechselbaren Sound, zu dem alle drei auch als Vokalisten beitragen.​ (.​.​.​) Mit 21st Century Blues ist dem inzwischen zum Veteranen avancierten Kramer eine prächtige Überraschung gelungen.​" (Good Times)
Chris Kramer, Gesang, Mundharmonika
Kevin O Neal, Beatbox, Rap
Sean Athens, Gitarre, Gesang
Guest Musicians:
Cecile Perfetti, Gesang (track 5)
Max Paroth, Orgel, Klavier (tracks 5, 7, 13)
Jessica Ascew, Chor (tracks 2, 10)
Senta Kroll, Chor (track 3)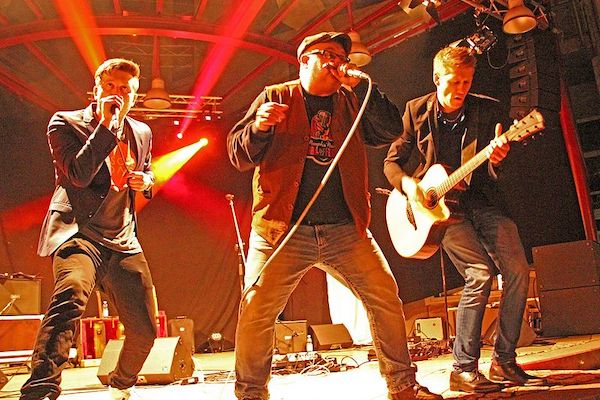 Chris Kramer
(zeitweise auch "Crazy Chris Kramer") wurde 1970 in Marl (NRW) geboren. Laut eigener Aussage hatte er kein musikalisches Elternhaus und sich seine Fähigkeiten - insbesondere auf der Mundharmonika - als Autodidakt selbst beigebracht. Mit 18 Jahren war er Sänger einer Band und bekam von den Musikern eine Mundharmonika geschenkt,004 20210717 1342091915 auf der er sich das Spielen selbst beibrachte. Schnell merkte er, dass das Instrument ein Teil von ihm ist, und hat es seitdem auch nicht mehr abgelegt. Es ist Chris' "Hauptinstrument". Dazu spielt er auch noch hervorragend Gitarre.
Nach dem Abitur leistete Kramer seinen Zivildienst ab und machte anschließend eine Ausbildung zum Industriekaufmann. Seine Laufbahn als Musiker begann im Jahre 1994. Der Entschluss, die Musik zum Beruf zu machen, entstand nach dem Besuch eines Konzerts von Luther Allison in der "Zeche" in Bochum. Im Jahre 1995 entstand aus einer fünfköpfigen Southern Bluesrock Band, zu der auch Chris gehörte, das Bluesduo BLUEBYRDS. Zusammen mit Christoph "Slidin" John arbeitete Chris 10 Jahre unter diesem Namen und veröffentlichte vier Alben (drei Studio- und ein Live-Album). Mit "Journey" erschien im Jahre 2000 Chris' erstes Soloalbum unter dem Namen "CRAZY" CHRIS KRAMER, auf dem zahlreiche musikalische Gäste vertreten sind, u.a. auch Helge Schneider. Nach diversen weiteren Alben mit Blues-Songs in englischer Sprache erschien im Jahre 2008 das Album "Komm mit!", auf dem Kramer erstmals seine Lieder in deutscher Sprache präsentierte.
Im Jahre 2010 brachte Kramer das Album "Chicago Blues" auf den Markt. Für die Aufnahmen des Albums reiste der Musiker direkt in die Staaten. Auf der Scheibe enthalten sind 12 deutschsprachige Blues-Songs, die Chris mit diversen Gästen eingespielt hat. Dazu gehörten die Musiker der originalen Muddy Waters Band, die zu dem Zeitpunkt stellenweise schon Mitte Neunzig waren. Die Englische Version dieses Album wurde drei Jahre später veröffentlicht und erschien dann sogar als Doppel-Vinyl in einer 180 Gramm-Pressung. Ebenfalls im Jahre 2010 gehörte Chris dem Live-Ensemble von Peter Maffay an. Er ging mit auf Maffays Jubiläums-Tour "Tattoos 2010/2011" und ist auch auf dem dazugehörigen Album als Mundharmonika-Spieler zu hören. Im Jahre 2012 verschwand dann der Zusatz "Crazy" und Kramer trat nur noch unter dem Namen CHRIS KRAMER auf.
Neben zahlreichen Alben hat CHRIS KRAMER bis heute auch einige Bücher veröffentlicht. Vor allen Dingen sind es Songbooks und Mundharmonikalehrbücher, aber im Jahre 2015 kam auch ein erstes Kinderbuch ("Die kleine Mundharmonika") dazu. Zum eben erwähnten Kinderbuch ist ein Musical entstanden, das u.a. im Marler Theater aufgeführt wurde. Ebenso eine Doppel CD (Hörbuch und Musik). Außerdem engagiert sich Chris für den musikalischen Nachwuchs. Er geht in den Musikunterricht an Schulen und bringt den Kindern sein Instrument und seine Musik näher. Bei selbst veranstalteten Blues-Festivals lässt er auch junge Nachwuchsmusiker auftreten und gibt ihnen so Gelegenheit, sich einem größeren Publikum zu präsentieren.
Zu seinen Blues-Programmen hat Chris auch ein eigens geschaffenes Weihnachtsprogramm auf die Beine gestellt, zu dem es mit "Chris(t)mas" (2013) und "Chris(t)mas Time Again" (2019) zwei Studioalben gibt. Im Jahre 2014 wurde eines der Weihnachtskonzerte in seiner Heimatstadt Marl mitgeschnitten und auf einer Doppel-CD veröffentlicht. Mit Beatbox'n'Blues gründete Kramer ein weiteres Projekt, zu dem neben ihm der Beatboxer Kevin O'Neal (statt eines Schlagzeugers) und Sean Athens an der Gitarre gehören, und mit dem er im Sommer 2016 den German Blues Award gewann. Diese Auszeichnung brachte ihm und Beatbox'n'Blues zusätzlich noch eine Tournee in den USA ein, die Ende Januar 2017 angetreten wurde. Kurz zuvor veröffentlichte Kramer das neue Album "On The Way To Memphis". In dem Jahr nach der USA-Tour verarbeiteten Chris und seine Musiker all die Erlebnisse und gesammelten Eindrücke in neuen Liedern. Im Sommer 2018 erschien mit "Way Back Home" deshalb bereits das Nachfolge-Album zum eben erwähnten "On The Way To Memphis". Das dritte Album des Trios heißt "21st Century Blues" und erschien im Sommer 2021.

This album contains no booklet.