---
Album info
Album including Album cover Booklet (PDF)
Heinrich Isaac (1450 - 1517): Innsbruck, ich muss dich lassen (Arr. for Tenor & Horn Quartet by Alexander Krampe):

1

Isaac: Innsbruck, ich muss dich lassen (Arr. for Tenor & Horn Quartet by Alexander Krampe)

02:41

Jean Améry (1912 - 1978): Wieviel Heimat braucht der Mensch?:

2

Améry: Wieviel Heimat braucht der Mensch?

02:24

Mischa Spoliansky (1898 - 1985): Der Mensch muss eine Heimat haben (Arr. for Tenor & Horn Quartet by Alexander Krampe):

3

Spoliansky: Der Mensch muss eine Heimat haben (Arr. for Tenor & Horn Quartet by Alexander Krampe)

03:00

Johannes Brahms (1833 - 1897): Da unten im Tale (Arr. for Tenor & Horn Quartet by Alexander Krampe):

4

Brahms: Da unten im Tale (Arr. for Tenor & Horn Quartet by Alexander Krampe)

02:36

Richard Trunk (1879 - 1968): Die Stadt (Arr. for Tenor & Horn Quartet by Alexander Krampe):

5

Trunk: Die Stadt (Arr. for Tenor & Horn Quartet by Alexander Krampe)

03:17

Theodor Storm (1817 - 1888): An die Freunde:

6

Storm: An die Freunde

00:56

Franz Schubert (1797 - 1828): Erlkönig, D.328 (Arr. for Tenor & Horn Quartet by Alexander Krampe):

7

Schubert: Erlkönig, D.328 (Arr. for Tenor & Horn Quartet by Alexander Krampe)

04:17

Antonin Dvorak (1841 - 1904): Heimatlied (Arr. for Tenor & Horn Quartet by Alexander Krampe):

8

Dvorak: Heimatlied (Arr. for Tenor & Horn Quartet by Alexander Krampe)

05:25

Mascha Koléko (1907 - 1975): Heimweh, wonach?:

9

Koléko: Heimweh, wonach?

00:35

Hans Naumilkat (1919 - 1994): Unsre Heimat (Arr. for Tenor & Horn Quartet by Alexander Krampe):

10

Naumilkat: Unsre Heimat (Arr. for Tenor & Horn Quartet by Alexander Krampe)

03:00

Traditional: Ein Jäger aus Kurpfalz (Arr. for Tenor & Horn Quartet by Alexander Krampe):

11

Traditional: Ein Jäger aus Kurpfalz (Arr. for Tenor & Horn Quartet by Alexander Krampe)

02:16

Bettina von Arnim (1785 - 1859): Auf diesem Hügel überseh' ich meine Welt:

12

Arnim: Auf diesem Hügel überseh' ich meine Welt

01:03

Ernst Krenek (1900 - 1991): Reisebuch aus den österreichischen Alpen, Op. 62:

13

Krenek: Reisebuch aus den österreichischen Alpen, Op. 62: Regentag (Arr. for Tenor & Horn Quartet by Alexander Krampe)

02:24

Daniel Behle (b. 1974): Heimat ist dort, wo der Schlüssel passt (Arr. for Tenor and Horn Quartet by Daniel Behle):

14

Behle: Heimat ist dort, wo der Schlüssel passt (Arr. for Tenor and Horn Quartet by Daniel Behle)

03:26

Franz Schubert: Meeres Stille (Arr. for Tenor & Horn Quartet by Alexander Krampe):

15

Schubert: Meeres Stille (Arr. for Tenor & Horn Quartet by Alexander Krampe)

02:13

Unknown: Haussegen:

16

Unknown: Haussegen

00:22

Johannes Brahms: Über die Heide (Arr. for Tenor & Horn Quartet by Alexander Krampe):

17

Brahms: Über die Heide (Arr. for Tenor & Horn Quartet by Alexander Krampe)

01:25

Traditional: Kommt ein Vogel geflogen (Arr. for Tenor & Horn Quartet by Alexander Krampe):

18

Traditional: Kommt ein Vogel geflogen (Arr. for Tenor & Horn Quartet by Alexander Krampe)

01:36

Friedrich Nietzsche (1844 - 1900): Vereinsamt:

19

Nietzsche: Vereinsamt

01:21

Richard Wagner (1813 - 1883): Lohengrin:

20

Wagner: Lohengrin: Gralserzählung (In fernem Land, unnahbar euren Schritten. Arr. for Tenor and Horn Quartet by Stephan Schottstädt)

05:50

Ernst Krenek: Reisebuch aus den österreichischen Alpen, Op. 62:

21

Krenek: Reisebuch aus den österreichischen Alpen, Op. 62: Motiv (Arr. for Tenor & Horn Quartet by Alexander Krampe)

02:32

Friedrich Hölderlin (1770 - 1843): Motto:

22

Hölderlin: Motto

00:09

Hanns Eisler (1898 - 1962): Heimat (Arr. for Tenor & Horn Quartet by Alexander Krampe):

23

Eisler: Heimat (Arr. for Tenor & Horn Quartet by Alexander Krampe)

01:25

Bertolt Brecht (1898 - 1956): Die Flucht (Arr. for Tenor & Horn Quartet by Alexander Krampe):

24

Brecht: Die Flucht (Arr. for Tenor & Horn Quartet by Alexander Krampe)

00:38

Willy Engel-Berger (1890 - 1946): Ein neuer Frühling (Arr. for Tenor & Horn Quartet by Alexander Krampe):

25

Engel-Berger: Ein neuer Frühling (Arr. for Tenor & Horn Quartet by Alexander Krampe)

03:05

Hermann Leopoldi (1888 - 1959): Buchenwaldlied (Arr. for Tenor & Horn Quartet by Alexander Krampe):

26

Leopoldi: Buchenwaldlied (Arr. for Tenor & Horn Quartet by Alexander Krampe)

02:26

Carlo Sigmund Taube (1897 - 1944): Jüdisches Kind (Arr. for Tenor & Horn Quartet by Alexander Krampe):

27

Taube: Jüdisches Kind (Arr. for Tenor & Horn Quartet by Alexander Krampe)

02:31

Max Herrmann-Neiße (1886 - 1941): Heimatlos:

28

Herrmann-Neiße: Heimatlos

01:10

Werner Eisbrenner (1908 - 1981): Lied der Flüchtlinge (Arr. for Tenor and Horn Quartet by Alexander Krampe:

29

Eisbrenner: Lied der Flüchtlinge (Arr. for Tenor and Horn Quartet by Alexander Krampe=

02:43

Gustav Mahler (1860 - 1911): Des Knaben Wunderhorn:

30

Mahler: Des Knaben Wunderhorn: 5. Das Irdische Leben (Arr. for Tenor and Horn Quartet by Alexander Krampe)

03:01

Franz Schubert (1797 - 1828): Wandrers Nachtlied (Arr. for Tenor and Horn Quartet by Alexander Krampe):

31

Schubert: Wandrers Nachtlied (Arr. for Tenor and Horn Quartet by Alexander Krampe)

01:29

Li Tai Po (701 AD - 762 AD), Richard Dehmel (1863 - 1920): Auf der Reise:

32

Po, Dehmel: Auf der Reise

00:37

Traditional: Im Frühtau zu Berge (Arr. for Tenor and Horn Quartet by Alexander Krampe):

33

Traditional: Im Frühtau zu Berge (Arr. for Tenor and Horn Quartet by Alexander Krampe)

01:48

Ernst Krenek: Reisebuch aus den österreichischen Alpen, Op. 62:

34

Krenek: Reisebuch aus den österreichischen Alpen, Op. 62: Auf und Ab (Arr. for Tenor and Horn Quartet by Alexander Krampe)

01:53

Georg Kreisler: Wien Ohne Wiener (Arr. for Tenor and Horn Quartet by Alexander Krampe):

35

Kreisler: Wien Ohne Wiener (Arr. for Tenor and Horn Quartet by Alexander Krampe)

05:10

Franz Grillparzer: In der Fremde:

36

Grillparzer: In der Fremde

00:41

Johannes Oerding: Heimat (Arr. for Tenor and Horn Quartet by Alexander Krampe):

37

Oerding: Heimat (Arr. for Tenor and Horn Quartet by Alexander Krampe)

03:35

Werner Bochmann: Heimat, deine Sterne (Arr. for Tenor & Horn Quartet by Alexander Krampe):

38

Bochmann: Heimat, deine Sterne (Arr. for Tenor & Horn Quartet by Alexander Krampe)

03:48

Theo Mackeben: Und über uns der Himmel (Arr. for Tenor & Horn Quartet by Alexander Krampe):

39

Mackeben: Und über uns der Himmel (Arr. for Tenor & Horn Quartet by Alexander Krampe)

04:32

Total Runtime

01:33:20
Info for Heimat - 500 Jahre Heimatlieder und -gedichte

"Heimat" is a specifically German term that has no hundred percent equivalent in most other languages. On his 18th solo album, tenor Daniel Behle - together with german hornsound - has made a foray through music and cultural history. 29 arrangements, almost exclusively by Alexander Krampe, are united on the extensive double album; in addition, the famous German actor Mario Adorf has read ten texts on the subject.
Daniel Behle and german hornsound embark on a journey through many stations, all of which bear the inscription "home". And they are by no means all stations, probably not even many. But at least it is a trip through many times and destinies, settings and styles, leading from Heinrich Isaac and treasures from folk songs to Romanticism and hits by Mischa Spoliansky and Theo Mackeben. At the end there could be a thought: "Whoever has home does not have to speak of it, so as not to put the happiness he has with it on the line. And the less home someone has, the more he needs it." (Alexander Krampe)
Daniel Behle, who trained as a tenor as well as a trombonist and composer, received the OPUS Klassik as "Singer of the Year" in 2020. He is equally successful in concert, lied and opera. His repertoire ranges from baroque masterpieces, classical and romantic repertoire to 20th and 21st century compositions. The steadily growing discography - also with original compositions - includes several award-winning recordings, recently "Un-Erhört" (Lieder by R. Strauss) was awarded the "Preis der Deutschen Schallplattenkritik". A very special project is scheduled for the beginning of 2023: In January, his beer operetta "Hopfen und Malz", written during the two Corona years, will have its world premiere at the Annaberg-Buchholz Theatre. Three other German opera houses have already confirmed new productions of the operetta.
The horn quartet german hornsound was founded in 2010 by four former students of Christian Lampert's horn class at the Stuttgart University of Music and Performing Arts and has since made an international name for itself with its extraordinary profile. With new concert formats and creative programmes, the ensemble has debuted at almost all German-speaking music festivals in recent years. The quartet is particularly distinguished by the development of its own projects. After getting to know each other for the first time in 2017, Daniel Behle and german hornsound decided to jointly create a programme that would be designed as a digital format, a physical sound carrier and also a concert format.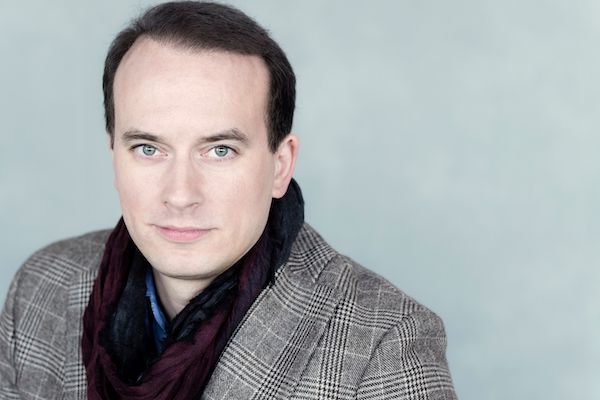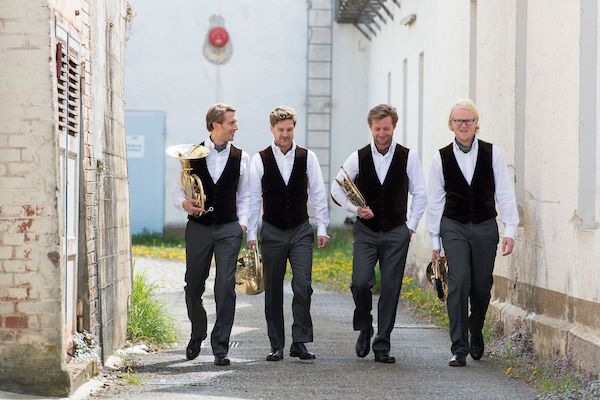 Daniel Behle
The versatile tenor and composer Daniel Behle is equally successful in the concert, Lied and opera genres. His extensive repertoire ranges from Baroque masterpieces, Classical and Romantic works to compositions of the 20th and 21st centuries.
Daniel Behle appears in concert with renowned orchestras, including the Sächsische Staatskapelle Dresden, Berliner and Wiener Philharmoniker, Rundfunk-Sinfonieorchester Berlin, Deutsches Symphonie-Orchester Berlin, NDR Elbphilharmonie Orchester, Orchestra dell'Accademia Nazianale di Santa Cecilia, Wiener Symphoniker, Gewandhausorchester Leipzig and Bachakademie Stuttgart. He works with conductors such as Stefan Asbury, Bertrand de Billy, Semyon Bychkov, Christoph Eschenbach, James Gaffigan, Thomas Hengelbrock, Pablo Heras Casado, Marek Janowski, Philippe Jordan, Ingo Metzmacher, Kent Nagana, Yannick Nezet-Seguin, Hans-Christoph Rademann, Jeremie Rhorer, Andreas Spering, Christian Thielemann and Franz Welser-Möst.
Several highlights mark his 2019/20 season: he will perform "MoZart" (Sony Classical, release September 2019) together with L'Orfeo Barockorchester at the Elbphilharmonie Hamburg. In spring 2020, he sings Mendelssohn's "Elias" with the Orchestre de Paris under the baton of Daniel Harding and Mahler's "Lied von der Erde" with the Hamburger Symphoniker with Sylvain Cambreling. With the Lautten Compagney Berlin he will appear at the Festspielhaus Baden-Baden, with Klangvokal Dortmund and at the Handel Festival Halle.
He will sing recitals at the Alte Oper Frankfurt, Hugo-Wolf-Akademie Stuttgart, at the Theater Bern and the Brucknerhaus Linz. At the Theater Schweinfurt he will premiere his new chamber music programme "Behlcanto" together with the Alliage Quintett.
Opera commitments take him to several important opera houses. After his highly acclaimed debut in 2016 as Ferrando in "Così fan tutte" he will return to the Royal Opera House Covent Garden in October 2019 as Don Ottavio in "Don Giovanni" under Hartmut Haenchen's baton. Further opera highlights are his role debuts as Lohengrin at the Theater Dortmund and at the Staatsoper Stuttgart (Direction: Cornelius Meister) and as Florestan ("Fidelio") at the Staatsoper Hamburg. He will perform Matteo in a new production of "Arabella" at the Opernhaus Zürich with Fabio Luisi conducting, before returning to the Bayreuther Festspiele as David ("Die Meistersinger von Nürnberg") and Walther von der Vogelweide ("Tannhäuser").
As a composer, his transcriptions for tenor and piano trio have met with great critical acclaim: he has performed "WinterreiseN" (Sony Classical) at the Wigmore Hall London, the Concertgebouw Amsterdam and the Alte Oper Frankfurt. Equally successful are "Mein Hamburg" (Berlin Classics; new compositions and arrangements of famous tenor arias), and his Christmas album "Meine schönsten Weihnachtslieder" (Sony Classical).
To date he has published 13 highly acclaimed solo albums, including "Die schöne Müllerin", Strauss "Lieder" (both Capriccio), Gluck "Arias" (Decca) and Schubert "Arias" (dhm).
german hornsound
Founded in 2010 by four graduates of the French horn class of Christian Lampert at the State University of Music and the Performing Arts Stuttgart,german hornsound has earned a strong international reputation based on its exceptional profile. With their new concert formats and creative program concepts the could debut at nearly all music festivals in German-speaking Europe over the past years. ​
The ensemble's repertoire spans all the periods of music history, including original compositions and arrangements. However, german hornsound has made a special name for itself by developing unique projects of its own. The first CD production "Siegfried und Violetta" (2013), a three-act opera fragment with music of Giuseppe Verdi and Richard Wagner which was developed together with South Tyrolese writer Herbert Rosendorfer (†2012)and Berlin-based opera dramaturg Karl Dietrich Gräwe (†2019)paved the way to the concert stages. Their project Pictures(2015) with Russian music around Mussorgski's Pictures at an exhibition had premiere in the Elbphilharmonie last season. Furthermore there is a good and long musical connection with the vocal ensemble amarcord from Leipzig. After the first Co-Production Wald.Horn.Lied(2016) they will be on tour with a Christmas program during the next seasons. The first pure quartet CD production and program #hornlikes (2018), where german hornsound actively involves the audience, rounds off their chamber musical profile. ​
As soloists the quartet appears periodically on the big international stages and halls with renowned orchestras. They performed Schumann's famous Concert Piece with Bamberg Symphony Orchestra, Tokyo Symphony Orchestra and Deutsche Kammerphilharmonie Bremen under the baton of Michael Sanderling, Jonathan Nott and Paavo Järvi just to name a few. Contemporary music is also one of the things german hornsoundcares a lot about. After a commission to Norwegian composer Trygve Madsen (2013) they could convince well-known Estonian composer Erkki-Sven Tüür to compose a new Sinfonia concertante for four horns and orchestra for their 10thjubilee in 2021. ​
The four horn players have positions in professional orchestras: the Württembergische Philharmonie Reutlingen, the Hanover State Opera House, the Konzerthausorchester Berlin and the Bamberg Symphony. ​
Besides their concert performances german hornsound focuses on youth development and young talents. They founded the GHS academy which offers workshops and masterclass for all levels of horn playing: for young beginners, for soloists and ensembles participating the german youth competition "Jugend musiziert", for students, for professionals and for ambitioning hobby hornists. ​
The distinctive flair of the ensemble is also emphasized by the fact that all arrangements on their concert programs are made by ensemble members or close acquaintances. The artwork of ensemble member Sebastian Schorr – which played an especially important role in their Pictures recording – lends their CD productions a uniquely personal touch. All of the ensemble's CDs appear on the GENUIN classics label.

Booklet for Heimat - 500 Jahre Heimatlieder und -gedichte