---
Album info
Album including Album cover
1

After You've Gone

04:50

2

I Just Want to Be Horizontal

04:52

3

Trust in Me

02:54

4

I Cried for You

03:10

5

The Candy Man

03:02

6

Inch Worm

04:12

7

That's Life I Guess

04:04

8

Until the Real Thing Comes Along

04:56

9

Me, Myself and I

03:09

10

Our Love is Here to Stay

04:13

11

Kitchen Man

03:40

12

At Ebb Tide

03:47

13

Lover Come Back to Me

03:57

14

Easy to Love

03:54

15

He Ain't Got Rhythm

03:01

16

I Wished on the Moon

03:41

17

Someone Turned the Moon Upside Down

04:27

Total Runtime

01:05:49
Info for I Just Want to Be Horizontal

Horizontal is the latest in a decade long collaboration between Jim Kweskin and Samoa Wilson. The range of offerings, from tender ballads and raunchy blues to swinging jazz standards, reflects the restless and discerning nature of their musical explorations. Kweskin has been celebrated in his storied career for his love of a good tune as well as for bending and exploding accepted genres. He mentored Wilson throughout her early years. Together they played and sang the songs of the Carter Family, Jimmy Rodgers, Bessie Smith, Mildred Bailey, Mississippi John Hurt, Fred Astaire, Grandpa Jones, and dozens more including many drawn from The Harry Smith Anthology of American Folk music and other sources of traditional folk music, blues and early jazz.
"He Ain't Got Rhythm" is another fun number, written by Irving Berlin, with some additional lyrics by Jim Kweskin. There is a delightful energy to this track, and in particular to Samoa's vocals. The album concludes with a couple of songs about the moon, the first being a bright rendition of "I Wished On The Moon," a song that Teddy Wilson And His Orchestra recorded in 1935 with Billie Holiday on vocals. "Wished on a star/And asked for a dream or two/I looked for every loveliness/It all came true/I wished on the moon for you." Then we get a beautiful rendition of "Someone Turned The Moon Upside Down," a song recorded by Tony Bennett in the 1950s. It is a song of heartache and of longing. "All the tales I hear round about/They nearly turn my heart inside out/I try so hard to smile/But nothing seems worthwhile." (michaelsmusiclog.blogspot.com)
Samoa Wilson, vocals
Jim Kweskin, vocals, fingerpicking, rhythm guitar
Titus Vollmer, lead and rhythm guitar, Hawaiian slide guitar, ukulele
Mike Davis, trumpet, cornet
Paloma Ohm, alto saxophone
Dennis Lichtman, clarinet, fiddle, mandolin, alto saxophone
Sonny Barbato, piano, accordion
Matthew Berlin, bass
Jeff Brown, drums
Sean Read, backup harmony on "At Ebb Tide"
Maddie Read Clarke, backup harmony on "At Ebb Tide"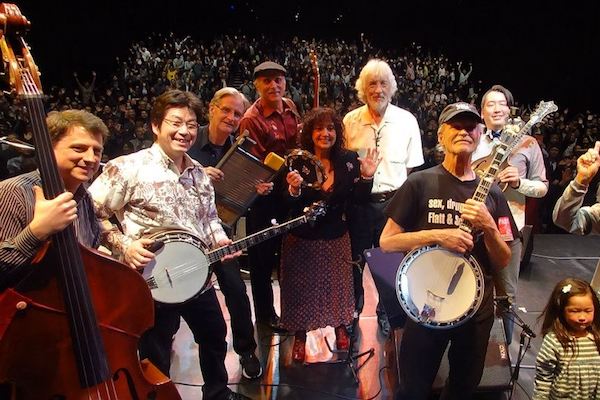 Jim Kweskin
There has never been another group like Jim Kweskin and the Jug Band. The original "Americana" band, playing everything from classic blues to hillbilly country, ragtime, jazz, and rock 'n' roll, they perfectly captured the legendary 1960s mix of exuberant anarchy and heartfelt sincerity. Their imitators were legion, including a San Francisco jug band that became the Grateful Dead and a New York jug band that became the Lovin' Spoonful, but no other group attained their unique blend of youthful energy and antiquarian expertise, tight musicianship, loose camaraderie, and infectious swing.
The looseness was partly an illusion - they assiduously sought out long-forgotten records, worked out innovative arrangements, practiced hard, and maintained a high standard of technical skill - but when they played it always felt like play rather than work. They revived the jug band style of the 1920s and made it sound fresher than ever. As Kweskin said, "We don't sound like anybody ever sounded before. What we are doing is taking old styles and building new things out of them. We're ourselves all the time." The Memphis musician and producer Jim Dickenson, who had put together his own group under the tutelage of the legendary Gus Cannon of Cannon's Jug Stompers and Will Shade of the Memphis Jug Band, recalled, "When I heard the Kweskin bunch it blew me away. I couldn't understand how a bunch of guys from Cambridge, Massachusetts got so much closer to the spirit of that music than we could."
Where other folk-blues revivalists were nostalgic, the Kweskin gang were revolutionary hipsters. "We were a family, and we were dedicated to presenting a life experience and pioneering experiences for people," says Geoff Muldaur. "We were trying to get that kid in the fourth row to finally pick up a guitar or take a trip - or just get down."
Other bands amazed or impressed their fans; the Kweskins made you feel like you wanted to jump onstage and join them. "The whole trip was so innocent," Maria Muldaur recalls. "We just did it like crazies and got up there and sang... It was just a pure love of music and a real community feeling." That family and community centered around Jim Kweskin, a formidable ragtime blues guitarist with his signature black mustache and a gift for good-time jazz. He pulled together a mismatched bunch of talented individuals who often seemed like they had ended up onstage together accidentally and were thrilled and amazed to get along so well and sound so good.
Members came and went, but the foundation was always Fritz Richmond, jug player extraordinaire and "poet of the washtub bass." Kweskin handled the upbeat songs, while Geoff Muldaur sang slow blues with eerie soul and added a second guitar, mandolin, or washboard percussion. Maria Muldaur played fiddle, kazoo, or tambourine and sang like a cross between a hillbilly lass and an old blueswoman. Other cast members included Mel Lyman, Bruno Wolfe, and the virtuosos Bill Keith on banjo and Richard Greene on fiddle; both Bill and Richard revolutionized bluegrass technique for their instruments while performing with the Bill Monroe band.
Fifty years down the road, Kweskin, Keith, and the Muldaurs have kept making music in myriad configurations, and they've all staked out plenty of territory since their jug band days. But the Jug Band is where they started, and there is a special magic when they come back together. The rock critic Ed Ward once listed the most important bands of the early 1960s as the Rolling Stones, the Beatles, the Byrds, and the Jim Kweskin Jug Band. Apparently thinking that some people might be surprised to find the Kweskin gang on that list, he added: "I'm not kidding." No one who has ever seen the Jug Band would have thought he was.
Samoa Wilso
Since she was 12 years old, Samoa Wilson has been captivating audiences with a voice the New York Times calls "sweet, effortless, old-timey". Raised in the riverbed of traditional North American folk music, she came up in the Boston scene, under the wing of jug band and folk legend Jim Kweskin. Her current duo, the Four O'Clock Flowers, a stark and electrifying exploration of gospel, blues and jazz, with slide guitar maestro Ernie Vega, has become a staple of the thriving New York City folk community. Her choice of repertoire makes the difference: torchy and honeyed renditions of haunting little-known tunes, from a woman's perspective. From the source of the traditional and classic material, she poses a modern complaint, salutes the transformation of women's work and suffering into women's triumph.

This album contains no booklet.