---
Album info
Album including Album cover
1

Swing on This

04:37

2

Pythagoras

07:40

3

Moonbay

07:17

4

Fermata

10:57

5

Finger Painted Swing

08:43

6

Sight Vision

06:18

7

The Great Divide

05:49

8

In Case You Missed It

08:34

Total Runtime

59:55
Info for Swing on This

With Swing On This, the all-star quintet Opus 5 presents its fifth Criss Cross album, and first since 2015, when Criss-Cross released Tickle [Criss 1394, which itself was preceded – in backwards chronology – by Progression [Criss 1383], Pentasonic [Criss 1351], and Introducing Opus 5 [Criss 1339], each recorded a year apart. The "all star" sobriquet is not an exaggeration – the collective discographies of trumpeter Alex Sipiagin, tenor saxophonist Seamus Blake, pianist David Kikoski, bassist Boris Kozlov, and drummer Donald Edwards, all international first-callers, total more than 30 Criss Cross leader dates.
During the seven-year gap that separates Tickle from Swing On This, the members found fewer opportunities to play. Everyone was busy with other projects. Covid-19 made it problematic to convene. Blake and Sipiagin relocated to Europe. Then, last summer, when Blake scheduled a trip in New York to conduct personal business, Opus 5 seized the opportunity to go in the studio to record eight pieces with engineer Mike Marciano. With a single brief rehearsal under their belt, they navigate the repertoire with fluent mutual intuition and deep commitment, as though they'd been probing it for months.
Seamus Blake, tenor saxophone
Alex Sipiagin, trumpet, flugelhorn
David Kikoski, Fender Rhodes, piano
Boris Kozlov, bass
Donald Edwards, drums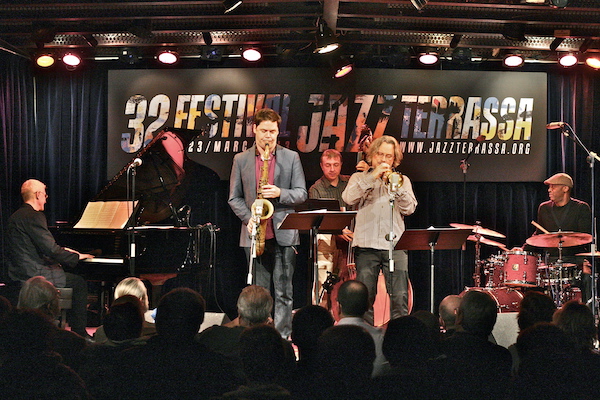 Opus 5
One of the more formidable groups to emerge on New York's modern jazz scene, OPUS 5 is a remarkably empathetic cooperative band featuring trumpeter Alex Sipiagin, saxophonist Seamus Blake, pianist David Kikoski, bassist Boris Kozlov and drummer Donald Edwards.
Together these kindred spirits, all bandleaders in their own right, strike a balance between thoughtful composition and passionate improvisation on their two potent Criss Cross recordings, 2011's Introducing OPUS 5 and 2012's PentaSonic.
While all the members of OPUS 5 have at one time or another played in the Mingus Big Band, they have also played on each other's albums in various configurations over the years. Fellow countrymen Sipiagin and Kozlov have been indelibly tight since their teenage years together at Gnessn Convervatory in Moscow. "We studied together for seven or eight years and played together in the student band," recalls Sipiagin. "We ended up coming to the United States together for the first time in 1991. It was supposed to be for two weeks and we ended up staying for six months. And during those six months, Boris and I were going into Manhattan a lot to check out the jazz clubs. That's how we decided, 'Why don't we try to stay in New York for a while and see what's going on?'"
Sipiagin, who has recorded 12 albums as a leader, began playing with the Gil Evans Monday Night Orchestra at Sweet Basil in 1992, and became a member of the George Gruntz Concert Jazz Band in 1994. He joined the Mingus Big Band in 1995 and has remained in that Grammy-winning aggregation to this day. Since 1999, he has also been a member of Dave Holland's various small groups and big band and credits Holland with being a significant influence on his own compositional style. Sipiagin also recorded and toured with the late Michael Brecker's Quindectet in 2003.
Blake, a winner of the 2002 Thelonious Monk International Jazz Competition for Saxophone, has recorded thirteen albums as a leader. Born in England in 1970, he grew up in Canada and studied at the Berklee College of Music in Boston. After relocating to New York, he began working with drummer Victor Lewis and later toured in John Scofield's band. He joined the Mingus Big Band in 1995 and has recorded six albums with that acclaimed outfit.
Kikoski, who has twelve albums as a leader and has appeared on over one hundred CDs as a sideman, was a member of Roy Haynes' band for 15 years. He toured and recorded with a whole host of artists, including Randy Brecker, Bob Berg, Billy Hart, Al Foster, Ralph Peterson, Jeff "Tain" Watts, Toninho Horta, Eddie Henderson, Joe Locke and Criss Cross label mates Sipiagin and Blake. He's been a member of the Mingus Big Band since 1997, appearing on four albums with the group.
Bassist Kozlov has been the backbone of the Mingus Big Band since 1999, appearing on five albums with the group. He has two albums as a leader and has also appeared on recordings by Brian Lynch, George Colligan, Jean-Michel Pilc, Ronnie Cuber, Jack Walrath, Conrad Herwig, Dave Samuels, Bobby Sanabria and Roswell Rudd.
Drummer Edwards, a Louisiana native, moved to New York in 1998 and joined the Mingus Big Band in 2003. He has two albums as a leader and has appeared on recordings by Orrin Evans, Jesse Davis, George Colligan, Mark Whitfield, The Mingus Big Band/Orchestra/Dynasty, Conrad Herwig, Jack Walrath, Joey Calderazzo and Ralph Bowen.
The idea of these five colleagues banding together came about a year and a half ago. As Kozlov recalls, "Alex and Seamus were sitting at the bar in an airport somewhere and they both said, 'Why don't we make a band that features everybody and where everybody brings in music,' And everybody was on board with it.

This album contains no booklet.