---
Album info
Album including Album cover Booklet (PDF)
Franz Schubert (1797 - 1828): String Quartet in A Minor, D. 804 "Rosamunde":

1

String Quartet in A Minor, D. 804 "Rosamunde": I. Allegro ma non troppo

14:23

2

String Quartet in A Minor, D. 804 "Rosamunde": II. Andante

07:51

3

String Quartet in A Minor, D. 804 "Rosamunde": III. Minuetto. Allegretto

07:12

4

String Quartet in A Minor, D. 804 "Rosamunde": IV. Allegro moderato

08:37

String Quartet in D Minor, D. 810:

5

String Quartet in D Minor, D. 810: I. Allegro

16:47

6

String Quartet in D Minor, D. 810: II. Andante con moto

13:28

7

String Quartet in D Minor, D. 810: III. Scherzo. Allegro molto

03:58

8

String Quartet in D Minor, D. 810: IV. Presto - Prestissimo

09:58

Total Runtime

01:22:14
Info for Schubert: String Quartets

Two major string quartets by Franz Schubert performed on period gut strings have been recorded by the Fitzwilliam String Quartet and will be released on the Divine Art label in February 2020. The recording is one of many events and projects set up by the quartet to celebrate its 50th anniversary season (2018/9) which has seen the quartet so busy that the celebration is extending well into spring 2020!
The new album will contain two of Schubert's masterful quartets ('Death and the Maiden' and the A minor) with a plan to follow this with another two quartets soon – next year if the schedule allows.
"Death and the Maiden" has been shown to be one of the most universally popular of all chamber works – and its composer perhaps the most loved of musical geniuses. But the A minor quartet – often known as "Rosamunde", after the principal melody of its Andante – is hardly less appealing. The fact that they are both set in minor keys might, however, suggest a predominantly dark and gloomy experience ahead. It is true that in a letter from March 1824 he actually quotes two despairing lines of Goethe: "My peace is gone, my heart is heavy; never, never again will I find rest" – originating, no doubt, in the life-threatening diagnosis of syphilis. Yet the amazing variety Schubert conjures from the constraints of the quartet medium itself ensures that there is something here for everyone: this music can appeal on so many different levels, from the unparalleled pleasure to be gained from the stream of glorious melody, to the sheer intellectual mastery of the composition process. Along the way there is drama aplenty, laughter, tears – and joy! In their 50th anniversary year, the Fitzwilliam presents these two masterpieces on instrumental set-ups that might have been familiar in 1824 (eg with gut strings), drawing on performing conventions of that time. – a truly authentic "period performance".
The 'FSQ' has made four previous recordings for Divine Art's labels – another 'period performance' ,of quartets by Haydn (Diversions DDV 24151); and in the contemporary music world, the four quartets of John Ramsay (Métier MSV 25828); 'Intricate Web' -works by Liz Johnson (Métier MSV 77206) and the unique fusion of classical quartet and jazz sax (Absolutely! – compositions and arrangements by Uwe Steinmetz) on Divine Art DDA 25112.
Fitzwilliam String Quartet
Recorded at St Martins's Church, East Woodhay, Hampshire, England in July 2018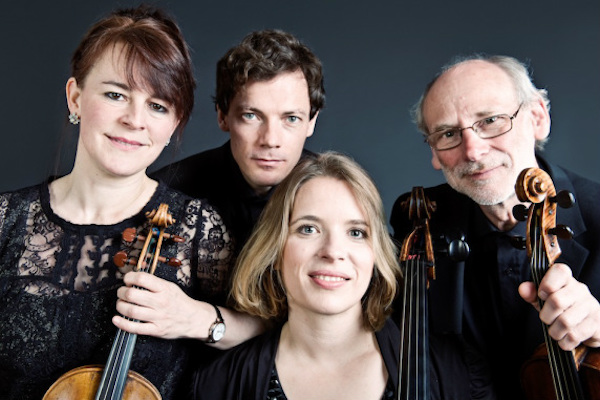 The Fitzwilliam String Quartet
is now one of the longest-established string quartets in the world. Founded in Michaelmas Term 1968 by four Cambridge undergraduates, the quartet achieved international recognition from the very outset, as a result of its members' personal friendship with Dmitri Shostakovich towards the end of his life and their championing of his string quartets following his death in 1975. He had entrusted them with the Western premieres of the last three, and before long they had become the first ever group to perform and record all fifteen quartets. Those discs, which won many international awards, secured the Fitzwilliam a worldwide concert schedule and a long-term contract with Decca/London, by which they explored some byways of the late Romantic repertoire (including Franck, Delius, Borodin and Sibelius) before embarking on a Beethoven cycle. The Shostakovich set was included in Gramophone's 'Hundred Greatest-Ever Recordings' in November 2005. All these recordings are newly available on Universal's London or Eloquence labels.
Generous private patronage has made possible the Fitzwilliam's current collaboration with Linn, which began in 2000 with Haydn's Seven Last Words and has continued with Brahms's Clarinet Quintet (with Lesley Schatzberger) and an album of twentieth-century English song with James Gilchrist and Anna Tilbrook (this includes Vaughan Williams's On Wenlock Edge and was a finalist in the 2009 Gramophone Awards). Further releases have appeared on Divine Art Records, beginning with the complete quartets of the eminent geologist John Ramsay, the latest of these a jazz-fusion collaboration with the German saxophonist-composer Uwe Steinmetz and former Turtle Island Quartet violinist Mads Tolling.
The Fitzwilliam remain one of the few prominent quartets to play on older set-ups, yet at the same time they have helped bring over 50 new works into the repertoire. They have maintained their pre-eminence as interpreters of Shostakovich, and also put the authority thus gained at the service of a range of other composers, from the late seventeenth century to the present day.
From Vaughan Williams in 2008 and Delius and Grainger to the Britten centenary in 2013, the players have enthusiastically used anniversaries to promote less familiar music: in 2015 they look further north, to mark the joint 150th birthdays of Glazunov, Sibelius and Nielsen.
Travels since the millennium have included four visits to Russia, which took in the St Petersburg Conservatoire, Pushkin's House, the Sheremetev Palace, the Summer Palace at Peterhof and the former home of Modest and Pyotr Tchaikovsky. For most of their career they have been making regular trips to the USA, two of which included marathon three-hour events in the late Lorin Maazel's private concert hall on his farm in Virginia. In 2008, their first journey to the snows of Newfoundland was followed by a Martin Randall Travel archaeological cruise from Athens to Istanbul that featured performances in a number of ancient amphitheatres en route. Further ventures abroad have taken the Fitzwilliam back to Italy, North America and South Africa (where they performed in Cape Town and Pretoria and made a recording of music by the Western Cape composer Michael Blake); they have since made their debuts in Luxembourg and Israel. At the beginning of 2013 they performed three movements of Britten's String Quartet No. 3 for John Bridcut's BBC4 film Britten's Endgame; three weeks later they received a Delius Society award for services to the composer in his 150th anniversary year. Their continuing work on Beethoven has included a collaboration with Prof. Nancy November (University of Auckland, New Zealand) on a new edition of the string quartets for Henle. In July 2014 they embarked on a project to record English anthems with St Salvator's Chapel Choir (University of St Andrews, Scotland).
After twelve years as quartet in residence at York University and three at Warwick, their university work continues at Fitzwilliam College, Cambridge, Bucknell University, Pennsylvania, and latterly at St Andrews, where they run an annual quartet course called Strings in Spring alongside their regular coaching weekend for Benslow Music in Hertfordshire.

Booklet for Schubert: String Quartets