---
Album info
Album including Album cover
I`m sorry!
Dear HIGHRESAUDIO Visitor,
due to territorial constraints and also different releases dates in each country you currently can`t purchase this album. We are updating our release dates twice a week. So, please feel free to check from time-to-time, if the album is available for your country.
We suggest, that you bookmark the album and use our Short List function.
Thank you for your understanding and patience.
Yours sincerely, HIGHRESAUDIO
1

And Then, Calm

03:02

2

Floating, Completely

03:53

3

Of Falling

05:02

4

One Thousand (Mighty) Voices

04:10

5

Real People in Real Places

04:41

6

We

02:35

7

Open

04:45

8

The Sky Sings Its Chorus (For Us Alone) (Pt .1)

06:00

9

The Sky Sings Its Chorus (For Us Alone) (Pt. 2)

04:48

Total Runtime

38:56
Info for For Us Alone

For Us Alone is the new album from Alaskan Tapes. Toronto-based musician Brady Kendall infuses his ambient music with a deeply calming essence, which, as strange as it may sound, ties into his previous musical life as a drummer, when he began his music career back in high school, listening to the metal bands he grew up with – "screaming stuff…as heavy as you can get". Ambient music may seem far removed from percussive punchbags, but perhaps it's closer than one would think; it's all about context. Kendall found his musical fix in drum and bass, and then fell into the more relaxed, atmospheric, and fluid sub-genre of liquid drum and bass, with its harmonic ambient backdrops and lush, fleshed-out synths. As such, his Alaskan Tapes alias feels more like a steady(and completely natural) evolution rather than anything out of leftfield; nothing is dislocated or out-of-place.
"Alaskan Tapes started off as downtempo electronic music, where I consciously made the decision to take out drums. I had always started my writing with drums and built everything else around them. I just really wanted to be able to focus on something else. I wanted to make something that wasn't as relaxing or chill, but instead something that was intimate."
Drums make up a key part of For Us Alone, but they're used in moderation, despite a vague post-rock vibe, which runs like blood through the veins of its tracks. Shimmering guitars, deep-rooted basslines, and crushing drums are able to anchor the piece, and the album was written in three groups of three, with three songs featuring drums (one in each suite). The music feels both spacious and connected to the overall rhythm (like that long ago liquid drum and bass). The rhythm feels solid and reliable rather than jittery and unstable, making it a powerful beast upon which a single track can ride. The minimal atmosphere ensures that its ambient textures are allowed to float freely, even when bolted to the drums, and a magical, ethereal quality shines through.
Kendall understands ambient music, and the songs are free enough to include and absolve any mistakes, as 'mistakes cause textures and allow the depth to exist in order to make the listening experience more honest.' For Us Alone is able to mirror and convey something of the human condition, as its imperfections add personality and heart to its music. (James Catchpole)
Alaskan Tapes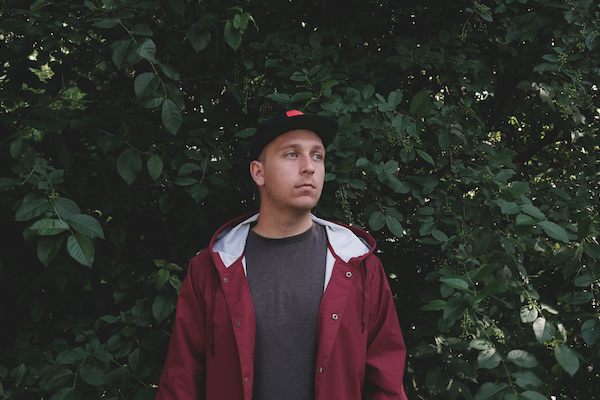 Alaskan Tapes
is Brady Kendall's ever-evolving ambient music project. The record will be his fifth outing and follows his 2019 full-length Views From Sixteen Stories. Kendall wrote the nine songs on For Us Alone in three groups of three, and as a result the music flows cohesively from one track to the next. Exactly three songs feature drums—one in each suite, a technique that helps flesh out the groups and connect them to the whole. Everything was written and recorded in Kendall's home studio space in the apartment where he lives with his girlfriend about an hour north of Toronto; strings were added remotely by Jonathan Dreyfuss in Berlin, who was the only musician aside from Kendall to play on the album. The recording embraces the imperfect nature in which it was made, from ambient blips that add texture and depth to the low hum of a conversation elsewhere in his home to the intentionally muddy way the electronic drums were captured.
Growing up, Brady played the drums in metal bands before he discovered the drum & bass scene. He started to create and post liquid drum & bass tracks online before becoming more focused on what he calls "drawn-out minimal sounds." Out of these style tracks, the project was born. Starting in early 2016 with the debut EP Beyond the Streets and then a full-length, We All Speak in Poems, later that same year, Alaskan Tapes began releasing a steady stream of music that gradually ebbed and flowed into new sonic territory and served as a natural progression of Kendall's tastes and sound experiments. From the initial atmospheric electronica and beat-less ambient songs of that first pair of records to neoclassical dream pop, guitar-based ambient, and drone music—some songs

This album contains no booklet.