---
Album info
Album including Album cover
1

Paul Mccartney

04:01

2

Never

02:41

3

What I Feel

02:52

4

I'd Like to Let You Know

03:53

5

Letter to God

03:59

Total Runtime

17:26
Info for Dear Sir or Madam

For as long as I can remember music of all genres was always reverberating off the walls of my house in the sleepy town of Brownsville, Texas.
After moving to Austin in 1995 my younger brother Mark and I formed Del Castillo in 2000. Our band was a fiery blend of old world Gypsy Flamenco meets Rock n Roll. It was here where we met film director Robert Rodriguez. We soon formed a movie band called Chingon blending Del Castillo's raw energy with Rodriguez's explosive films; a match made in heaven. Throughout all this I kept my early British musical influences tucked in my back pocket, primarily The Beatles, Queen, ELO, Led Zeppelin, Pink Floyd and David Bowie (Hunky Dory period). The Beatles however set the bar for the rest listed. Their melodies were second to none. I've been writing British style songs for some time but it was recently that I decided to make a video for my song "Paul McCartney" and make it a personal goal to have him hear it and possibly even meet the man. These five songs are an amalgamation of my British heroes listed above and pay tribute to their incredible originality and their influence on me.
Rick del Castillo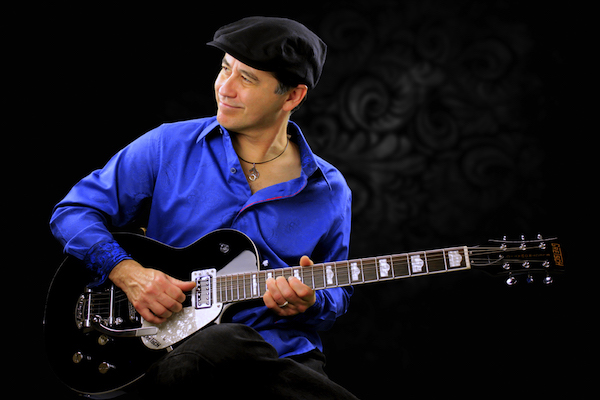 Rick del Castillo
In Austin, Rick del Castillo hooked up with his younger brother Mark and formed Del Castillo along with vocalist Alex Ruiz. With an incendiary blend of Gipsy passion meets full-throttle Rock the band immediately became a local sensation, grabbing the attention of film director Robert Rodriguez. In exchange for Rodriguez directing Del Castillo's live DVD the band provided music for the film Once Upon A Time In Mexico. During this period Rodriguez hatched the idea to form a movie band. Chingon was born providing their iconic version of the classic "Malaguena Salerosa" for the movie Kill Bill Vol. II. Rick has continued to work with Rodriguez and has provided music for the last seven of Rodriguez's films and now works with him for his new El Rey Television network.
After recording seven albums and touring both the States and Europe for 14 years, the band Del Castillo decided to take a long needed break. In September of 2015 Rick, along with the Austin Civic Orchestra & Choir, performed live music he composed for the short film Killing Snakes (which incidentally was recorded at the legendary Abbey Road Studios in London). Throughout the rest of 2015 Rick recorded & produced local artists at his Smilin' Castle Studio while finishing up his British-infused collection of songs spearheaded by the all too catchy tune Paul McCartney. This album was released April 29th, 2016. Recently Rick (along with Alex) has been commissioned to recreate late '60's and early 70's classic Italian hits. Thus begins the Costello Roquero project. Rick is also working on what is hailed as the first ever Tex-Mex musical entitled Malditos due Spring 2017.

This album contains no booklet.