---
Album info
Album including Album cover
I`m sorry!
Dear HIGHRESAUDIO Visitor,
due to territorial constraints and also different releases dates in each country you currently can`t purchase this album. We are updating our release dates twice a week. So, please feel free to check from time-to-time, if the album is available for your country.
We suggest, that you bookmark the album and use our Short List function.
Thank you for your understanding and patience.
Yours sincerely, HIGHRESAUDIO
Pyotr Ilyich Tchaikovsky (1840 - 1893): The Nutcracker (Suite), Op. 71a, TH. 35:

1

Tchaikovsky: The Nutcracker (Suite), Op. 71a, TH. 35: I. Miniature Overture

03:00

2

Tchaikovsky: The Nutcracker (Suite), Op. 71a, TH. 35: IIa. March

02:22

3

Tchaikovsky: The Nutcracker (Suite), Op. 71a, TH. 35: IIb. Dance Of The Sugar-Plum Fairy

02:03

4

Tchaikovsky: The Nutcracker (Suite), Op. 71a, TH. 35: IIc. Russian Dance (Trepak)

01:05

5

Tchaikovsky: The Nutcracker (Suite), Op. 71a, TH. 35: IId. Arabian Dance (Coffee)

03:41

6

Tchaikovsky: The Nutcracker (Suite), Op. 71a, TH. 35: IIe. Chinese Dance (Tea)

01:10

7

Tchaikovsky: The Nutcracker (Suite), Op. 71a, TH. 35: IIf. Dance Of The Reed-Pipes (Mirlitons)

02:28

8

Tchaikovsky: The Nutcracker (Suite), Op. 71a, TH. 35: III. Waltz Of The Flowers

06:45

Total Runtime

22:34
Info for Tchaikovsky: The Nutcracker (Remastered)

Soviet and Russian conductor Mstislav Rostropovich leads the Berliner Philharmoniker in this high-fidelity reissue of their 1979 Deutsche Grammophon recording of Tchaikovsky's The Nutcracker!
"At the time of the recording, Mstislav Rostropovich likened conducting the Berlin Philharmonic to driving a locomotive. You get on, and you go where it takes you, he said--but in this case, the orchestra went where he wanted it to go. The playing is magnificent, but it is the characterization, the things Rostropovich gets the players to do that they wouldn't otherwise have done, that makes these accounts so memorable. As you listen, you are transported to a different world, for no conductor understands Tchaikovsky's soul better than Rostropovich. The delicacy is amazing, the power overwhelming; the analog recording captures it all in outstanding fashion." (Ted Libbey)
Berliner Philharmoniker
Mstislav Rostropovich, conductor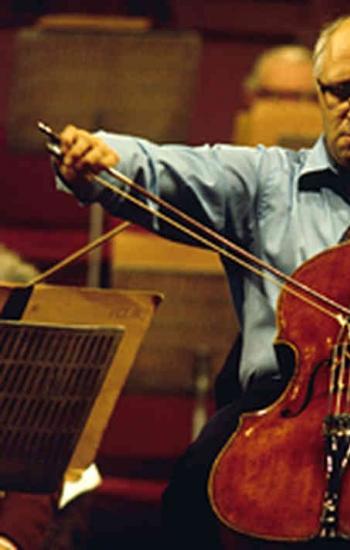 Mstislav Rostropovich
Both Mstislav Rostropovich's parents were musicians: his mother was an accomplished pianist, and his father, a distinguished cellist, had studied with Casals. In 1931 his family moved to Moscow. Here his mother began to teach him the piano, and his father introduced him to the cello soon afterwards. He continued to study under his father's tuition at the Central Music School in Moscow and then when he was sixteen went on to the Moscow Conservatory, where in addition to his cello and piano studies he began to conduct. His composition teachers at the conservatory included Prokofiev and Shostakovich, and Rostropovich became a life-long champion of both composers. In 1945 he shot to prominence overnight as a cellist when he won the gold medal in the first-ever competition in the Soviet Union for young musicians. Thenceforth, despite his battles with the Communist authorities, he became one of the central figures of Soviet musical life, inspiring audiences, cellists and composers alike.
In 1950 Rostropovich won the Prague International Cellists' Competition and in 1956 made a highly successful début at Carnegie Hall in New York City. He was appointed a teacher in 1953 at the Moscow Conservatory, becoming a professor there in 1956 and at the Leningrad Conservatory in 1961. After marrying the soprano Galina Vishnevskaya in 1955 Rostropovich often appeared accompanying her at the piano; and in 1961, he began his career as a conductor. He was awarded the Lenin Prize in 1963 and the gold medal of the Royal Philharmonic Society of London in 1970, the year in which he gave the British première of Shostakovich's Cello Concerto No. 1. He recorded nearly the entire cello literature during this time and inspired a vast quantity of new repertoire for the instrument through his personal contact with composers such as Benjamin Britten, who wrote his Cello Symphony, Sonata for Cello and Piano and three Suites for Solo Cello especially for Rostropovich. Other composers who have written for Rostropovich include Prokofiev, Shostakovich, Khachaturian, Boulez, Berio, Messiaen, Schnittke, Bernstein, Dutilleux and Lutosławski.
Despite high-level recognition of his extraordinary abilities within the Soviet Union, Rostropovich came into conflict with the state authorities in 1969 when he allowed the dissident writer Alexander Solzhenitsyn to live in his dacha outside Moscow. This situation was further exacerbated in 1970 when Rostropovich wrote an open letter to the Soviet president Leonid Brezhnev protesting against Soviet restrictions on cultural freedom. As a result concerts and foreign tours by Rostropovich and Vishnevskaya were cancelled and they were both subject to a Soviet media black-out. Recording projects ceased and published recordings by both artists vanished from the Soviet and export catalogues. In 1974 they were finally granted exit visas, effectively allowing them to go into exile: their departure from the Soviet Union sparked international controversy and attention. Four years later they were stripped of their Soviet citizenship, a decree which held until 1990. Rostropovich immediately launched a new career in the West as a conductor, appearing with the London Philharmonic and Symphony Orchestras, the Berlin Philharmonic Orchestra and the Boston Symphony Orchestra. He was appointed chief conductor of the National Symphony Orchestra, Washington, in 1977, serving in this position until 1996. Following an emotional return to Russia in 1990 with this orchestra, he flew to Moscow without a visa during the attempted coup of August 1991, threw himself into the heart of the political situation and was subsequently hailed as a national hero, being awarded the State Prize of Russia. He and his wife worked tirelessly on behalf of human rights and humanitarian aid: the Vishnevskaya-Rostropovich Foundation has donated large sums of money to support children's hospitals in Russia.
Rostropovich was as individual a conductor as he was a cellist: his recorded interpretations have a freedom and intensity which are both highly personal. His opera recordings are fine examples of his art, as is his complete cycle of the Tchaikovsky symphonies with the London Philharmonic Orchestra. For Teldec he recorded the complete symphonies of Shostakovich, whom he knew intimately and of whom he may be considered to have been an especially significant interpreter.

This album contains no booklet.