---
Album info
Album including Album cover
1

Temporary Love

05:07

2

For My Sins

04:35

3

Goodbye

03:49

4

On My Own

04:12

5

Keep You

04:32

6

Dead Slow

03:20

7

Same Old Song and Dance

04:48

8

Only You

05:36

9

Time of My Life

04:00

10

1976

06:01

Total Runtime

46:00
Info for Dead Slow

Stilistisch bewegt sich das Album zwischen modernem Blues Rock mit britischem Einschlag, Americana und atmosphärischen Balladen, die durch ihre sparsame Instrumentierung oft an einen Film-Soundtrack erinnern. Auf dem Album arbeitet Matt Gonzo Roehr zum ersten Mal mit seinem Sohn Vincent Roehr und dem jungen amerikanischen Ausnahmesänger Zach "Dowzy" Dowd zusammen. Eine Kooperation, die sehr viel Spaß machte und garantiert fortgesetzt wird.
Dead Slow" wurde in den Custom Garage Studio Dublin/Budapest und in den Union Recording Studios, Los Angeles/USA aufgenommen und in den Abbey Road Studios London/England von Paul Pritchard abgemischt, sowie von Oli Morgan gemastert.
Matt "Gonzo" Roehr, Gitarre, Gitarren-Synthesizer, Bass, Percussion
Zach "Dowzy" Dowd, Gesang
Vincent Roehr, Hammond B3, Grand Piano, Rhodes Piano, Orchester Arrangement
Szammy Tógép, Schlagzeug and Blasinstrumente
Norbert Nebenführ, 2te Sologitarre auf "1976"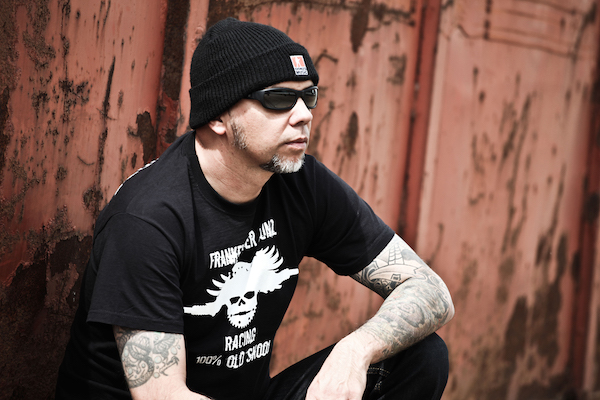 Matt "Gonzo" Roehr
Wann auch immer von deutschen Ausnahmegitarristen die Rede ist, die durch ihre Spielweise ein Genre definiert oder neu erfunden haben, wird sein Name (mit Ausnahme einiger weniger Fachzeitschriften) garantiert nicht erwähnt werden. Und dass, obwohl er dort dringend stehen müsste.
Matt Roehr, der "Gonzo" von Deutschlands wohl bekanntester und erfolgreichster Rockband BÖHSE ONKELZ, ist praktisch seit Teenager-Tagen dieser Gitarrist. Sozialisiert in der hessischen Provinz zu Mitte der Siebziger und von den bluesigen, jazzigen und derben rockigen schwarzen Sounds, die im Radio bei AFN liefen und von amerikanischen DJs wie "Wolfman" Jack aufgelegt wurden. B.B. King, John Lee Hooker. Johnny Winter. Solche Kaliber. Begeistert durch die großen Rockbands, die bis heute erfolgreich sind: AC/DC und KISS. Oder Künstler, deren goldene Jahre lange zurückliegen, die aber für den jungen Matt Roehr seinerzeit von immenser Wichtigkeit waren: Ted Nugent, zum Beispiel. Dessen Live-Album "Double Life Gonzo" lief rauf, runter und wieder runter und rauf, bis Roehr jedes Wort kannte und auch jeden Akkord draufhatte. Schon damals spielte er in eigenen Bands die E-Gitarre. HEADLINER, SINNER, ANTIKÖRPER.
Geprägt durch die fette Spätsiebzigerwelle des englischen Punkrocks, die brachiale Bands wie THE CLASH, THE DAMNED, THE STRANGLERS oder die SEX PISTOLS ans Festland spülte. Die Wucht dieser unverbrauchten Subkultur sorgte schlussendlich auch dafür, dass der rebellische Roehr, der erst die Haare ganz lang trug und anschließend aussah wie der Zwillingsbruder Sid Vicous', bei der gerade flüggegewordenen Punkband "Böhse Onkelz" einstieg. Die waren genau das, was sich Gonzo von Punk und den Menschen, die ihn spielten, wünschte. Echter Mief, kein Können und trotzdem die Attitüde so frech und die Eier so dick, dass sofort klar wurde, was er verpassen sollte, würde er nicht miteinsteigen: Provokation, Spaß und jede Menge Wut.
1981 war das. Gerade einmal wenige Monate nach der Bandgründung. Der Rest ist die gut dokumentierte Geschichte des Aufstiegs, Falls und Wiederbelebung einer Band, die inzwischen vierzig Jahre in exakt der Besetzung besteht, die schon 1981 die Jugendzentren in und um Frankfurt am Main unsicher machte. Zig Millionen verkaufte Platten, Millionen Konzertbesucher, ein Merchandise-Absatz und eine Fanhuldigung, von denen selbst die eben erwähnten AC/DC oder KISS nur träumen können. 100.000 Menschen zur Verabschiedung 2005 auf dem Lausitzring. 100.000 Menschen zur großen Feier der Wiederauferstehung 2014 auf dem Hockenheimring. Die Böhsen Onkelz sind nicht nur eine Rockband. Das ist eine Bande. Verschworen wie Brüder. Auch mit brüderlichen Reibereien, natürlich. Aber seit der Reunion nicht mehr mit dem "Meine Meinung über alle anderen"-Gestus, sondern demokratischen Prozessen folgend.
Und wenn die lange, fast eine Dekade andauernde Pause etwas Gutes hatte, dann war es der Umstand, dass sich die Bandmitglieder (und damit auch Matt "Gonzo" Roehr) musikalisch selbst finden und ausprobieren konnten. Roehr zog nach Uruguay. Dort, unter einer gleißenden Sonne, nahm er 2007 mit vielen verschiedenen, international angesehen Musikern sein erstes Solo-Album "Barra da Tijuca" auf, das so ganz anders als die Musik der Onkelz klang und deshalb wertvoll war. Charlie Huhn, der früher schon mit Nugent tourte und damit einen weiteren Kreis schloss, stand am Mikrofon. Weltmusik beschreibt das Genre, dem diese Platte angehört, bestens. "Barra" klingt auch heute noch reifer als viele andere Rock-Produktionen. Man hört jeder Note an, wie groß der Wunsch des Künstlers war, sich von den übergroßen Onkelz und deren Erbe zu emanzipieren.
Es folgte "Out of the great depression" und schon das Album klang erneut anders als sein Vorgänger. Amerikanischer Biker-Rock, Wüste, Staub, Western. "Fuel into the fire", die erste Single, wurde in US-Independent-Radios rauf und runter gespielt. Das Video dazu kommt als ernstgemeinte Hommage an EASY RIDER daher daher. An Dennis Hopper und andere Leinwandlegenden.
Und wer dachte, Matt "Gonzo" Roehr hätte nach der Veröffentlichung dieser Platte seinen Stil gefunden und wer gar der Meinung war, dass es das jetzt mit Weiterentwicklung gewesen ist, wurde mit "Blitz und Donner" und "Zuflucht vor dem Sturm" wieder eines Besseren belehrt. Deutscher Rock, erdig, scharfkantig, straßig und punkig bis zum Abwinken. Zurück zu jenen viel beschworenen Wurzeln, die Roehr tatsächlich nie vergessen hat.
Und während die Onkelz 2020 ein erneutes Nummer-eins-Album ablieferten, werkelt der Solokünstler Roehr 2021 an einem fünften Album, das – soviel steht schon jetzt fest – wieder ganz anders wird, als alle Erwartungshaltungen an ihn und seine Kunst stellen könnten.

This album contains no booklet.