---
Album info
Album including Album cover
Armando José Fernandes (1906 - 1983): Sonatina:

1

Fernandes: Sonatina: I. Allegretto grazioso

02:44

2

Fernandes: Sonatina: II. Tempo di Folia

02:59

3

Fernandes: Sonatina: III. Allegro non troppo

01:37

Isaac Albéniz (1860 - 1909): España, Op. 165:

4

Albéniz: España, Op. 165: I. Preludio

01:57

5

Albéniz: España, Op. 165: II. Tango

02:45

6

Albéniz: España, Op. 165 : III. Malagueña

04:21

7

Albéniz: España, Op. 165 : IV. Serenata

03:46

8

Albéniz: España, Op. 165 : V. Capricho catalán

03:48

9

Albéniz: España, Op. 165: VI. Zortzico

02:26

Pedro Blanco (1795 - 1854): Castilla, Op. 16:

10

Blanco: Castilla, Op. 16: II. Nana leonesa

04:51

Heures Romantiques, Op. 6:

11

Blanco: Heures Romantiques, Op. 6: V. Berceuse

04:20

Galanías, Op. 10:

12

Blanco: Galanías, Op. 10: III. Verbena

04:58

José Vianna da Motta (1868 - 1948): 3 Cenas Portuguesas, Op. 9:

13

Motta: 3 Cenas Portuguesas, Op. 9: I. Cantiga d'Amor

05:46

14

Motta: 3 Cenas Portuguesas, Op. 9: II. Chula

03:16

15

Motta: 3 Cenas Portuguesas, Op. 9: III. Valsa Caprichosa

03:09

Xavier Montsalvatge (1912 - 2002): Sonatine pour Yvette:

16

Montsalvatge: Sonatine pour Yvette: I. Vivo e spiritoso

03:38

17

Montsalvatge: Sonatine pour Yvette: II. Moderato molto

04:47

18

Montsalvatge: Sonatine pour Yvette: III. Allegretto

02:20

Total Runtime

01:03:28
Info for Iberian Impressions

In his debut album, "Iberian Impressions", Portuguese pianist Paulo Oliveira navigates a journey through Iberian piano music, showcasing the works of Spanish and Portuguese composers who have had a profound impact on his musical life.
"Iberian Impressions" starts and ends with two works that act as foundations for the entire programme: the Sonatinas by Armando José Fernandes and Xavier Montsalvatge. In a freer style, the suites by Isaac Albéniz ('España') and José Vianna da Motta ('Cenas Portuguesas') represent explorations of images, landscapes, dances or scenes typical of Spanish and Portuguese life. With two composers from each country, Paulo Oliveira felt the programme needed something to link them, to create a bridge between the two cultures, and believes that there is nobody better than Pedro Blanco to represent the fusion between Spanish and Portuguese piano music. Pedro Blanco was born in Spain but moved to Portugal and carried out important cultural exchanges between the two countries, contributing enormously to a contemporary cultural Iberianism. Pedro Blanco's three pieces included on this album, from his 'Castilla Op. 16', 'Heures Romantiques Op. 6' and 'Galanias Op. 10', are all dedicated to Portuguese artists.
Paulo Oliveira has long felt a special affinity with this repertoire: his last piano teacher, Sequeira Costa, was a great interpreter of Iberian piano music, and his very personal approach to performing this music had a profound impact on Paulo Oliveira's interpretations, as heard on this album.
Paulo Oliveira, piano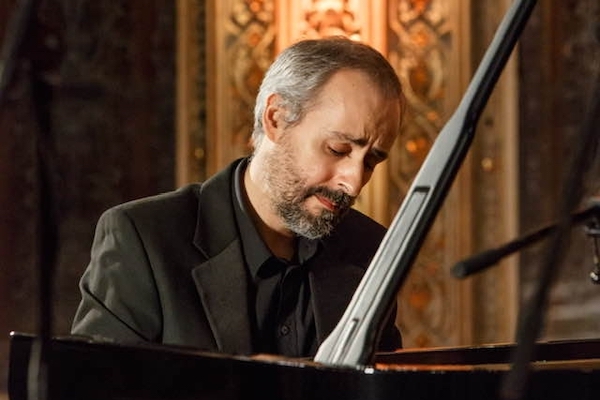 Paulo Oliveira
Born in Vila do Conde, he started his musical studies in 1988 with professor Joaquim Bento. Afterwards he attended the Academia de Música de S. Pio X, in Vila do Conde, in the class of professor Margarida Almeida. In 1998 she finished the piano complementary course with 20 marks in the class of professor Felipe Silvestre. In the same year she started the piano course at Escola Superior de Música de Lisboa, in the class of professor Tania Achot, concluding the course in 2002, once again with the highest grades. He then entered the Masters in Piano Performance at the University of Kansas, USA, with a scholarship from the Calouste Gulbenkian Foundation.
He has participated in numerous improvement courses and Master Classes with pianists and pedagogues of international reputation. Among others, Helena Sá e Costa, Jorge Moyano, Constantin Sandu, Luiz de Moura Castro, Pierre Reach, Andrei Diev, Vladimir Viardo, Vitaly Margulis, Paul Badura-Skoda and Dmitri Bashkirov are worthy of mention.
He has performed solo, with orchestra and in chamber music recitals in various halls in Lisbon, Porto, Andorra, Italy and several states of the USA.
In 2000 he formed a duo with the cellist Teresa Valente Pereira, performing at the Palácio Foz in Lisbon and at the International Music Festival of Trento, Italy.
In 2003, he was awarded the 1st prize at the "International Bartok-Kabalevsky-Prokofiev Competition". That same year he was selected for the "Annual Honors Recital" of the music department of the University of Kansas.
In 2004 he was semi-finalist and obtained the prize for the best Portuguese candidate in the "XV International Piano Competition Vianna da Motta".
He was the winner for two consecutive years (2004 and 2005) of the "Kansas University Symphony Orchestra Concerto Competition", where he played solo with the University of Kansas Symphony Orchestra. He performed Franz Liszt's Concerto for Piano and Orchestra No. 2 and Beethoven's Triple Concerto under the direction of conductor Nicolas Uljanov at the University's Lied Center. He was part of the group of students selected for the "WAM Fest 2006" at the University of Kansas. This event was a commemoration for the 250th anniversary of Mozart's birth where his piano sonatas were performed in their entirety.
He recently performed in Brazil where he gave the opening concert of the Sabará Winter Festival 2006 and officially reopened the Teatro Municipal de Sabará, the second oldest theatre in Brazil. He also played at the Manuel Franzen de Lima Theatre in Minas Gerais and at the opening ceremony of the 76th anniversary celebrations of the Pernambuco Conservatory of Music in Recife.

This album contains no booklet.