---
Album info
Album including Album cover
I`m sorry!
Dear HIGHRESAUDIO Visitor,
due to territorial constraints and also different releases dates in each country you currently can`t purchase this album. We are updating our release dates twice a week. So, please feel free to check from time-to-time, if the album is available for your country.
We suggest, that you bookmark the album and use our Short List function.
Thank you for your understanding and patience.
Yours sincerely, HIGHRESAUDIO
1

Anyone Seen My Heart?

03:09

2

Merry Go Round

03:01

3

Love's Around the Corner

03:55

4

Talking to Myself

03:29

5

Happy as a Lamb

02:49

6

A Love Like This

03:13

7

Loves' Horn

04:04

8

Wee Wee Tailor

03:28

9

Hey Brother

03:22

10

Too Many Cockerels

02:50

Total Runtime

33:20
Info for Mixing up the Medicine

Chris Jagger's new studio album 'Mixing Up The Medicine' is set for release via BMG on 10th September 2021. Recorded in a studio near Jagger's long-standing collaborator and pianist Charlie Hart's Lewisham home, at Jagger's farmhouse, and down the line to each other when lockdown restrictions were in force, Mixing up the Medicine is a loose, lively 10-track collection of Jagger/Hart originals that features a hit-list of top players.
These include old friend Olly Blanchflower on double bass; Atcha band alumnus Dylan Howe on drums; veteran producer John Porter, who's worked with artists including The Smiths, Roxy Music, Buddy Guy, BB King and Elvis Costello; guitarist Neil Hubbard (Bryan Ferry, Joe Cocker); as well as brother, Mick, whose vocals appear on 'Anyone Seen My Heart?', the first song on the album.
Chris used poems by early 19th century writer and physician Thomas Beddoes for three songs: the irresistible Madness-like ska-pop knees-up of the opening 'Anyone Seen My Heart?', the sea shanty-ish 'Loves' Horn' and the voodoo soul of 'Wee Wee Tailor'. Into Hart's 'jazzer' category we can fit 'Talking to Myself', the New Orleans sass of lead track 'Merry Go Round' and the in-the-wee-small-hours croon and groove of 'A Love Like This'. Honourable mention, too, to the comforting bluesy lament of 'Hey Brother', a lovely ode to lifelong fraternal bonds.
Chris Jagger, guitar, vocals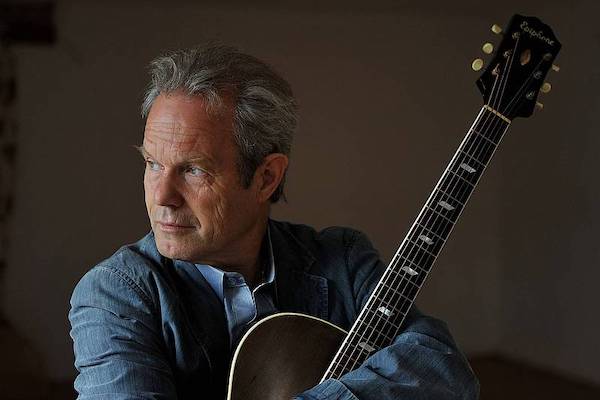 Chris Jagger
was born into a middle-class family in Dartford, Kent. His father, Basil Fanshawe "Joe" Jagger (13 April 1913 – 11 November 2006), and grandfather, David Ernest Jagger, were both teachers. His mother, Eva Ensley Mary (née Scutts; 6 April 1913 – 18 May 2000), born in New South Wales, Australia, of English descent, was a hairdresser.
After studying dramatic art, Jagger has worked in many fields, including theatre, cinema, clothes design, and decoration. He first appeared in the musical 'Hair' in Tel Aviv for six months, later with the Black Theatre of Brixton at the ICA in London with Rufus Collins, then joined The Glasgow Citizens' Theatre where he appeared with, amongst others, Kieran Hinds, Pierce Brosnan, and Sian Thomas. He also played repertory theatre in Nottingham, Plymouth, and Hammersmith Lyric London.
In the 1970s, his project for recording an album with the Flying Burrito Brothers was aborted. In the 1980s, he contributed to two of The Rolling Stones' albums, Dirty Work (1986) and Steel Wheels (1989), while he also worked in France with Vanessa Paradis's producer, Franck Langolff.
Jagger has also worked as a journalist (contributing articles for The Daily Telegraph, The Guardian, The Mail on Sunday, The Independent on Sunday and Rolling Stone), and wrote and presented for BBC Radio 2 a program about Alexis Korner, a blues pioneer, and co-produced a film for Sky Arts channel called I Got the Blues in Austin.
Jagger and his business partner Pat Townshend developed the guitar company Staccato in the mid-1980s. Townshend designed the magnesium alloy guitar called, "The Staccato." The guitar featured a neck and bridge system that could be swapped out. The user could interchange a bass neck for a six-string neck. Some models featured no volume or tone pots. The user could activate the volume controls on a touch sensitive LED pad.
A prototype bass was built in Norfolk, England in 1983, and a business partnership was formed to produce Staccato guitars, at the old school house in Woodbastwick, Norfolk. The partners on equal shares were Pat Townshend, Bill Wyman, and Chris and Mick Jagger. The company went under in 1987. Gene Simmons can be seen playing a Staccato bass during Kiss' Crazy Night's tour.
In England, he also organised charity concerts: one for Bosnia (Bop for Bosnia) and the three others for Tibet including one at Alexandra Palace London in the presence of H.H. the Dalai Lama, where the acts included Dave Gilmour and Sinead O'Connor.
After twenty years of silence, Jagger's third album was released in 1994. Since this date, his musical style has changed to incorporate elements of cajun, zydeco, folk, country, blues, and rock.

This album contains no booklet.