---
Album info
Album including Album cover
I`m sorry!
Dear HIGHRESAUDIO Visitor,
due to territorial constraints and also different releases dates in each country you currently can`t purchase this album. We are updating our release dates twice a week. So, please feel free to check from time-to-time, if the album is available for your country.
We suggest, that you bookmark the album and use our Short List function.
Thank you for your understanding and patience.
Yours sincerely, HIGHRESAUDIO
1

Gimme Your Money Please

04:41

2

Hold Back The Water

05:06

3

Blue Collar

06:10

4

Little Gandy Dancer

04:22

5

Stayed Awake All Night

04:07

6

Down And Out Man

03:10

7

Don't Get Yourself In Trouble

04:54

8

Thank You For The Feelin'

04:08

Total Runtime

36:38
Info for Bachman-Turner Overdrive (Remastered)

Bachman–Turner Overdrive is the self-titled debut album by Canadian rock band Bachman–Turner Overdrive, released in 1973. It was originally to be titled Brave Belt III, as Brave Belt was the name of the group before they became Bachman–Turner Overdrive.
Although this album did not produce a true hit single ("Blue Collar" only managed to reach #68 on the U.S. Billboard charts), it was certified "Gold" by the RIAA in 1974, largely pulled up by strong sales of BTO's two subsequent albums (Bachman–Turner Overdrive II and Not Fragile).
"Ben Davies called Bachman-Turner Overdrive's first album a "fusion of Lynyrd Skynyrd-style Southern/trucker rock and ZZ Top's anthemic arena rock," and with their logo imprinted in a big metallic gear which looks like it inspired James Cameron's Terminator trademark, Randy Bachman, his brothers Tim and Robbie, and C.F. Turner dish out a methodical mix of plodding hard dirges. They took the Brave Belt beginnings and followed them to the harder extremes, a focus on blue-collar working men's music without the swagger of Michigan's Grand Funk Railroad. Taking a cue from Leslie West's Great Fatsby persona, much like the Guess Who at this point in time, Bachman-Turner Overdrive let it all hang out, choosing a sloppy "everyman" image for their stage look. It wasn't a pretty sight, nor is the music enhanced with any decorations; the discipline of Jack Richardson, who clearly had his hands full with Burton Cummings' control of Randy Bachman's previous group, was forsaken for Bachman's vision, for better or for worse. Like the 1984 reunion/finale on Compleat/Polygram, also entitled Bachman-Turner Overdrive, this is a very consistent set with no hits and a focus on bottom-heavy sounds. Not heavy metal, more like molten metal, oozing and dripping without the high-energy ZZ Top and Led Zeppelin injected into their driving numbers. Bachman-Turner Overdrive is rocking here in the sitting position even on an up-tempo opener, "Gimme Your Money Please," one of C.F. Turner's best contributions to the Bachman-Turner Overdrive catalog. But Tim Bachman's "Down and out Man" does have the seeds of "Takin' Care of Business," and it is the cleverness of journeyman brother Randy that crafted this enterprise, continually shaping it. The gatefold's side-view mirror images of the band in an automobile junkyard sums up what the music is all about. Fans of both Bachman-Turner Overdrive and the Guess Who had good reason to complain. Had Burton Cummings and Randy Bachman pooled their efforts, the Guess Who would have been a North American powerhouse. Three decades after this music's release, the reconstituted Guess Who plays hits from both bands, but the worst excesses of these artists were put on public display, with some of the klunkers recorded by both Bachman-Turner Overdrive and the Guess Who. Four of the eight tunes on this debut are from Randy Bachman's pen, and though there is nothing as dynamic as their first hit, "Let It Ride," on this debut, there are none of the bad tracks found on future discs which hit the proverbial brick wall. C.F. Turner's "Blue Collar" is a harbinger of "Looking out for #1" from 1975's Head On, and this debut sets the tone for the success that would follow." (Joe Viglione, AMG)
Randy Bachman, lead guitar, backing and co-lead vocals (5, 7)
Tim Bachman, rhythm guitar, backing, lead (6) and co-lead vocals (5)
C.F. Turner, bass, lead (1-4, 7, 8) and backing vocals
Robbie Bachman, drums, percussion
Additional musicians:
Barry Keane, congas
Will MacCalder, piano
Garry Peterson, percussion, drums, background vocals
Digitally remastered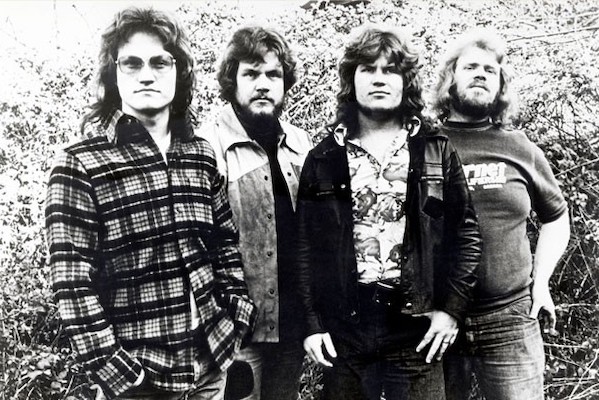 Bachman-Turner Overdrive
Following his 1970 departure from the Guess Who, guitarist Randy Bachman recorded a solo album (Axe) and planned a project with ex-Nice keyboardist Keith Emerson (later canceled due to illness) before forming Bachman-Turner Overdrive in 1972. Originally called "Brave Belt," the metal group was comprised of singer/guitarist Bachman, fellow Guess Who alum Chad Allan, bassist C.F. "Fred" Turner, and Randy's brother, drummer Robbie; after a pair of LPs (Brave Belt I and Brave Belt II), Allan was replaced by another Bachman brother, guitarist Tim, and in homage to the trucker's magazine Overdrive, the unit became BTO.
Bachman-Turner Overdrive IIWhile their self-titled 1973 debut caused little impact in the U.S. or the band's native Canada, Bachman-Turner Overdrive II was a smash, netting a hit single with the anthemic "Takin' Care of Business." Prior to the release of 1974's Not Fragile, Tim Bachman exited the group to begin a career in production, and was replaced by Blair Thornton; the album was a chart-topping success, and notched a number one single with "You Ain't Seen Nothin' Yet."
FreewaysAfter 1977's Freeways, Randy Bachman left the group for a solo career and formed another group, Ironhorse. Bachman-Turner Overdrive continued on in his absence with replacement Jim Clench for two more albums, Street Action and Rock n' Roll Nights (both 1978), eventually changing their name to simply BTO. At the tail-end of the decade, the band dissolved, but in the 1980s they re-grouped to tour as both Bachman-Turner Overdrive (led by Randy) and BTO (led by Robbie); the ensuing confusion the name game triggered ultimately resulted in Randy Bachman filing suit against his one-time bandmates for rights to the group's logo.

This album contains no booklet.