---
Album info
Album including Album cover
1

Kris

04:24

2

Noja

04:21

3

Deklaration

03:46

4

Allmende

04:03

5

Domstol

05:33

6

Moment

01:23

7

Torka

06:21

8

Bilen

04:22

9

Kollaps

07:22

10

Agera

06:36

Total Runtime

48:11
Info for Kollaps

Kollaps - the Swedish equivalent to "collapse" - is the name of a book, which I stumbled upon while doing research on the album's overall theme. In it, the author investigates why historical societies perish and designates conclusive factors, that could lead to a perishing of present-day societies. Remarkably, the man-made climate change ranks first, although the book saw the light of the day already fifteen years ago. As an example for an extinct, historical society, the inhabitants of the Easter Island also find mention in Kollaps. In line with this, the title track bears the same name. Together with the song "Torka" it tells its own, fictional story, that could have taken place at the mentioned site. For all titles on the album (except "Allmende") we chose a term that either derived from the Swedish language or existed in it itself, hereby alluding to the famous, Swedish environmental activist Greta Thunberg.
The Hirsch Effekt returns with a new album. "Kollaps", the fifth album by The Hirsch Effekt encounters everyday madness with elaborate counterpoints and ludicrous lyric lines. After their last album "Eskapist" (2017), which charted #21 on the German album charts, and formidable show-offs at Wacken Open Air, Full Force Festival and as recent headliners at the renowned Euroblast Festival, The Hirsch Effekt have now spawned their new ogre. Musically, the trio from Hanover, Germany, has once again settled in the microcosm of progressive metal and enhanced their songs with their typical trademark of – at first glance totally out of the line – genre-hopping. The German lyrics, that by now – due to the band's steadily rising popularity also in international territories – are also sung by international audiences have become less a barrier but far more a unique feature, that sets them apart from other takers. On the actual concept album, the band slips increasingly into the roles of other, social actors to reflect the aspects of their agenda: a dispute with the systematic collapse is thematized from the perspective of the "Fridays For Future"-movement, depicted in a musical dainty or a bizarre way, then again also to corrode opposers in a strobe-like manner.
Similar as on previous records, it's executed once again by Hirsch-style chopping of parts, bits and beats, that first off felt safe and usual. In between chorals resound, helping to find one's way back to a necessary recollection. On the one side it's a euphonious, on the other side a hurting listening experience that leads to a heightened perception of the exposure of the human disorientation, and serves as a call to the solitary consciousness of courageous individuals - to gather together at concerts.
The Hirsch Effekt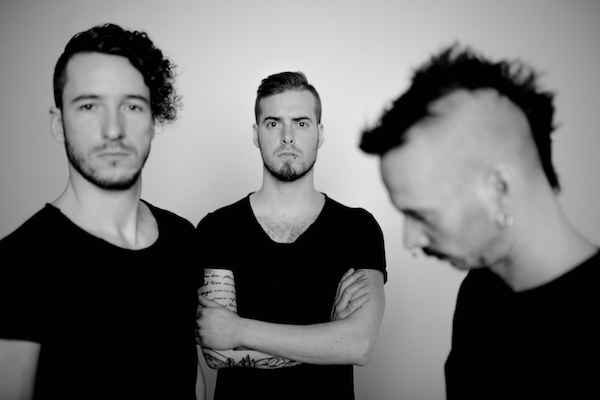 The Hirsch Effekt
Für The Hirsch Effekt und deren ausschweifende Klanglandschaften stürzt man sich rhetorisch auch gern mal als Schreiberling in überbordende Gefilde, um dem, was dort auf Platte und Bühne vorgestellt wird, irgendwie gerecht zu werden. Damit ist das Ausmaß der musikalischen Leistungsfähigkeit des Trios verständlich. Es ist schwer sie in Schubladen zu pressen. Auch das kann man bei vielen Bands behaupten, aber The Hirsch Effekt sind eine andere Nummer, im wahrsten Sinne des Wortes. Diese Kombo hat schon jetzt Musikgeschichte geschrieben, das kann man mit eindeutiger Kredibilität unterschreiben. Und schon wieder hängt dieses Eifern nach den richtigen Worten in der Luft, um diese Musik zu definieren. Aber muss man das eigentlich?
Kurz gesagt sind The Hirsch Effekt eine Band, die in ihrer Bandgeschichte Alben hervorgebracht haben, die sich ohne Umschweife in die Riege der besten Alben aller Zeiten einreihen. Zwischen Punk, Avantgarde, klassischen Elementen, der gewissen alternativen Note, cleanem Gesang, Geschrei, Hardcore, mal schnell, mal langsam, mal melancholisch und mal wütend bleibt am Ende immer eines stehen: Authentizität. Man wünscht sich, dass mehr Bands ihrem Instinkt auf diese Weise nachgehen würden und nicht mehr versuchen irgendwelchen Trends und Genrekonventionen nachzueifern. Mehr Worte bedarf es eigentlich nicht, denn dass man The Hirsch Effekt gesehen haben muss, ist absolut selbstverständlich.

This album contains no booklet.