---
Album info
Album including Album cover
I`m sorry!
Dear HIGHRESAUDIO Visitor,
due to territorial constraints and also different releases dates in each country you currently can`t purchase this album. We are updating our release dates twice a week. So, please feel free to check from time-to-time, if the album is available for your country.
We suggest, that you bookmark the album and use our Short List function.
Thank you for your understanding and patience.
Yours sincerely, HIGHRESAUDIO
1

Let the Music Play

05:11

2

Freaky Lovin'

05:28

3

Knock! Knock!

04:48

4

What Will I Do Without You

04:11

5

Don't Stop

05:06

6

This Time It's Forever

04:39

7

Satisfying Love

04:09

8

Everyday Love

04:14

9

I Believe In You

02:59

Total Runtime

40:45
Info for Let The Music Play (Remastered)

A glorious little album from The Dazz Band – a set that quickly proclaims its intentions with the title – as the group roll into a tight batch of upbeat funky numbers, all graced with their superb sense of musicianship! There's almost a late 70s funk mainstream vibe here than some of the other groups of their generation were hitting in the early 80s – amazing guitar riffs, just the right keyboard elements, and this sense of coming together with a cool, compressed sound that's completely right on the money! A few mellower cuts balance things out nicely – and titles include "Freaky Lovin", "Let The Music Play", "What Will I Do Without You", "I Believe In You", "Everyday Love", and "Satisfying Love".
"Having already released two albums to little fanfare on 20th Century, under their original name Kinsman Dazz, 1980-1981 saw the band shorten their name, sign to R&B powerhouse Motown, and come back with the near-total reinvention of Let the Music Play. Bucking the early-'80s trend of synthesizing absolutely everything, the Dazz Band kept their music flowing around the more traditional funk trappings of exquisitely elastic basslines and brightly crafted horns. Keys were introduced only to make a sonic point -- they work to their best advantage on the rambunctiously quirky "Freaky Lovin'," and the mid-tempo moves on the title track. "Don't Stop," meanwhile, only adds to the upbeat energy with its snappy bass-driven danceability. The rest of the set, however, is dedicated to a softer, smoother, vocally focused R&B style that is spread liberally across "What Will I Do Without You," "This Time It's Forever," and "I Believe in You." "Knock Knock," the best of the bunch, emerged as Let the Music Play's sole charting single, reaching the Top 50 in August. Patchy in places, and leaning more heavily on a bland, soft style than the band needed, it's obvious that the Dazz Band were stretching their wings and finding the groove that would keep them in heavy chart rotation through the entire decade." (Amy Hanson, AMG)
The Dazz Band
Recorded and Mixed at the Recording Connection, Beechwood, Ohio, in March and April, 1981
Produced by The Dazz Band for Dazz Productions and Reggie Andrews
Digitally remastered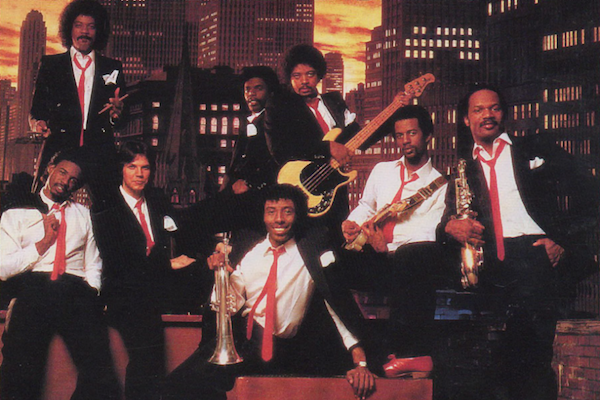 The Dazz Band
Bobby Harris, leader and founder of the Grammy Award Winning Dazz Band, formerly "Kinsman Dazz" was born in Cleveland, Ohio. Bobby started playing saxophone with his father in jazz clubs in when he was 16 years old. Bobby played with many jazz greats including Roy Ayers, Freddie Hubbard and Richard "Groove" Holmes and wanted nothing more than to be a jazz musician. However after seeing Blood, Sweat and Tears perform he decided that fusing R&B, Pop and Jazz together could be done with musical integrity that included horn sections and riffs with a strong jazz connotation. As a songwriter, Bobby Harris published countless song titles in his career which can be found on the two Kinsman Dazz albums and ALL fourteen Dazz Band albums including: Invitation to Love, Let the Music Play, Keep It Live, On the One For Fun, Jukebox, Hot Spot, Wild and Free, Time Traveler, Funkology, Here We Go Again, Rock the Room, Under The Streetlights, Motown Legends, and The 20th Century Millennium. In 1982, The Dazz Band won a Grammy Award for Best Performance by a Group or Duo for "Let It Whip" written and produced by Reggie Andrews who also produced The Dazz Band hits including: "Swoop", "Joystick", "Heartbeat", "Hot Spot", "Party Right Here", and "Let It All Blow", their biggest UK single. With a total of 20 hits on Billboard's R&B and Pop charts The Dazz Band performed on popular television shows such as Soul Train, Solid Gold and American Bandstand. Hits like Let It Whip, Joystick, Heartbeat, Party Right Here, Swoop and others stood the test of time, and remain in recurring rotation while millions of fans continue to seek out Dazz Band music online across the globe.
Skip Martin, lead vocalist and trumpet player, has been performing with The Dazz Band for a combined total of over 25 years. Along with Bobby Harris, Skip Martin was also a part of the Grammy Award winning Dazz Band in 1982. Skip was featured as lead vocalist on many of The Dazz Band hits and his powerful tenor voice reflects a strong eclectic style. Skips voice, combined with masterful trumpet skills, and high level performance skills truly make him a force to be reckoned with. Skip Martin is a MOBO Award recipient who achieved an honorary Doctorate in Music for his talents both vocally and through instrumentation.
During the 1990's The Dazz Band began performing internationally as Rap and Hip Hop emerged in the music market. Audiences in Germany, France, London and Japan embraced the Funk and R&B sounds. On the Major Hits record label Bobby Harris organized the project entitled "United We Funk All Stars" which featured artists including: The Dazz Band, Charlie Wilson of The Gap Band, The Bar Kays, Confunkshun, The SOS Band, Roger Troutman and Zapp. The "United We Funk All Stars" success is credited with rejuvenating the careers of many Funk artists of the 1980's. Today, the popularity of new music includes a resurgence of these familiar funk sounds.
The Dazz Band has continuously performed throughout the 2000's with legendary artists such as: George Clinton, Confunkshun, Brick, The SOS Band, Zapp, The Mary Jane Girls, Whodini, Digital Underground, Tom Brown, Ronnie Laws, Nu Shooz, Cameo, Morris Day and The Time, Midnight Star, Rose Royce, The Original Lakeside, Brick, Klymaxx, Vanilla Ice, Dennis DeYoung of Styx and many more. The Dazz Band was honored to travel to Iraq on 3 separate occasions to perform for United States troops. The Dazz Band helped raise over 30k for the Susan B. Komen Foundation for breast cancer research during a weekend performance with En Vogue in Cleveland, and funds for numerous organizations that provide financial and other assistance for families and children in need.
In 2014, Bobby Harris and Skip Martin were pleased to welcome accomplished vocalist Donny Sykes to the group. Donny Sykes is a native of Los Angeles, California and has traveled the world performing in musical theatre and on television with legendary artists from Stevie Wonder to Tyler Perry. Donny performed with the renown Spirit Productions in "All Night Long" featuring Motown hits, and "Man in the Mirror" featuring music of the legendary "King of Pop" Michael Jackson. The Dazz Band is back in the studio, and looking forward to bringing new music to new audiences.

This album contains no booklet.