---
Album info
Album including Album cover
1

Inceptum Intro

01:23

2

Inceptum

05:28

3

Who Goes First?

06:44

4

V.E.N.

05:16

5

Trumpet Intro / Yearnin'

00:59

6

Emboldened

08:07

7

What Is It (That You're so Afraid Of)

06:33

8

Yearnin'

06:32

Total Runtime

41:02
Info for Light & Shade

Helsinki-based trumpet player Tomi Nikku presents his debut under his own name on Flame Jazz Records with the album 'Light & Shade'.
On his new album, you'll hear his band Tomi Nikku 5tet, which has worked together since 2018 and features Max Zenger on alto sax / bass clarinet, Ilkka Uksila on vibraphone, Vesa Ojaniemi on bass, and Jonatan Sarikoski on drums. The 5tet's instrumentation, which differs from the typical quintet formation with vibes in the rhythm section and bass clarinet in the front line, Nikku's compositions, and the 5tet's musicians' recognizable and expressive voices create Tomi Nikku 5tet's unique band sound.
Like the twofold title suggests, 'Light & Shade' is assembled in halves. The "light side" (side A on the LP) includes groovy and energetic "Inceptum", serene yet determined "Who Goes First?" (written originally for Bowman Trio), and sweet and playful "V.E.N.", which is dedicated to Nikku's firstborn child. The darker side (side B on the LP) includes melancholic solo trumpet track "Trumpet Intro / Yearnin'", strong minor piece "Emboldened", dreamy and wistful "What Is It (That You're So Afraid Of)", and the album-closing track "Yearnin'".
"I tend to write more music when I'm really going through something in my life, whether that is something making me feel happy or unhappy. On this album, you will hear pieces that I have written when feeling super hyped about something ("Inceptum") or really, really happy and proud ("V.E.N."). You will also hear pieces written in a totally different mindset. The tunes like "What Is It" and "Yearnin'" both originated from the polarized atmosphere of the summer of 2020. Channeling those emotions onto these compositions certainly helped me to keep my head above water and keep me going. I've had a great time preparing this music and this album for you. I hope you enjoy it too!" -Tomi
Tomi Nikku, trumpet
Max Zenger, alto saxophone, bass clarinet
Ilkka Uksila, vibraphone
Vesa Ojaniemi, bass
Jonatan Sarikoski, drums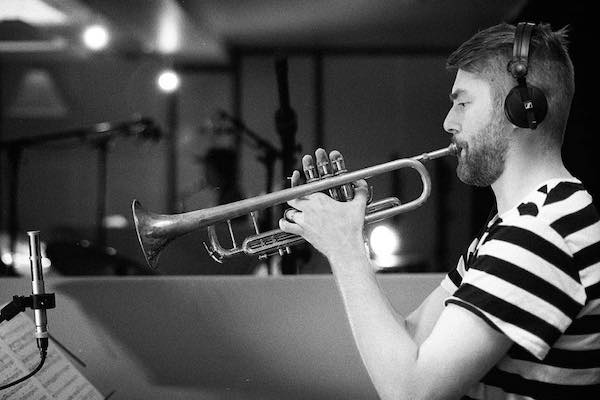 Tomi Nikku
is a Helsinki-based trumpet player, composer, bandleader and educator who has become known as one of the most active Finnish instrumentalists of his generation.
Nikku leads his quintet, Tomi Nikku 5tet, and works as a sideman with numerous innovative bands like Alder Ego, Maxxxtet, Bowman Trio, Maan Tila, UXILA EXILE, and Sointi Jazz Orchestra, to name a few. Along with the small group playing Nikku works as a freelance musician in various settings and styles. He has performed as a featuring soloist with UMO Helsinki Jazz Orchestra and has earned his Master's degree in music at the Sibelius Academy of the University of the Arts.
Nikku's style of playing and writing derives from his personality, life experience, and worldview. He values honesty, sincerity, and creativity and strives to cherish those traits while making music. That results in his nuanced and expressive sound on the trumpet.
The 5tet
Tomi Nikku 5tet has been together since 2018 and it consists of some of Nikku's favourite musicians including woodwind-specialist Max Zenger, who's became known from leading groups like Globus and Maxxxtet, vibraphonist Ilkka Uksila, who has been operating in the Berlin scene for numerous years and now leads group called UXILA EXILE, bassist Vesa Ojaniemi, who is known for providing a rock-solid foundation for many bands, and drummer Jonatan Sarikoski, who resides in Vienna and leads his band, Search Party.
5tet's instrumentation, which differs from the typical quintet formation with vibraphone in the rhythm section and bass clarinet in the front line, Nikku's compositions and 5tet's musicians' recognizable and expressive voices create Tomi Nikku 5tet's unique band sound.
The debut album of the 5tet was recorded in September 2020 and is planned to be released later in 2021. The material consists of Nikku's original compositions, the most recent ones from the summer of 2020 reflecting on the events and the atmosphere of the time.

This album contains no booklet.