---
Album info
Album including Album cover
I`m sorry!
Dear HIGHRESAUDIO Visitor,
due to territorial constraints and also different releases dates in each country you currently can`t purchase this album. We are updating our release dates twice a week. So, please feel free to check from time-to-time, if the album is available for your country.
We suggest, that you bookmark the album and use our Short List function.
Thank you for your understanding and patience.
Yours sincerely, HIGHRESAUDIO
Joep Beving (b.1976):

1

Prelude

04:30

Joep Beving, Eefje de Visser (b.1986):

2

For Steven (Eefje de Visser Rework)

05:27

Joep Beving:

3

Hanging D (Colin Benders Rework)

09:07

Joep Beving, Andrea Belfi (b.1979):

4

A Heartfelt Silence (Andrea Belfi Rework)

04:13

Joep Beving:

5

Ab Ovo (CFCF Rework)

06:28

6

The Light She Brings (Thomas Bloch Version)

02:51

7

Hanging D (Cello Octet Amsterdam Version)

05:19

8

Sleeping Lotus (Tom Trago's Sixtine Remix)

09:38

Joep Beving, Suzanne Ciani (b.1946):

9

432 (Suzanne Ciani Rework)

04:29

Total Runtime

52:02
Info for Conatus

Following his first two solo albums, streaming sensation Joep Beving releases new reworks of his music by acclaimed and up-and-coming artists such as iconic "synth legend" Suzanne Ciani, CFCF, Tom Trago and more. Conatus features reworks of pieces from Solipsism and Prehension and also foreshadows his next solo album with a rework of one of Beving's new tracks.
Beving invited a range of artists he knows and admires – Cello Octet Amsterdam, Suzanne Ciani, Tom Trago, Eefje de Visser, Colin Benders, Andrea Belfi, CFCF and Thomas Bloch – to rework his music in their own way. The results are new and original interpretations of tracks by Beving, woven together on Conatus to form a coherent album. As well as approaching legendary American electronic music pioneer Ciani, Beving was also keen to involve other musicians from his native Netherlands: "They're all people I think easily hold their own on the international scene."
Conatus, slated for release on September 7, is a further expansion of Beving's desire to create a simple soundtrack to accompany our complex human emotions. Its title comes from the philosophical concept of conatus – an innate inclination of a thing to continue to exist and enhance itself. "If you see music as a living organism, then it's something that will always adapt to new circumstances in order to stay present. This project is not about me. It is about the conatus of my music and for this album I've put their lives in other people's hands."
Beving can be seen sitting in the background, as if eavesdropping, captivated by what the eight virtuoso cellists have done with his music: "I love the cello as an instrument, and to hear eight of them playing together is just amazing."
Joep Beving, piano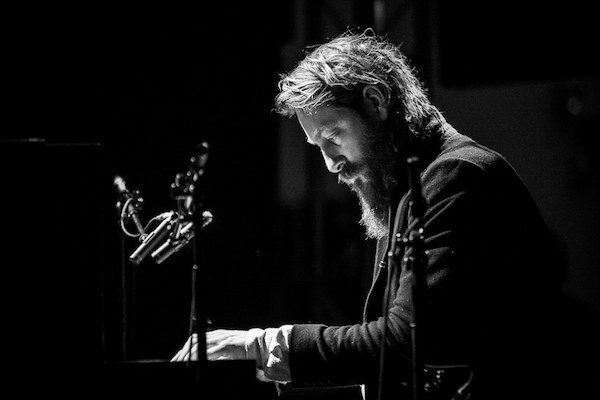 Joep Beving
They say you need three things to succeed in the music business – talent, timing and luck. Plus a little something extra to get you noticed. Joep Beving has all four in abundance.
At nearly six foot ten, with his wild hair and flowing beard, the Dutch pianist resembles a friendly giant from a book of children's fairy tales. But his playing – understated, haunting, melancholic – marks him out as the gentlest of giants, his delicate melodies soothing the soul in these troubled times.
"The world is a hectic place right now," says Joep. "I feel a deep urge to reconnect on a basic human level with people in general. Music as our universal language has the power to unite. Regardless of our cultural differences I believe we have an innate understanding of what it means to be human. We have our goosebumps to show for it."
Joep's music is the antidote to that hectic world of uncertainty and fear – a soundtrack for a kinder, more hopeful future; a score for the unmade film of lives yet to come. "It's pretty emotional stuff," agrees Joep. "I call it 'simple music for complex emotions'. It's music that enhances images, music that creates a space for the audience to fill in the gaps with their own imagination."
As for the rest of Joep Beving's story, it's one of good fortune and better timing.
Joep (pronounced "Yoop") first formed a band at 14 and made his live debut in his local town's jazz festival. He left school torn between a life in music and a career in government. When a wrist injury forced him to abandon his piano studies at the Conservatoire and focus on an Economics degree, it seemed that music's loss would be the Civil Service's gain.
But the draw of music was too strong. "It was always in my heart," he says, "and it always will be." Reaching a compromise between his two conflicting paths, he spent a decade working for a successful company matching and making music for brands. "But I always had a love-hate relationship with advertising – I was never comfortable using music to sell people stuff they don't need".
In his spare time he played keyboards with successful Dutch nu-jazz outfit The Scallymatic Orchestra and self-styled "electrosoulhopjazz collective" Moody Allen, and dabbled in electronica with his one-man project I Are Giant. But, by his own admission: "It was not me. I had not found my own voice".
That began to change during a trip to Cannes for the Lions Festival – the Oscars of the advertising world – when he played one of his compositions at the grand piano at his hotel... and people started to cry. "It was the first time I had seen the emotional effect my music could have on an audience."
Encouraged by the response, Joep organised a dinner party for close friends at his home in Amsterdam, where he played them his music on the piano left to him by his late grandmother in 2009. "It was the first time my friends had heard me play music they thought should travel outside my living room. It was the push to pursue the dream of doing a solo album with just my instrument."
A month later a close friend died unexpectedly, and Joep composed a piece for his funeral service. "I performed it for the first time at his cremation. Afterwards people encouraged me to record it so that it would be a permanent memorial to him. He was an extraordinary person."
Inspired by the reaction, Joep wrote more tunes and recorded them in single takes over the course of the next three months in his own kitchen, playing in the still of night while his girlfriend and two young daughters were asleep. The result was his debut album Solipsism.
Turned down by the only record label he had approached, he paid to press 1,500 vinyl copies, with artwork by Rahi Rezvani (who also made the stunning video for "The Light She Brings"). Joep staged the album launch in March 2015, in the studio of hot Amsterdam fashion designer Hans Ubbink, and performed it there for the first time.
That first vinyl pressing quickly sold out, mainly to friends, and the songs were an instant hit on Spotify, whose team in New York added one tune – "The Light She Brings" – to a popular 'Peaceful Piano' playlist. "People started saving the tune, so they put another one on. Then they started liking the whole of my album." Soon Solipsism was a viral phenomenon, with another tune, "Sleeping Lotus", now approaching 20 million streamed plays.
As a result of his huge online success, Joep was invited to perform on a prime-time Dutch TV show. The following day his album knocked One Direction off the top of the charts. "Then, a few days later, Adele made her comeback – and I was history," he laughs. But by then he had made his mark.
He was besieged by concert promoters offering shows, including a prestigious solo recital at Amsterdam's famous Concertgebouw and his album found its way to Berlin when another friend played it in her local bar, "at 2am with everyone smoking and drinking Moscow Mules." By chance, one of those night owls was Deutsche Grammophon executive Christian Badzura. After making contact online, they met when Joep performed at Berlin's Christophori Piano Salon – and ended up signing with the world's foremost classical label.
The first fruits of the new partnership are Prehension. A natural successor to Solipsism, it carries forward the musical and philosophical themes Joep identifies in his music. "I am reacting to the absolute grotesqueness of the things that are happening around us, in which you feel so insignificant and powerless that you alienate yourself from reality and the people around you because it is so impossible to grasp. I just write what I think is beautiful, leaving out a lot of notes, telling a story through my instrument, trying to unite us with something simple, honest and beautiful."

This album contains no booklet.