---
Album info
Album including Album cover
I`m sorry!
Dear HIGHRESAUDIO Visitor,
due to territorial constraints and also different releases dates in each country you currently can`t purchase this album. We are updating our release dates twice a week. So, please feel free to check from time-to-time, if the album is available for your country.
We suggest, that you bookmark the album and use our Short List function.
Thank you for your understanding and patience.
Yours sincerely, HIGHRESAUDIO
1

Oh No

02:57

2

You And I

05:33

3

To Love Somebody

04:44

4

Bitter End

03:47

5

Change

04:17

6

All My Friends

04:50

7

Wish I Knew You

05:19

Total Runtime

31:27
Info for Made In Muscle Shoals (EP)

The Revivalists surprised listeners Thursday morning with the release of a new EP and corresponding mini-documentary Made In Muscle Shoals. The two projects find the rising alt-jam ensemble recording at the legendary Fame Studios in Muscle Shoals, AL.
The seven-song EP features five reworked versions of previous hits, including "Wish I Knew You" and "All My Friends", a cover of the Bee Gees' "To Love Somebody", and a new original song, "Bitter End". The trademark soul sound of Fame Studios and the city of Muscle Shoals sink deep into the reworked versions of The Revivalists' own upbeat brand of roots rock. The other previously-released reworked tracks include "Oh No", "You And I", and "Change".
"We went to Muscle Shoals to capture that special kind of real and raw that only a place like that can provide," singer David Shaw said. "Every bit of everything we did there felt like it held a little more weight than things we've done in the past."
The Revivalists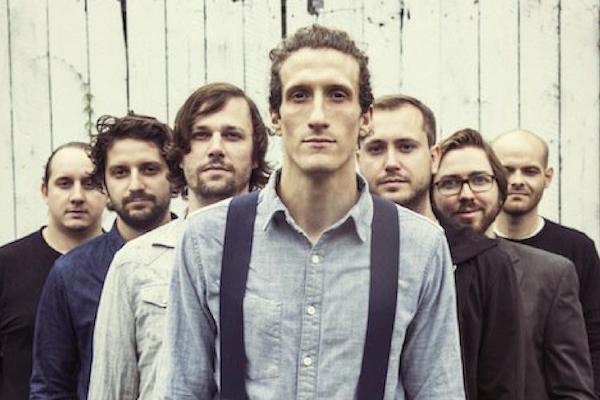 The Revivalists
Some people say 'luck is the intersection of hard work and opportunity'. On their fourth full-length album and first for Loma Vista Recordings, The Revivalists chronicle, catalog, and capture an unbelievable ride where ten years of tireless hard work would be unexpectedly revved up by the wrongly dubbed "overnight success" of the gold-selling number one single "Wish I Knew You." Like any enduring band worth its salt, they reacted the best way possible to newfound popularity - by buckling down and turning up with an album chock full of tunes worthy of even greater success. It's the result of a trip that unassumingly commenced in 2008 with hundreds of underground shows yearly and culminated 10 years later with not only "Wish I Knew You," but three years of back-to-back sold out headline tours. In life, like rock 'n' roll, some questions get answered while others stay unanswered. Our personal backroads tuck, twist, and turn through ups, downs, and everything in between at light speed, sometimes without explanation or a moment for reflection. Mirroring the push-and-pull of the past few years, the boys—David Shaw [lead vocals, guitar], Zack Feinberg [guitar], Andrew Campanelli [drums], George Gekas [bass], Ed Williams [pedal steel guitar], Rob Ingraham [saxophone], Michael Girardot [keyboard, trumpet], and PJ Howard [drums, percussion]—deliver a bevy of anthems marked by moments of sonic complexity, celebration, and catharsis.
"As far as the music goes, sometimes I just have a feeling, and it comes through in a song," says David. "I don't know what it is, but it makes me feel something. I wanted this album to be simply about that. Making the new music has been a bit of a cathartic process for me—just to get some of these feelings out, lose myself in the art, and become someone else. Songwriting is the great escape. It's where I can be who I want to be. It's been three years of touring our asses off, writing in between, and honing our craft. Then, 'Wish I Knew You' happened. Everything got even crazier. This album basically came together the way we always make records though. It's simply a collection of songs from where we were at that point in our lives. We didn't want to divert too much from what we've always been, but we wanted to take it to the next level and continue that trajectory of our artistry and creativity."
Simultaneously, life was rapidly changing around the band, and the music spoke to that.
"Everything going on these past few years certainly informed the direction," David continues. "I don't know if I was ready for some of what transpired emotionally. I got personal on some of the songs. I said some things I might not have otherwise. Thankfully, I have a good family network and amazing girlfriend to balance all of the changes."
"We were fortunate enough to have this 'hit' on the last record, and things have changed," adds Andrew. "We had to keep pushing forward."
For the first time, The Revivalists recorded and co-wrote with multiple producers and writers, enlisting the talents of Dave Cobb [Sturgill Simpson, Chris Stapleton], Andrew Dawson [Kanye West, Fun., Sleigh Bells], and Dave Bassett [Elle King, Vance Joy] for sessions in New Orleans and Nashville, which became a hub for the band. They spent three weeks recording at the iconic RCA Studio B, soaking up the aura of one of the most storied studios in music and the city's rich musical history. Additionally, it would be the first record with drummer/percussionist PJ joining the band in the studio.
Bringing sixty songs to the table, the guys whittled the batch down to the best fourteen of the bunch.
Andrew continues, "On the first few records, we were figuring out what our identity is, so we were really involved in the minutia of recording. After all this time, we have an identity, and it's more based in our songs. We were able to let go and allow these producers to take us into a direction that we wouldn't go on our own. We got to explore a little more. Being ten years in empowered us to do that."
"We had the opportunity to work with more people, which was amazing," David goes on. "The main difference was having this team and the chance to co-write. It really elevated our craft in a way that I don't think we ever thought about previously. We were all working together in the studio, while keeping the true heart and soul of the band intact through the whole process."
The first single "All My Friends" speaks to that spirit. Driven by swaggering piano, boisterous horns, and bluesy leads, the track swings towards an unshakable chant, "All my friends take good care of me." Striking, sharp, and soulful, it introduces this chapter with confidence and charisma.
"I actually wrote those verses when I was 27," says David. "I met up with Dave Bassett in Malibu where I did some writing sessions, and I brought the lyrics to the table. It's a bit of a retrospective look back. You're in your twenties, staying out for three days, not contacting your significant other, and getting into some bad shit. Looking back, I realized, I had an amazing group of friends who stuck by my side."
"Musically, it bridges the gap between what we've been doing and what you're about to hear," explains Andrew.
Representing a vast swath of the country and defying regional pigeonholes, David's roots are in the Rust Belt, while Zack, Ed, and George hail from the Tri-States and Michael and Rob from the Southwest. Andrew cut his teeth bashing the drums in the DC scene and newcomer PJ made his bones in Chicago. However, The Crescent City would ultimately bring them together. Since forming in New Orleans, the group quietly grinded towards international ubiquity one gig, song, and album at a time. Seven years in, 2015's Men Amongst Mountains represented a high watermark. Its lead single "Wish I Knew You" became a slow-burning hit, racking up more than 200 million streams and ascending to #1 on Adult Alternative and Alternative radio. On the latter, it clocked a record for "most single-week spins ever at the format" before eventually receiving a gold certification from the RIAA. A mainstream phenomenon, the song found traction at Hot AC and Top 40 and bubbled up on to the Billboard Hot 100 for nine weeks as the band made the rounds on television with performances on Today, Jimmy Kimmel LIVE!, Ellen, and Conan. Acclaim came from USA Today, Entertainment Weekly, Forbes, Flaunt, Buzzfeed, Uproxx, Billboard, and more with Rolling Stone touting them among "10 Artists You Need To Know." Along the way, they garnered a Billboard Music Awards nomination and two nods at the iHeartRadio Music Awards. Between countless gigs, the musicians also ignited festival stages at Bonnaroo, Governor's Ball, New Orleans Jazz Fest, Outside Lands, and Pilgrimage, to name a few.
Looking back, the frontman smiles, "It's been quite the ride."
In the end, The Revivalists welcome listeners on this journey with them as they set out with a newfound depth and ambition.
"As we went along, we found there are more questions than answers, and we're all sort of figuring it out," concludes Andrew. "We're all doing the same thing. We hope people listen to the record and maybe can go out and keep making connections. That's what we're supposed to do. It's the human experience."
"We're in this together," David leaves off. "We love to take people on an emotional rollercoaster with us. That's what this record is. It's who we are. There's some real magic in that."

This album contains no booklet.