---
Live At Blues Alley (25th Anniversary Edition) (Audience Muted) Eva Cassidy
Album info
Album including Album cover
I`m sorry!
Dear HIGHRESAUDIO Visitor,
due to territorial constraints and also different releases dates in each country you currently can`t purchase this album. We are updating our release dates twice a week. So, please feel free to check from time-to-time, if the album is available for your country.
We suggest, that you bookmark the album and use our Short List function.
Thank you for your understanding and patience.
Yours sincerely, HIGHRESAUDIO
1

Cheek To Cheek (Live At Blues Alley) (Audience Muted)

03:38

2

Stormy Monday (Live At Blues Alley) (Audience Muted)

05:43

3

Bridge Over Troubled Water (Live At Blues Alley) (Audience Muted)

05:25

4

Fine And Mellow (Live At Blues Alley) (Audience Muted)

03:56

5

People Get Ready (Live At Blues Alley) (Audience Muted)

03:27

6

Blue Skies (Live At Blues Alley) (Audience Muted)

02:31

7

Tall Trees In Georgia (Live At Blues Alley) (Audience Muted)

03:35

8

Fields Of Gold (Live At Blues Alley) (Audience Muted)

04:48

9

Autumn Leaves (Live At Blues Alley) (Audience Muted)

04:41

10

Honeysuckle Rose (Live At Blues Alley) (Audience Muted)

03:05

11

Take Me To The River (Live At Blues Alley) (Audience Muted)

03:48

12

What A Wonderful World (Live At Blues Alley) (Audience Muted)

05:05

13

Oh, Had I A Golden Thread (Live At Blues Alley) (2021 Master)

04:52

Total Runtime

54:34
Info for Live At Blues Alley (25th Anniversary Edition) (Audience Muted)

Live at Blues Alley is an album by American singer Eva Cassidy, originally self-released in May 1996. The album was recorded live at the Blues Alley nightclub in January 1996. It was the last album recorded by Cassidy before her death in November 1996.
Several years had passed since the release of THE OTHER SIDE, and Chuck Brown had mostly returned to his Go-Go career. Chuck's star power had booked Eva and the Eva Cassidy Band into the higher-profile local venues such as Blues Alley, the Barns of Wolf Trap, the Birchmere, and the Kennedy Center. Now Eva and the band were back performing midweek at smaller clubs.
The recording contract everybody expected for Eva had still not materialized. Representatives from record labels were coming to clubs and to the studio to hear Eva, but nothing was happening. (Read the interview with Al Dale, Eva's manager, and the interview with guitarist Keith Grimes, to learn more about that.) Moving past frustration into action, Al, Chris, and Eva decided to self-produce a live album that could be used to promote Eva's music, and maybe make her a little money too.
Unable to interest a major label in recording her music, Cassidy cashed in a small pension she had accumulated while working at her day job in a plant nursery to self-fund this recording of herself and her live band, comprising Lenny Williams (piano), Keith Grimes (guitar), Chris Biondo (bass) and Raice McLeod (drums), with Cassidy herself supplying vocals and acoustic guitar. The Blues Alley venue was booked for two nights, January 2 and 3, 1996, however on the first night technical issues prevented the tapes being any use so all of the recorded material used originates from the second, Wednesday night's performance. Cassidy was suffering from a light cold through both shows and initially felt that the performances were not good enough to release, but eventually agreed after a previously completed studio take of "Oh, Had I a Golden Thread" was added to round out the package.
This was Cassidy's last release in her lifetime, but the beginning of her posthumous rise to fame. She died of melanoma six months after it was released, ten months after it was recorded.
Eva Cassidy, vocals, acoustic guitar, electric guitar
Chris Biondo, bass
Hilton Felton, Hammond organ
Keith Grimes, electric guitar
Raice McLeod, drums
Lenny Williams, piano
Digitally remastered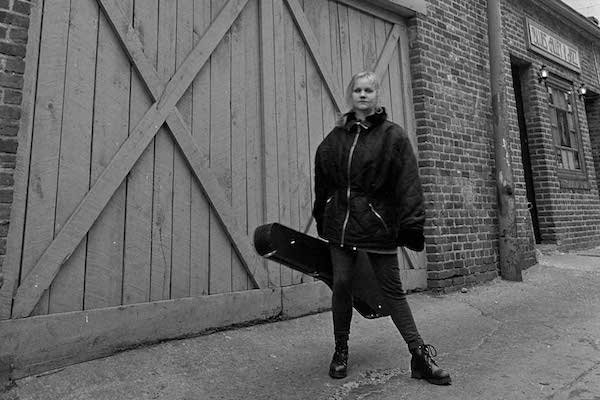 Eva Cassidy
Eva Marie Cassidy (February 2, 1963 in Washington, DC – November 2, 1996 in Bowie, Maryland) was an American vocalist described by the British newspaper The Guardian as "one of the greatest voices of her generation." She had a diverse repertoire of jazz, blues, folk, gospel and pop. Cassidy remained virtually unknown outside of her native Washington, DC, when she died of melanoma (which had spread to her bones) in 1996. Her posthumously released recordings have since sold in excess of 12 million copies, and in early 2001 the compilation album Songbird reached #1 on the UK album charts.
Eva Cassidy was the third of four children born to Hugh and Barbara Cassidy. From an early age, she displayed artistic and musical talent. When she was nine years old, her father taught her to play the guitar, and she began to play and sing at family gatherings.
While a student at Bowie High School, she did sing with a local band, called Stonehenge, and received considerable praise.
At the age of eighteen, Cassidy began her professional career, singing and playing guitar in a Washington, D.C., area band, called Easy Street. This band performed in a variety of styles, at weddings, corporate parties, and pubs.
During the summer of 1983, Cassidy sang and played guitar, six days per week, at Wild World, in Maryland. Her brother Dan was also a member of this working band.
Throughout the 1980s, Cassidy worked with a number of other bands, including the soul and Motown-oriented band The Honeybees, and the techno-pop band Characters Without Names, later called Method Actor.
During this period, Cassidy also worked as a propagator at a plant nursery and as a furniture painter in Annapolis, Maryland. In 1986, she met (bassist and recording engineer) Chris Biondo, who encouraged her and helped her find work as a backup singer for various acts. In 1990, Biondo and Cassidy hired the so-called "Eva Cassidy Band", composed of Chris Biondo, Lenny Williams, Keith Grimes and Raice McLeod, and she began to perform frequently in the Washington area.
In 1992, Biondo played a tape of Cassidy's voice for Chuck Brown. Best known as the "Godfather of Go-go", Brown is also a jazz and blues vocalist. This led to the first commercial recording of Cassidy, the duet album with Chuck Brown, The Other Side; which featured performances of classic songs such as "Fever", Billie Holiday's "God Bless the Child" and Cassidy's signature tune "Over the Rainbow". The album was released and distributed by Liaison Records, the label that also released Brown's Go-go albums. The duet CD attracted the attention of various record companies, but the offers all required Cassidy to pigeonhole herself within a single style (e.g., pop or jazz), something she adamantly refused to do.
In 1993 Eva Cassidy was first honored by the Washington area music community when she was awarded two Wammie awards for "Female Vocalist Roots /Traditional R&B" and "Vocalist Jazz/Traditional." The next year she was chosen to perform for the awards ceremony.
In January 1996, Cassidy recorded the album Live at Blues Alley, about which The Washington Post later commented that "she could sing anything and make it sound like the only music that mattered". Cassidy was unhappy with her singing on the album, because she had a bad cold on the night of the recording; she began recording a studio album which was eventually released as Eva by Heart posthumously in 1997.
During a promotional event for the Live at Blues Alley CD in July 1996, Cassidy noticed an ache in her hips, which she attributed to stiffness from painting murals. The pain persisted, and, a few weeks later, Cassidy was diagnosed with melanoma. By the time of her diagnosis, the cancer had spread throughout her body. Cassidy's health rapidly deteriorated, and her final performance was in September 1996. At the performance, she had used a walker to reach the stage, sang "What a Wonderful World" in front of an audience of friends, and was subsequently admitted to Johns Hopkins Hospital.
Eva Cassidy died on November 2, 1996, at the age of 33. She was posthumously inducted into the Hall of Fame of the Washington Area Music Association.

This album contains no booklet.