---
Album info
Album including Album cover
1

Status Quo

09:26

2

(Un)Foreseen

09:39

3

Home

07:03

4

Confident Ignorance

08:30

5

Interlude

03:18

6

Abandoned

04:49

7

Greed

09:28

Total Runtime

52:13
Info for How Far?

After FRAMES (2022), the quartet around Berlin drummer Johannes Metzger now presents its second album.
"how far?" is a thoughtful, admonishing and stirring album about the state of our immediate environment, but at no point does it lecture or patronise.
The musicians express in no uncertain terms what is on their minds. To make themselves understood, they work with moods that range from questioning to dystopian, and structures that not infrequently have an appealing effect. Moving in the spheres of contemporary jazz, it is particularly important to the musicians to grasp the energy of each moment and ultimately transport it to the audience.
"You can hear the joy of spontaneous creation together in every single note. Because what all the musicians have in common is that they don't play for themselves, but for their listeners." (Wolf Kampmann)
"With all the freedom of the individual, the quartet never drifts apart, so that the music remains round for the listener." (Jazzthetik)
Benjamin Schaefer, piano
Marc Doffey, tenor saxophone
Johannes Mann, guitar
Fabian Timm, bass
Johannes Metzger, drums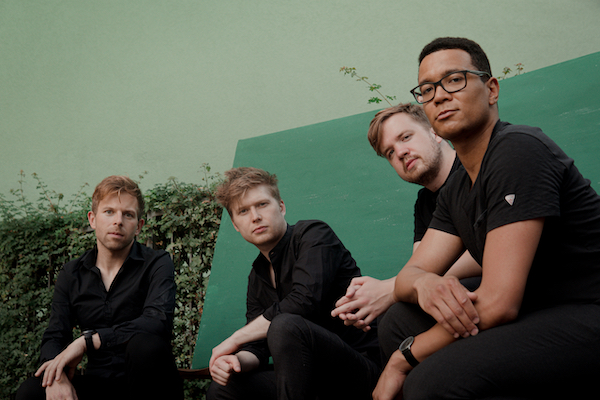 Johannes Metzger
(1994) ist ein in Berlin lebender Schlagzeuger und Komponist.
Schon als Kind kam er früh mit Musik in Berührung und entdeckte schließlich das Schlagzeug für sich. Nach dem Abitur studierte er Jazzschlagzeug bei Heinz Lichius an der Hochschule für Musik, Theater und Medien Hannover. 2015 zog er nach Berlin, um sein Studium am renommierten Jazz Institut Berlin fortzusetzen, an dem er u.a. Unterricht bei John Hollenbeck, Jim Black, Kurt Rosenwinkel, Eric Schaefer, Oliver Steidle und Heinrich Köbberling hatte.
Als gefragter Schlagzeuger ist er sowohl live in verschiedenen Ensembles in Deutschland und Europa, als auch auf mehreren Albumproduktionen zu hören. So spielte er Konzerte mit u.a. Peter Weniger, Judy Niemack, Marc Muellbauer, Iganz Dinné, Malter Schiller, Hendrik Wallsdorf.Mit dem Fynn Großmann Quintett gewann er 2017 den Münchner Jazzpreis und den Hannover Jazzpreis. Außerdem war die Band 2017 Finalist des Jungen Deutschen Jazzpreis.
Mit der Band Die Therapie gewann er 2018 den 2. Preis des Sparda Jazz Award und war Finalist des Biberacher Jazzpreises und 2019 des Future Sounds Wettbewerbs der Leverkusener Jazztage. Mit dem Nordsnø Ensemble ist er Preisträger des Jazzpreises "Jazz Hoch im Kurs". Mit dem Hans Anselm Quintettgewann er 2019 den Future Sounds Wettbewerb der Leverkusener Jazztage.
Er erhielt Stipendien vom Berliner Senat, dem Musikfonds, dem Schloss Rheinsberg und der Yehudi Menuhin Stiftung.
Mit seiner Band Johannes Metzger Quartett nahm er im November 2020 sein Debutalbum als Bandleader auf, was 2021 erscheinen wird.

This album contains no booklet.