---
Album info
Album including Album cover Booklet (PDF)
1

EVERYBODY OUGHT TO TREAT A STRANGER RIGHT

02:43

2

WALKING

03:52

3

PAY DAY

03:17

4

LITTLE NORA MAJ

02:18

5

VINTAGE RED WINE

04:58

6

I GOT PLENTY

03:58

7

VIRUS BLUES

03:32

8

HARD TIME KILLING FLOOR

04:03

9

DENOMINATION BLUES

03:23

10

BALLERINA

02:45

11

OLD MAN TROUBLE

04:06

12

WHO'S DAT KNOCKING

03:42

13

BUILD MYSELF A HOME

02:54

14

HURRY HURRY

02:53

15

TRAIN

03:56

16

ROLL WITH THE PUNCHES

03:27

Total Runtime

55:47
Info for Pay Day

B.B.King said "The blues are a mystery", and Willie Dixon stated: "The Blues are the true facts of life." When Hans Theessink and Big Daddy Wilson sing Blind Willie Johnson's classic "Everybody Ought To Treat A Stranger Right" – first recorded in 1930, the song has lost none of its relevance in the present day. Theessink's own "Virus Blues", is a haunting reflection of our own time and age right now: "Makes no difference if you're rich or poor, if you're yellow, black or white." And remember, "You gonna reap what you sow" – one day "PAY DAY" is gonna come.
Theessink and Wilson discovered the blues in completely different ways.
On the one hand there is the Dutch boy, who's love and fascination for blues and roots-music got ignited when he heard Big Bill Broonzy on late night radio in his native Holland – a "white boy lost in the blues" who's been on the blues trail for more than 50 years.
On the other hand, the North Carolina born African American who first got exposed to the music of his ancestors as a US soldier, stationed in Germany – a "stranger far from home" who has come full circle.
These two charismatic entertainers and soulful performers have made a name for themselves as musicians and songwriters. Both admired each other's art and made a plan to record an album together. They got to work as soon as the corona regulations slackened a little.
Hans Theessink is known as a sensitive virtuoso on almost anything with strings on it and Wilson can be relied on as a rock steady percussionist; but the icing on the cake is the vocal interplay of Theessink and Wilson that really makes "PAY DAY" a terrific album.
"PAY DAY" is a twist of fate. These two guys had to meet and get together. Their vocal dialogues – be it blues, roots, folk or gospel – merge as if they had never done anything else.
"I really enjoyed singing and playing with Wilson – we had a ball. Wilson and I had picked songs for the session – some old, some new, some borrowed. We had lots of fun cooking up our special musical stew with all the natural ingredients, spices and flavors – enjoy!" (Hans Theessink)
"For many, many years I've been wanting to work with Hans. So I am very happy and proud to record this Duo Album with him. It was one of the most beautiful experiences that I ever had as an artist." (Big Daddy Wilson)
Hans Theessink, guitar, vocals
Big Daddy Wilson, guitar, drums, percussion, vocals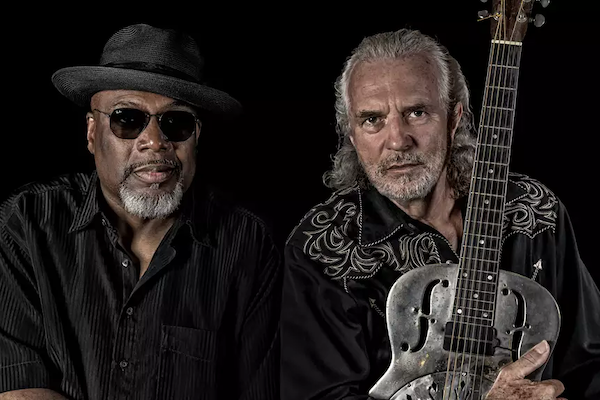 Hans Theessink
We've already had an American in Paris, but a Dutchman in Vienna? And one who has dedicated himself, body and soul, to American blues and roots music? Okay, Hans Theessink (pronounced Tay-sink) did not pick the easiest way to do this, but he has done so with a certain degree of single-mindedness.
Like others of his generation, in the early 1960's a love of the Blues took hold of the man whom Bo Diddley described as "one helluva guitar player", and it has not let go since. Above all, the country blues with its earthy and heartfelt sound impressed Hans Theessink and played a major role in his development as a musician. His roots are unmistakenly in the blues, but has also been influenced by countless other aspects of roots music. This musical variety has become a trademark of Hans Theessink, who as a songwriter has succeeded in building bridges to the present in addressing issues which reflect the reality of the here and now.
Hans is probably Europe's bluesexport Nr.1 - one of the top blues and roots musicians worldwide who has entertained audiences around the globe during a musical career that spans over more than 35 years. The world's leading bluespaper - US magazine Blues Revue wrote: "Hans Theessink is an international blues treasure. He is one of the world's pre-eminent country pickers and his warm baritone expresses blues".
Theessink's first recording was an EP in 1970. Since then his music has continually developed and so far Hans has released 20 albums, a songbook, a blues-guitar instruction video and a DVD. His CDs are guaranteed award winners. "Banjoman", the tribute project to Derroll Adams, that Hans produced with Arlo Guthrie, was recently nominated for a Grammy.
In 2004 Hans got the Austrian Amadeus award for "Songs from the Southland", a tribute to the music of the American South - a constant source of inspiration and companion on his musical journey. A Danish Music Award for best bluesalbum followed in 2005. His most recent CD "Bridges" - a recording with the new Hans Theessink Band, is again nominated for the Amadeus in the category best Blues-, Jazz-, Roots-, Folk-album. Hans' latest work is a DVD "Live in Concert" - "A Blues & Roots Revue" - it shows the Hans Theessink Band in action + lots of other special features. Hans' productions are known for their excellent sound quality and are also in big demand in HiFi circles.
Through his unmistakable guitarwork, sonorous baritone voice and stage presence, Hans has attained a status which is unique for a European. He has performed at many of the most prominent North American music festivals such as the "New Orleans Jazz & Heritage Festival", the "Chicago Blues Festival", the "Kerville Folk Festival", the "Toronto Soul & Blues Festival", the "Kansas City Blues & Jazz Festival", the "Edmonton Folk Festival", the "St.Louis Blues & Heritage Festival", the "King Biscuit Blues Festival", the "Woody Guthrie Festival" and the "Ultimate Rhythm and Blues Cruise" to name a few.
Hans Theessink has become one of the most sought-after artists of the international blues scene. He is more or less constantly "on tour" and plays an average of 200 concerts a year - a modern day troubadour and entertainer who keeps on spellbinding audiences all over the world with his rich and emotional sounds.
Big Daddy Wilson
was born more than 50 years ago in a small town called Edenton, North Carolina. The population of Edenton counts less than 6000, 55% African Americans, 25% below the poverty line. "We were very poor but I had a very beautiful childhood", Wilson remembers. "Me and my sisters were raised by Mom and Grandma. We lived a simple life, we went to church every Sunday, school on weekdays. I also worked back then on the tobacco plantation and in the cotton fields, I was a real country boy." Wilson sang in church but he never thought about going on stage. "I was extremely shy." His guardians meant well for the fatherless boy and they often sent him to church also during the week. "That won´t hurt him, keeps little Wilson away from drugs and off the streets."
Young Wilson quit school at 16, and sometime later joined the US Army. Being a poor black man in the south and living in a small town, jobs were scarce. After being stations in Germany, the young man became homesick. "I found out the quickest way to go back home was to see that you got married. They'll allow you a vacation time about two weeks to go home to get married. Wilson convinced his officers of his impending wedding and returned Stateside, refusing to return to Germany. After six weeks his mom was so worried that she begged him to go back to the military. "And so I was back in Germany."
A few years later Wilson met a German girl who became his wife. She is the reason for him staying and also the reason for a poem which became Wilson´s first song.
And then Wilson heard the blues for the first time. Back in Edenton he had listened to music only in church and from the local, country radio station. But now he went for the first time to a real blues concert. "I met the blues here in Germany. I didn't know what the blues was before" Big Daddy Wilson says. "It was here that I found a part of me that was missing for so long in my life." It did not take long and the shy guy who had written some poems started looking for melodies. He went on stage, jammed all over the German blues scene and made an impression with his warm and soulful voice. He began touring with bands and as a duo and even released a few records. "My sister came all the way to see me perform and she couldn't believe it. No, that's not my brother. It seems like all my shyness was gone – thanks to my music. "
Champion Jack Dupree, Louisiana Red, Eddie Boyd... many musicians who made Europe their home and brought the blues with them succeeded here better than in the U.S. Even Luther Allison lived in Europe for 14 years before his big break.
And now there´s Big Daddy Wilson, an American singer and songwriter who found his home in northern Germany. But something is different regarding Big Daddy Wilson. When he came over from the U.S. there was no blues in his baggage. He initially discovered the blues here in Germany which is where he will begin his international career.
With his international solo debut on RUF Records Big Daddy Wilson is going to take one step further in his late career as a musician. For "Love Is The Key" he recorded his own songs exclusively with a small band; taking it back to the roots, often reduced to acoustic instruments, but always full of soul. You can listen to his very first song here," Anna" the song about his wife. Gospel is the foundation for "Keep Your Faith In Jah", but this doesn't keep the songwriter Wilson from praising the talents of a gypsy queen from New Orleans, "Jazzy Rose". In "Hard Days Work", Big Daddy uses monotone drones for hypnotic effects on the listener, while breezy off beats Jamaica-style let "Dreaming" to swing along. Autobiographic aspects can be found elsewhere: "Ain´t No Slave"reminds us of the African-American history and at the same time makes us aware of Wilson's grown confidence. His good friend Eric Bibb guests on two songs about Wilson's roots ,"Country Boy" , "Walk A Mile In My Shoes". He's very proud of Bibb´s presence because "I've learnt so much from him," says Wilson.
The fruits of this learning can be tasted on Big Daddy's imminent European Tour. Does he dare to imagine that he could take this music all the way back to his roots in North Carolina?
"That's a dream, but one that makes me nervous" the Father of three laughs; it's clear that his homesickness is gone – along with his shyness.

Booklet for Pay Day