---
Album info
Album including Album cover
I`m sorry!
Dear HIGHRESAUDIO Visitor,
due to territorial constraints and also different releases dates in each country you currently can`t purchase this album. We are updating our release dates twice a week. So, please feel free to check from time-to-time, if the album is available for your country.
We suggest, that you bookmark the album and use our Short List function.
Thank you for your understanding and patience.
Yours sincerely, HIGHRESAUDIO
1

Ist da jemand?

04:14

2

Zurück in Schwarz

03:07

3

Wo es hingeht

02:34

4

Nur nach vorne gehen

05:03

5

Ich hol' dich da raus

03:22

6

Die Hoffnung stirbt nie

03:09

7

Wo bist du (Du fehlst)?

02:21

8

Ich brenn'

02:34

9

Nanana (Ich krieg' das hin)

02:32

10

Ich will hier nicht sein

03:30

11

Die Letzten (an der Bar)

03:50

12

Grau, grau, grau

02:59

13

Der Rest und ich

03:15

14

Irgendwo dazwischen

02:58

15

Das da oben (Nur in dir)

03:17

16

Gutes Leben

03:22

Total Runtime

52:07
Info for Noir

Mit dem Album Santa Muerte gelang den Broilers 2011 ein ganz große Wurf: Das Werk enterte die deutschen Charts auf Platz drei und steht mittlerweile kurz vor Goldstatus. Die anschließende Tournee führte fast zwei Jahre lang durch die Hallen und über die Festivalgelände Deutschlands. Und das mit einer stetig wachsenden, begeisterten Zuschauerschar, so dass der Tourabschluss in der Heimatstadt Düsseldorf gleich an zwei ausverkauften Abenden vor 15.000 Fans zelebriert wurde.
Mit Noir erscheint nun endlich das neue Album der Broilers. Die Band überrascht mit einem breitgefächerten musikalischen Spektrum, das ihre beeindruckende Entwicklung der letzten Jahre widerspiegelt. Aber es geht natürlich auch um Hits im besten Sinne, Lieder mit treffsicheren Refrains, die einen beim Hören packen, ordentlich durchrütteln und nicht mehr loslassen wollen. Und es geht gleichermaßen um die ruhigen Songs, die einen umfangen und innehalten lassen. Auf Noir gelingt es der Band bislang am überzeugendsten, ihren über die Jahre entwickelten, eigenständigen Sound, der auf ungewöhnliche Weise Punk-, Streetrock und Singersongwriter-Elemente in sich vereint, zu präsentieren.
"Unsere Wurzeln liegen natürlich im Punk, gleichzeitig sind wir stark von Soul und Reggae beeinflusst", so Amara. "Ich habe auch viel von den großen Storytellern der englischen und amerikanischen Musikszene gelernt. Wir versuchen, all das zu verarbeiten und damit unsere eigenen Geschichten zu erzählen." Die Stärke der Band sind ihre energetischen Songs, die immer wieder das Zeug zur Hymne haben, aber anbiedernde Plattheit vermeiden.
Die Broilers geben Kraft und spenden Trost mit Songs, die ihren Zuhörern in guten wie in schlechten Zeiten ein zuverlässiger Begleiter sind. Die innige Liebe ihrer Fans, "Die Hards" genannt, die man bei den Auftritten der Band fast mit den Händen greifen kann, sind ein erstaunliches Alleinstellungsmerkmal der Band und der Beweis dafür, dass es viele sind, denen die Broilers aus der Seele sprechen. Noir ist die Standortbestimmung einer Band, bei der Glaubwürdigkeit und Leidenschaft ganz groß geschrieben wird und die, nicht nur deshalb, noch einiges von sich hören lassen wird.
2014 geht es zum ersten Mal auf Tournee in die ganz großen Hallen. Produziert wurde Noir von Vincent Sorg, der auch beim Megaerfolg Ballast der Republik der Toten Hosen hinter den Reglern saß. Erhältlich ist das Werk in fünf verschiedenen Formaten. Vom klassischen Jewelcase über Vinyl bis hin zum Digipak mit Bonus-DVD hat die Band an alles gedacht. Wer nur die reine Musik kaufen will kann Digital zuschlagen, wer allerdings ein Sammlerstück sucht dem sei die Super Deluxe Fan Box ans Herz zu legen. Mit diversen Einzigartigen und limitierten Beilagen, wie einem Stück des Backdrops der Santa Muerte Tour 2011-2013 und einer original Autogrammkarte der Broilers, hat die Box das Zeug dazu das Herzstück einer jeden Fan Sammlung zu werden.
"Es mag durchaus hilfreich sein, selber ein Mittdreißiger zu sein, um "Noir" gut zu finden, denn das Lebensgefühl, dass die BROILERS auf diesem Album vermitteln, ist dann doch ziemlich gut nachvollziehbar. Was im Umkehrschluss heißt, dass das Album in Gänze durchaus das Zeug dazu hat, zu polarisieren und damit gleichermaßen alte Hörer zu verschrecken und neue Hörerscharen zu erschließen in der Lage ist. Was dem Erfolg insgesamt wohl keinen Abbruch tun wird, denn zahlenmäßig wird die zweite Gruppe der ersten sicherlich deutlich überlegen sein." (Andreas Schulz, musikreviews.de)
BROILERS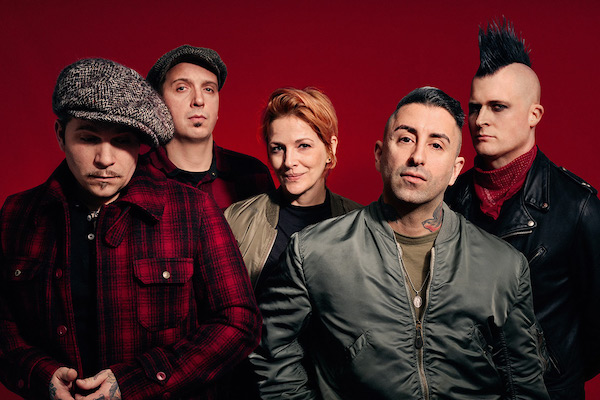 BROILERS
1994 als junge Oi!-Punks gestartet behaupten die BROILERS heute ihren Platz als eine der größten Rockbands des Landes. Mittlerweile hat die Band aus Düsseldorf Frieden mit sich selbst geschlossen und lässt das zu, was sie schon lange begleitet: Pathos, Emotionen, Kontraste. Da sind wuchtige Bläsersätze, Offbeats, da ist Soul und Rocksteady, da sind Flirts mit Power-Pop und Kitsch und das alles, als wäre es das Logischste und Normalste auf der Welt, neben drückenden Gitarrenwänden, fetten Chören und einem Schlagzeug, das nur nach vorne will.
Der Erfolg der BROILERS, einer Band, bei der Unabhängigkeit und Glaubwürdigkeit Grundvoraussetzungen sind, fußt auf drei Säulen: Furiosen Konzerten mit einer engagierten Livepräsenz. Einem über die Jahre entwickelten eigenständigen Sound, der auf ungewöhnliche Weise Punk, Streetrock und Singer/Songwriter-Elemente in sich vereint, sowie den Texten von Sänger und Gitarrist Sammy Amara, der mit trockener Poesie Privates, Politik und Alltag treffend kommentiert.

This album contains no booklet.