---
Album info
Album including Album cover Booklet (PDF)
I`m sorry!
Dear HIGHRESAUDIO Visitor,
due to territorial constraints and also different releases dates in each country you currently can`t purchase this album. We are updating our release dates twice a week. So, please feel free to check from time-to-time, if the album is available for your country.
We suggest, that you bookmark the album and use our Short List function.
Thank you for your understanding and patience.
Yours sincerely, HIGHRESAUDIO
1

Good Imitation Of The Blues

03:13

2

Lost Without Your Love

04:29

3

Cash On The Barrelhead

02:49

4

Desire

03:32

5

In My Eyes

04:14

6

Good News

04:39

7

Let It Roll

05:42

8

I'm Not So Far Away

02:57

9

Honky Tonk Blues

02:22

10

Too Far Gone

03:18

11

I'll Get Over You

03:31

12

Gone Like The Cotton

04:03

Total Runtime

44:49
Info for Gone Like The Cotton

The Cox Family, widely known for their GRAMMY®-winning collaboration with Alison Krauss, I Know Who Holds Tomorrow, as well as their ravishing performance of "I Am Weary, Let Me Rest" from the smash-hit soundtrack O Brother, Where Art Thou?, make a triumphant return with Gone Like the Cotton, an album 17 years in the making. . .
Gone Like The Cotton is a stunning work, of which Rolling Stone s Stephen Betts writes, "Like the Cox Family's previous efforts, Gone Like the Cotton is built on a solid country-music foundation with sensational harmony singing and inspired song selection ... the Coxes haven't missed a beat, a tasty instrumental lick, or a sterling vocal performance in spite of the nearly two decades between the album's late 20th-century start and glorious 2015 finish."
Producer Alison Krauss reflects, "I can't remember when I've been lucky enough to be witness to a story where such generosity and talent come together so perfectly. I've had the time of my life getting to work on the record again. The Cox Family hold a place in my heart like no other, and listening to them for all of us is like coming home."
"The Cox Family's major-label debut, 1996's Just When We're Thinking It's Over, was a small triumph that demonstrated the different directions they could travel with their eclectic Southern-styled music and glorious four-part harmonies, but to say that they had trouble completing the follow-up is a few steps past understatement. The Cox Family were dropped by their label before the album they recorded in 1998 could be completed, and in 2000 family patriarch and group founder Willard Cox was paralyzed from the waist down in an auto accident. His wife Marie Cox was also battling cancer at the time, which would claim her life in 2009, and the Cox Family's personal and professional troubles slowed the group nearly to a halt. But 17 years on, the story of the family's unfinished album finally has a happy ending; after the masters for the 1998 sessions were recovered, the Cox Family returned to the studio to put the finishing touches on the album they long thought was lost, and Gone Like the Cotton has emerged sounding fresh, passionate, and thoroughly satisfying, a mixture of country, bluegrass, gospel, blues, and a dash of pop that sounds rootsy but thoroughly up-to-date at the same time. Despite the passage of time, the new vocal tracks featuring Evelyn, Sidney, and Suzanne Cox sound as soulful and precise as the material they cut in the '90s, and Willard's occasional leads (rescued from the 1998 sessions) are great, sweet and just a bit rough in the true honky tonk manner. The production by Alison Krauss is splendid, honoring the Coxes' traditionalism while adding a dash of rock & roll attitude on "In My Eyes" and "Good Imitation of the Blues," and even giving bluegrass-styled numbers like "I'm Not So Far Away" a welcome dose of energy. Considering the Cox Family's appearance on the multi-platinum O Brother, Where Art Thou? soundtrack, it's not hard to imagine that Gone Like the Cotton could have been a major crossover hit if the group had been allowed to finish it in, say, 2002, but without playing guessing games about what could have been, this long-fermenting project is a more than worthy follow-up to Just When We're Thinking It's Over, and it leaves no doubt that tough times have not dulled Evelyn, Sidney, and Suzanne Cox's talents, and hopefully we won't have to wait so long to hear them harmonize again." (Mark Deming, AMG)
The Cox Family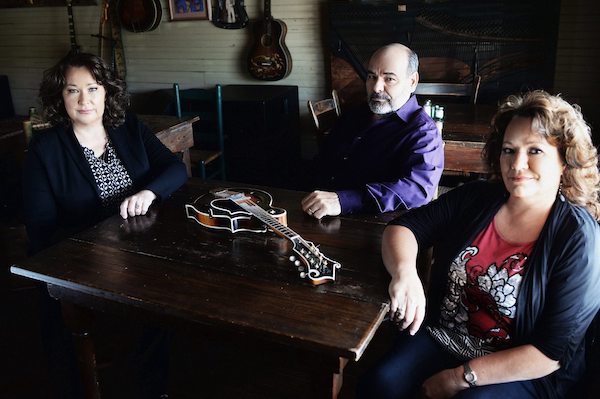 The Cox Family
Music lore is filled with tales of "lost" albums, but none comes close to The Cox Family's 17-year odyssey between recording tracks for their second Asylum project and 2015's Gone Like the Cotton (Warner Nashville/Asylum/Rounder).
After three critically-lauded albums for Rounder, including I Know Who Holds Tomorrow, their 1994 GRAMMY Award winning gospel collaboration with Alison Krauss, the family band from Cotton Valley, Louisiana moved to the majors. Asylum head Kyle Lehning signed them to his Nashville-based Warner subsidiary, a pioneering Americana label that was home to Guy Clark, Brian White, Mandy Barnett and Trio – Emmylou Harris, Dolly Parton and Linda Ronstadt.
In 1996, The Cox Family proved they belonged, releasing Just When We're Thinking It's Over, a seamless mix of country, bluegrass and pop produced by close friend and longtime supporter Krauss. She'd known them since she was 16, tracking them down at a Texas bluegrass festival after hearing a song-and-a-half on a lo-fi cassette tape. "I played that over and over," she says. "And when I met The Cox Family, it was an immediate connection. It was life-changing."
She helped them sign with her label, Rounder, producing and guesting on their 1993 debut, Everybody's Reaching Out For Someone." For a "new" band, it was a remarkable introduction, confident, assured and fully-formed. Sidney was already an accomplished songwriter (Krauss recorded several of his songs, including "I've Got That Old Feeling"). Everyone traded off singing lead, but it was the siblings' shimmering, shared-DNA harmonies that were The Cox Family's signature. They immediately shot to the top tier in bluegrass, headlining the biggest festivals, building on that with their GRAMMY-winning gospel set, completing their Rounder trilogy with 1995's Beyond the City. Krauss says she wasn't a bit surprised audiences embraced them as quickly as she had. "Once they were heard, it really went crazy for them. They went on tour with the Counting Crows, things happened pretty quickly. And then they got signed to Asylum."
That "overnight" success was decades in the making. Patriarch Willard was a longtime Louisiana country, bluegrass and rockabilly musician. The singer/fiddler and his wife Marie shared their love of music with their four children, forming a family band with elder daughters Evelyn and Lynn in 1971; Sidney and Suzanne joined as soon as they were old enough. When the band's growing performance schedule began interfering with his day job, Willard held a family meeting. "He asked them, 'Do you want a house, or do you want to play music?'" Krauss says with a laugh. There was not much discussion. Willard walked away from his oilfield job, leaving behind 13 years of earned retirement, and The Cox Family hit the road.
Their sound remained rooted in traditional material, but nothing was off limits. "Daddy was always just very encouraging about everything we did," says Suzanne. "We'd do an Eagles song, anything that was inspiring to us to sing, anything that felt good and tells a story." They found a kindred spirit in their producer, their "sister from another mister." "We just fit like a glove," says Suzanne. "When we're with Alison, everybody always says, 'Are y'all family?'"
In late 1997, The Cox Family – Willard, Evelyn, Sidney and Suzanne (Lynn left the group in 1995 to spend more time at home) – were in Nashville, back in the studio, working on their second Asylum album. Krauss was again producing and Gary Paczosa engineering. The star-studded sessions included Country Music Hall of Fame pianist Pig Robbins, versatile guitarist and longtime Chet Atkins band member Pat Bergeson, Union Station's Ron Block, Barry Bales and Dan Tyminski, in-demand bassist (and brother of the producer) Viktor Krauss and mandolin legend Sam Bush, who, with Louisiana slide guitar master Sonny Landreth, produced major instrumental fireworks on Suzanne's elegantly funky showcase "Good News."
"We were wanting to be as adventurous as we could. It was a lot of fun," Krauss says. They finished 11 instrumental tracks and began recording lead vocals by Willard and Evelyn. Suzanne, eight months pregnant, wasn't able to travel. With the foundations of a very hot album in the can, The Cox Family left the studio in February, 1998 for what they thought was a few weeks.
It was not to be. With the end of the '90s, country's bubble burst and sales slumped. Asylum was going through major changes. Kyle Lehning departed and, as a result, The Cox Family and many other Asylum artists no longer had a record deal at the label. In frustration, Krauss "wiped" all vocals off the tracks before returning them to Asylum. "We were really hurt," she says. "I felt like, 'This is such a wonderful record, if they're not going to put it out, then nobody's ever going to hear this.' Of course, we made 'safeties'."
But losing a record deal is just another Nashville rite of passage and The Cox Family barely slowed down, maintaining a busy concert and festival schedule. In 2000, they recorded "I Am Weary (Let Me Rest)" for the biggest traditional country album of all time, the multiple GRAMMY Award-winning O' Brother Where Art Thou? Soundtrack. On May 24, 2000, they performed that song and "Will There Be Any Stars in My Crown" at a sold-out Ryman Auditorium as part of the O Brother offshoot, the all-star Down From the Mountain tour, live album and concert film.
Weeks after that concert, on July 19, Willard and Marie were driving near home when they were struck from behind by a logging truck. Willard suffered a crushed spine and remains paralyzed from the waist down. The kids dropped everything to care for their parents. Their mother recovered, but was already fighting breast cancer. Sidney remembers an incredibly difficult time. "There were a lot of questions of, 'Where do we go from here?' We went from doing all music to doing no music in a very short time."
They stayed home in Louisiana and, says Sidney, "everyone went back to civilian-type life." They all raised families. In 2006, Suzanne sang with Alison Krauss and Cheryl White at the Kennedy Center Honors for Dolly Parton. Evelyn, Sidney and Suzanne guested on a number of high-profile projects, singing harmony with Dolly Parton, Charlie Daniels, Randy Travis, Ron Block, Rob Ickes, Trey Hensley and, of course, Krauss. Mostly, they performed locally, in church and the cemetery honoring the people in their community. As Sidney says, "What a great honor to have these people request that we sing them into their next journey of life." In 2014, Sidney also produced an album, Southern Offerings, for their church, First Baptist of Minden, Louisiana. (The recording would include four songs of The Cox Family, along with Gordon Mote, and other vocalists from their church, set in the backdrop of an eighty member choir.)
Life went on, but no one forgot their lost album.
"I remember when I heard it back in 1998, the last time I heard it," says Kyle Lehning. "I thought it was such a leap from the first record – inventive, and fresh, and interesting. And when I left the label, that record just haunted me."
Krauss and the Coxes remained close and Krauss recalls "Whenever I'd get together with Suzanne, she'd be, "Oh, I wish we could finish that record.'"
In late 2000, Asylum was absorbed by Warner Brothers. "From that point on," says Lehning, "I tried to convince whoever was running Warner Bros. that there was a really good record in their vault that deserved to get finished."
The third label head Lehning tried was John Esposito, who actually listened. He searched the Warner vaults and came up with what he thought was the lost album. He and Lehning listened to it and Krauss got a call. Alison remembers, "Kyle said he and John had been listening to the album and it sounds great. I told him, 'but there are no vocals on it'. And he said, 'Oh, Suzanne sounds terrific; the harmonies are great.'" Krauss knew this was impossible. Suzanne hadn't recorded a note, and had made sure all vocals were erased. She asked what songs were on it and when Lehning told her, Krauss replied, "Of course it sounds great, those are the mixed masters of the first album. Kyle said, 'Oh no, now I have to call John and tell him.' And I replied, 'This is actually great, because now he's heard The Cox Family in perfect form, all finished, with all the harmonies.'"
Lehning set up a meeting for the three of them, and told Esposito what had happened. Alison recalls John saying, "'This Cox Family is just wonderful. And I hear the second album is even better.' And Kyle answered, 'It is better.'" Esposito asked to hear it, but Krauss had hidden the safety vocals so well, she hadn't found them yet, which she neglected to mention. Esposito interpreted her hesitancy as the usual reluctance to play an unfinished project. "John held his hands up and said, 'That's all right, I don't have to hear it. I want it anyway, if it's anything like this first one. When can you have it finished?' He didn't even need to hear it. He had faith in it. It was just such a beautiful moment."
Krauss and Paczosa finally found the safeties in an unmarked envelope in a storage facility, and the instrumental tracks were located in a Warner vault. "And we opened up the files," Lehning recalls. "I was a little nervous about hearing it for the first time after all those years, but it sounded terrific. It didn't seem dated at all."
He was even happier when he heard The Cox Family's newly-recorded vocals. "They're singing better now than they were back then, more assured, more soulful."
No one was happier than Alison, Willard, Evelyn, Sidney and Suzanne. They'd been waiting 17 years. "I think people finish records and there's always something on the record that they wish they could have done different," says Sidney. "And for us to have this much time, we've thought many, many times about what we'd do if we ever had the chance."
Completing the circle, Esposito had suggested that The Cox Family project be a joint release with Rounder, their original label home. "He said, "I'd like to call John Virant (President of Rounder Label Group), because I know he knows these folks," recalls Krauss.
But he may not have known just how well Virant knew them. When The Cox Family's Rounder debut, Everybody's Reaching Out for Someone, was released in 1993, Virant was a fresh-faced Rounder intern, his first job out of college. He has remained with the company ever since. "That was one of the first things I was involved in," says Virant. "We've done a lot of records over the years and some artists are just more in your heart. The Coxes are a very, very important part of the history of the company and they really hold a special place with us here."
So when Rounder was approached about partnering with Warner on the project, it was an easy call. "We didn't even have to think about it," Virant says. "When it came up, 'Would you like to be involved?' It was, 'Heck yeah!' And that was it."
In April, 2015, The Cox Family – Evelyn, Sidney and Suzanne – finally returned to the studio – the same Nashville studio they'd departed 17 years prior – to record vocals and Sidney's guitar and Dobro. "Gary and I were sitting in the exact spot as when Willard, Evelyn and Sidney left 17 years before, and they hadn't been to that studio since," Krauss remembers. "Sidney said, 'Oh my gosh, this is the last place we were.' And Gary asked, 'Well, where have you been? We've been waiting for you.' It was sofunny."
Joking aside, the 15-day session was emotionally draining. They were finishing the album, not just for themselves, but for Willard, who can no longer perform and for Marie, who passed away from cancer in 2009 and to whom Gone Like the Cotton is dedicated. Miraculously, all three of Willard's lead vocals were completed before the accident. They're classic Willard – uncompromising, hardcore country, all with a family connection – Loretta Lynn's little sister Crystal Gayle's ballad "I'll Get Over You," The Louvin Brothers' "Cash on the Barrelhead" and The Lonesome Pine Fiddlers' "Honky Tonk Blues," written by brothers Ezra and Curly Ray Cline. As Lehning noted, it's a major shift from the first album. Their Asylum debut was like a first date, an album on its best behavior. The second time around, things were more relaxed, more real, edgier, the musicians let loose and the Coxes were singing with the emotion that comes with almost 20 more years of living. Suzanne opens Gone Like the Cotton with "Good Imitation of the Blues," a triumphant slow-burn of a breakup song. Evelyn follows with the other side of the story, bringing a palpable sense of heartbreak to David Gates' "Lost Without Your Love," her ethereal voice floating over a bed of strings played by Krauss. Sidney's solo, "In My Eyes," is a pop song co-written by Kostas, given Beatle-esque grace by Landreth's George Harrison-inflected slide.
Four lead singers, multiple styles and genres, but throughout, the glue that holds it together is that Cox Family harmony – smooth, intuitive and other-worldly. Gone Like the Cotton is that rarest of albums in today's music business – all music, no business. This is a record they simply needed to make, completing that long-delayed mission for their parents, for their kids, for the generations that lived and died in Cotton Valley, and for one another, for the pure love of singing together. "They do it just because," says Krauss. "That's how they're made. They can't do it any other way. It's a beautiful thing."
Krauss calls Gone Like the Cotton, "as important as anything I've ever done. To get to step back in time with them for something that valuable in so many ways, with people that personally important to me, that musically important to me. It was a dream."
The title track is the one new song, written by Sidney and Suzanne in tribute to their parents, grandparents and Cotton Valley. It's a sparse coda, with only Sidney's rhythm guitar underpinning Suzanne's soulful voice, with that heart-wrenching, born-in-the-blood trio on the choruses. "Gone Like the Cotton" is the most literally biographical song, the entire album tells The Cox Family story.
"This is the pinnacle of all that we could give out of our hearts for the music that we loved and cherished," says Sidney. "It's all of the things that we were influenced by, whether it be the geographical place, or all the music that we played, or the way of life that we lived.
"That music still represents the people that we are. We have survived together. And that music is about us being together, and remaining together for 17 years. And even though we weren't playing, we were always together, in the common hope that we would be able to finish this story. And I'm so glad that we did." One listen to Gone Like the Cotton and you will be too.

Booklet for Gone Like The Cotton