---
Album info
Album including Album cover Booklet (PDF)
I`m sorry!
Dear HIGHRESAUDIO Visitor,
due to territorial constraints and also different releases dates in each country you currently can`t purchase this album. We are updating our release dates twice a week. So, please feel free to check from time-to-time, if the album is available for your country.
We suggest, that you bookmark the album and use our Short List function.
Thank you for your understanding and patience.
Yours sincerely, HIGHRESAUDIO
Julius Klengel (1859 - 1933): Cello Concerto No. 3 in A Minor, Op. 31:

1

Cello Concerto No. 3 in A Minor, Op. 31: I. Allegro non troppo

07:52

2

Cello Concerto No. 3 in A Minor, Op. 31: II. Intermezzo. Allegretto

04:16

3

Cello Concerto No. 3 in A Minor, Op. 31: III. Kadenz

03:41

4

Cello Concerto No. 3 in A Minor, Op. 31: IV. Finale. Vivace

06:12

Richard Strauss (1864 - 1949): Romanze for Cello and Orchestra in F Major, TrV 118, Op. 13:

5

Romanze for Cello and Orchestra in F Major, TrV 118, Op. 13: Andante cantabile

08:25

Robert Schumann (1810 - 1856): Cello Concerto in A Minor, Op. 129:

6

Cello Concerto in A Minor, Op. 129: I. Nicht zu schnell

10:58

7

Cello Concerto in A Minor, Op. 129: II. Langsam

03:48

8

Cello Concerto in A Minor, Op. 129: III. Sehr lebhaft

07:42

Myrthen, Op. 25:

9

Myrthen, Op. 25: I. Widmung (Arr. for Cello & Piano)

02:06

Clara Schumann (1819 - 1896): Concerto for Piano and Cello in A Minor, Op. 7:

10

Concerto for Piano and Cello in A Minor, Op. 7: II. Romanze. Andante ma non troppo con grazia

02:53

Johannes Brahms (1833 - 1897): Hungarian Dances, WoO 1:

11

Hungarian Dances, WoO 1: V. Allegro in F-Sharp Minor (Arr. for Cello & Piano)

02:49

Total Runtime

01:00:42
Info for Klengel, Schumann: Romantic Cello Concertos

Wer Raphaela Gromes kennt, weiß: Für jedes Album begibt sich die Cellistin von Neuem auf musikalische Schatzsuche. Für ihre "Romantic Cello Concertos" (02.10.2020, SONY Classical) ist sie in der Deutschen Romantik fündig geworden: Auf ihrem mittlerweile fünften Album präsentiert sie Werke von Robert und Clara Schumann, Johannes Brahms und Richard Strauss – und auch ein bislang verlorenes Juwel: das 3. Cellokonzert op. 31 von Julius Klengel von 1892.
Klengel, der Cellovirtuose, Komponist und später als "europäischer Cellistenmacher" bekannte Professor des Leipziger Konservatoriums, wurde bereits in jungen Jahren in ganz Europa als Wundercellist bejubelt. Zu seinen bekanntesten Werken zählt sein "Hymnus" für 12 Celli. Sein 3. Violoncellokonzert war bislang unveröffentlicht und das Notenmaterial des Konzerts wurde nun eigens für Raphaela Gromes' Einspielung bei Boosey & Hawkes ediert. "Welch ein fantastischer Cellist Klengel gewesen sein muss!", schwärmt Raphaela Gromes von dem Werk. "Das Cellokonzert ist große, spätromantische Symphonik: schwelgerische, weitgespannte Melodien mit an Wagner erinnernder, schwerblütiger Harmonik, aufgelockert mit virtuosen Passagen von mendelssohnscher Leichtigkeit" und beweise, dass Julius Klengel das Cello beherrschte wie Liszt oder Chopin das Klavier.
Auf "Romantic Cello Concertos", das die junge Starcellistin mit dem Rundfunk-Sinfonieorchester Berlin unter Leitung von Nicholas Carter aufgenommen hat, findet sich zudem Robert Schumanns Violoncellokonzert a-Moll op. 129, das vielleicht bedeutendste romantische Opus für diese Besetzung. Das Werk gilt als eines der vielfältigsten, aber auch anspruchsvollsten und virtuosesten Werke der gesamten Celloliteratur. "Schumanns Cellokonzert ist DAS romantische Cellokonzert überhaupt im Sinne der Romantik als Ausdruck
einer zutiefst intimen Gefühlswelt voller innerer Zerrissenheit und Sehnsucht", erklärt Raphaela Gromes. "Es ist technisch höchst anspruchsvoll, erfordert aber in jedem Moment vor allem auch große Empfindsamkeit und Tiefe. Die Palette reicht von großen sehnsuchtsvollen Melodiebögen und drängenden Passagen neben Zerbrechlichkeit und Eleganz über zarte Dialoge im zweiten Satz bis hin zu feuriger Vitalität und überbordender Heiterkeit im Finalsatz." Mit dem Konzert hat Raphaela Gromes bereits 2016 den Deutschen Musikwettbewerb gewonnen und spielt es seitdem mit großen Orchestern auf der ganzen Welt, so auch in Kürze in der Hamburger Elbphilharmonie mit dem NDR Elbphilharmonie Orchester.
Ergänzt werden die zwei Werke durch die Romanze für Cello und Orchester von Richard Strauss, einem der reifsten Werke seiner Jugendzeit. Als besondere Zugaben sind Raphaela Gromes drei musikalische Leckerbissen gelungen: Drei Duo-Stücke von Clara und Robert Schumann sowie Johannes Brahms, bei denen die Cellovirtuosin von ihrem langjährigen Klavierpartner Julian Riem begleitet wird. Robert Schumanns "Widmung" stammt aus dem Liederzyklus "Myrthen", die "Romanze" von Clara Wieck-Schumann ist ursprünglich der Mittelsatz ihres 1. Klavierkonzerts. Passend zu der Dreiecksbeziehung zwischen den Schumanns und Johannes Brahms, um die sich viele Gerüchte ranken, schließt das Album mit einem fulminanten Arrangement von Brahms' "Ungarischem Tanz Nr. 5" ab.
Raphaela Gromes, cello
Julian Riem, piano (tracks 9-11)
Rundfunk-Sinfonieorchester Berlin
Nicholas Carter, conductor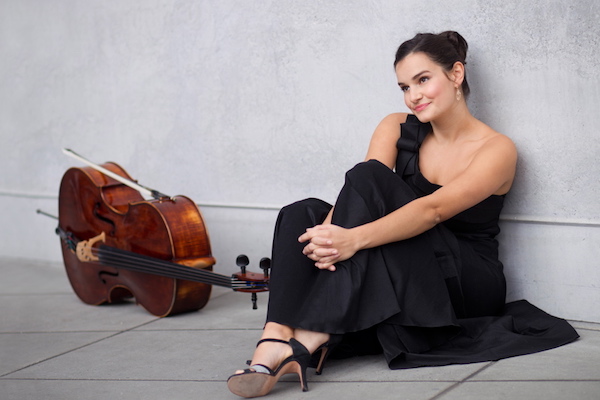 Raphaela Gromes
"I was so impressed listening to the Gromes Riem Duo performing the Debussy Sonata at a master class in Munich recently. Admittedly it is not a natural setting for performance, yet the duo played with great aplomb. But what impressed me most was the obvious wish to communicate the content to their public.
It is their courageous curiosity and energy that impressed me. Their commitment to one another as duo partners for four years is further testimony to their commitment to forge a lasting meaningful musical partnership, and to share their musical discoveries with a larger public." Yo-Yo Ma, 02/2016
Raphaela Gromes received her first cello lessons at the age of four. Being only seven years old, she already accompanied her parents – both being cellists – on stage. Her solo debut with Friedrich Gulda's cello concerto in autumn 2005 was highly acclaimed both by the audience and the media. In consequence numerous concerts with the great cello repertory followed.
Various composers have already dedicated cello concertos to her: the world premiere of Dominik Giesriegel's cello concerto in 2012 was followed by that of Valentin Bachmann's cello concerto performed by the Philharmonic Orchestra Budweis conducted by David Svec. The third world premiere, the double concerto "Chroma" that Mario Bürki had written for Raphaela Gromes and Cécile Grüebler in 2014, brought her into contact with the Swiss military orchestra. Further on she collaborated with Kent Nagano and the Czech Philharmonic as well as with Christoph Altstaedt and the Beethoven Orchestra Bonn.
Raphaela Gromes was invited to the Jungfrau Music Festival Interlaken, the Vorsprung Festival of the "Audi Summer Concerts" in Ingolstadt, the Munich Opera Festival, the Marvão International Music Festival, the Mondsee Musiktage Festival and the Edinburgh International Festival. In addition to her career as soloist she is also devoted to chamber music. Her chamber music partners are amongst others Christian Altenburger, Isabelle von Keulen, Alexander Lubimov, Patrick Demenga and Mischa Maisky. Together with her duo-partner, the pianist Julian Riem, she regularly gives concerts throughout Germany and abroad.
Her first recordings that were taken with her longtime piano partner Julian Riem, were released by Farao Music in 2014. Since 2016 she is one of SONY Classical exclusive artists. In September 2017 her first SONY-CD with the works of the late Romantic composers Giuseppe Martucci, Leone Sinigaglia, Ferrucio B. Busoni and Mario Castelnuovo, that she recorded with her partner Julian Riem, will be released.
Raphaela Gromes has already won numerous prizes: in 2011 she was awarded the Musikförderpreis des Konzertverein Ingolstadt (young musicians' scholarship), in 2012 she was first in the Competition Richard Strauss. In 2012 she was granted a scholarship of the Studienstiftung des Deutschen Volkes (German National Merit Foundation) and has been supported by Yehudi Menuhin Live Music Now since then. Furthermore she received the scholarship of the Hans and Eugenia Jütting Foundation Stendal. Raphaela Gromes and her duo cello partner, Cécile Grüebler, received the Förderpreis der Theodor-Rogler-Stiftung Bad Reichenhall (young musicians' scholarship) in 2014. In 2016 she was first in the cello solo competition of the German Music Council and became one of this year's young talented musicians who receive special promotion ("Bundesauswahl Junger Solisten"). She was first prize winner of the Kulturkreis-Gasteig competition in 2012 and 2016 and also of the international Concorso Fiorindo Turin in 2013.
Raphaela Gromes is a graduate of the University of Music and Performing Arts Munich where she studied with Wen-Sinn Yang. She started her studies with Reinhard Latzko at the University of Music and Performing Arts Vienna in 2015/16. She took master classes with well-known cellists like David Geringas, Yo-Yo Ma, Natalia Gutman, László Fenyö, Daniel Müller-Schott, Kristin von der Goltz, Wolfgang Boettcher, Anner Bylsma, Wolfgang Emanuel Schmid and Peter Bruns, who accepted her as junior student from 2006 until 2010 at the University of Music and Theatre "Felix Mendelssohn Bartholdy" Leipzig.
Raphaela Gromes' cello is a Jean-Baptiste Vuillaume instrument of 1855 that is provided by a private benefactor.

Booklet for Klengel, Schumann: Romantic Cello Concertos