---
Album info
Album including Album cover
1

Dans les nuages

04:02

2

Au milieu de nulle part

04:36

3

Hiver

04:11

4

Joyau du desert

02:31

5

Didem

05:07

6

Bozo

03:55

7

Le renégat

03:34

8

Rêverie (Bonne nuit Loulou)

03:32

9

Trauma

04:39

Total Runtime

36:07
Info for Escale

Bassist, composer and arranger, Carl Mayotte is recognized in the jazz world as an exceptional musician. With this third album, Escale, he presents a personal work, which he composed, interpreted and produced. An invitation to discover his universe.
An improvised Escale: For this album, Carl Mayotte has opted for a different approach from the one he used for the two previous ones, where he would polish each musical line at length during the writing stage. This time, the emphasis is on spontaneous composition and improvisation, for a more organic and personal touch. This liberating method is reflected in every step of the album's production, from sound recording to photography, from composition to recording.
This stopover in Carl Mayotte's universe takes the electric bass out of its traditional role of accompaniment and allows us to discover the great versatility of the instrument. Carl Mayotte puts his virtuosity at the service of the music through his melodic and subtle playing that leaves plenty of room for his collaborators. By taking the paths of jazz fusion and improvisation, he reinvents the genre with a beautiful modernity by his choice of varied instrumentation from the harmonica to the kanoun.
Young, gifted and virtuoso: Carl Mayotte started playing in bars in the Quebec City area at the age of 16. His music has taken him on trips to Quebec and France, and has allowed him to rub shoulders with a wide variety of styles, from Quebec singers like Bruno Pelletier to European big bands.
Equipped with a solid academic background – a bachelor's degree from Laval University in jazz performance, and a master's degree in jazz from McGill University – he embarked on directing and arranging, collaborating with artists like Chloé Sainte-Marie as well as a symphony orchestra and a choir. In 2019, his first album, Fantosme, was released, concocted with musician and UZEB alumnus Michel Cusson. It will be followed, two years later, by Pop de Ville Vol.1, an ode to jazz fusion and Japanese city pop.
Named Radio-Canada Jazz Revelation 2020-2021, he was nominated at the ADISQ Gala in the category Jazz Album of the Year.
Carl Mayotte, bass, piano, voice
Olivier Bussières, percussions, drum
Didem BaŞar, kanoun
Damien-Jade Cyr, saxophone, flute
Jean-Michel Leblanc, guitars
Levy Bourbonnais, harmonica
Geneviève Leblanc, piano, musical plot (Trauma)
Antoine Baril, wind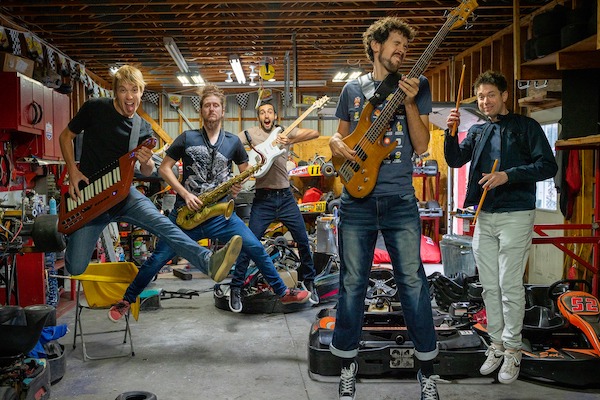 Carl Mayotte
Beginning to play bass in several events and bars in the Quebec region at the age of 16, I have sailed these past years through different styles and musical universes, while traveling my art through Quebec and several times in France. I also got the chance to play with many artists and musical bands of all kinds, from Bruno Pelletier to several Europe's Big Bands, while completing a Technical program at Notre-Dame de Foy Campus, a Bachelor's degree in Jazz Interpretation at Laval University and a Master's degree from the Jazz Faculty of McGill University.
These studies allowed me, among other things, to grow as a musician and especially as an arranger and composer. I developed techniques that helped me create musical arrangements to make a living, whether it was for symphonic orchestra for Chloé St-Marie, choirs of the Quebec City area or for producing more than five albums in the last five years, including Sénescence from the Nouvelle R group released in 2018, and my first opus: Fantosme, an album that was co-directed with the great Michel Cusson in 2019. This album has led me to win Radio-Canada Jazz Revelation in 2020 and to be a nominee at Premier Gala de l'ADISQ 2020 in the category Jazz Album of the year. My latest album, Escale, is the first project I'm releasing with my new record label Analekta. I offer you a new variety of emotions on this opus, and a new journey awaits you.

This album contains no booklet.