---
Album info
Album including Album cover
1

Content 04

07:09

2

Content 02

07:04

3

Content 05

07:56

4

Content 10

10:42

5

Content 03

08:33

6

Content 01

09:16

7

Content 07

06:58

Total Runtime

57:38
Info for Content-Blue

The path as a goal - The story of the recording "Content" by Roman Rhode: The seven tracks are snapshots. Oli Bott simply calls them "content". In both senses of the word. For the recordings reflect both the quartet's joy of playing and the content: compositions reduced to the essentials that offer an astonishing amount of room for interaction and improvisation. In them, Bott, a cross-genre musician, composer and arranger, conveys his own vision of jazz: as freedom for personal development. "Nothing was rehearsed, nothing counted on," Bott says. "We had no idea how it would start and how it would end, when the theme would come, who would improvise when."
The basis of the session were some miniatures Bott had written beforehand: two-liners that can be opened up for improvisation, allow variations and tell stories. Bott had initially only invited the musicians for the project to a non-binding, free rehearsal. Although they knew and appreciated each other, they had not yet played together in this constellation. But during the hours in the rehearsal room, everyone revealed an irrepressible desire to make music together - just after the lockdown was lifted in early summer 2021.
The four musicians themselves were surprised by the spontaneous session, during which - under the supervision of sound engineer Guy Sternberg - only a demo tape was made. A single take was enough until Markus Stockhausen happily stated during a break: "A real album is being created here!" All the pieces on it are inspired not only by individual imagination and creativity, but equally by the enormous ability to listen to each other in order to produce an exciting dialogue. "In this form," says Oli Bott, "I could not have arranged it at all." For him, this is ultimately the essence of jazz: celebrating the impulsive, unrepeatable moments of a session. With the seven "Contents", the rehearsal is therefore already the result. Why spend three days tweaking a single take? Less can sometimes be much more.
"The free imagination that develops above simplicity thus produces complex musical structures of some entertainment value, whose friendly basic character is audibly marked by elementary, original joy of playing - an enthusiasm that is immediately transferred to the listener." (Jazzpodium)
"The quartet of the Berlin vibraphonist treads rather conventional sonic paths between swinging jazz, Latin vibes and Mediterranean, poppy melodies. [...] The dominant counterpart to Bott's often folkloristically light solos is Markus Stockhausen, whose crystal-clear trumpet tone often comes across like a signal for departure and pulls the band along." (Jazzthetik)
Markus Stockhausen, trumpet
Oli Bott, vibraphone
Oliver Potratz, bass
Eric Schaefer, drums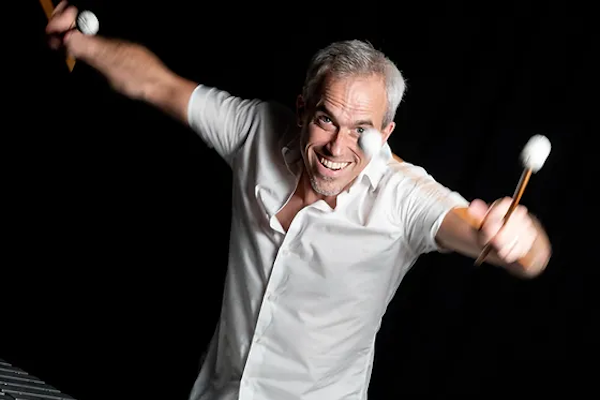 Oli Bott
studied vibraphone and composition at the Berklee College of Music in Boston with teachers such as Gary Burton and Bob Brookmeyer and graduated 'summa cum laude'. Since then freelance musician in Berlin, several scholarships from the Berlin Senate, composition commissions for his own jazz orchestra, radio and television recordings of numerous concerts in Germany and abroad, winner of international competitions such as NDR Music Prize for Jazz Conductors, 1st Prize Leipzig Improvisation Competition, Europ Jazz Contest and Wayne Shorter Award, USA.
Oli loves to interpret good music of all styles and feels comfortable improvising his own stories on works of classical, jazz, rock and world music. Thus his portfolio ranges from the Romanian rock band ZMEI3 to working with cellist Anna Carewe and the Sheridan Ensemble (cross-genre ensemble from baroque and classical to jazz, rock and improvisation) to his jazz quartet with Markus Stockhausen, Oliver Potratz and Eric Schaefer. He has played at festivals such as WOMAD Festival, Electric Castle Festival, Schwetzingen SWR Festival, Schleswig Holstein Music Festival, Niedersächsische Musiktage, Beethovenfest Bonn, WDR Jazz Festival Cologne, Händel Festspiele Halle, Musikfest Stuttgart and Kurt Weill Fest Dessau.
Since 2001 Oli has been teaching improvisation to classically trained musicians in Berlin and gives workshops for the education programme of the Berlin Philharmonic Orchestra, the Berlin University of Popular Arts, the Brandenburg University of Technology Cottbus and the Landesmusikakademie Berlin.
In 2022, he was commissioned by the German Bundestag to compose a 60-minute homage to Haydn's work to mark the 100th anniversary of Germany's anthem, which he produced with Anna Carewe, Markus Stockhausen, Oliver Potratz and Eric Schaefer ...

This album contains no booklet.