---
Biography Omara Portuondo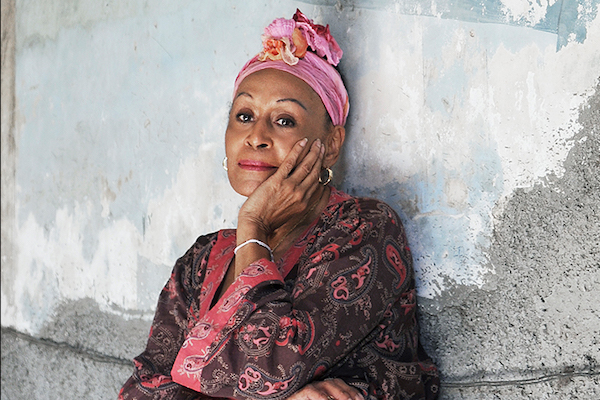 Omara Portuondo
The story of the life of Omara Portuondo (Havana, 1930) reads like something out of a film script. The daughter of a well-to-do family and a mother of Spanish descent, she relinquished everything to marry a handsome black member of the Cuban national baseball team – a fact that she kept secret since mixed marriages were frowned upon in Cuba at that time – Omara's first encounter with music was at a very early age. Just as in any other Cuban home, the future singer and her siblings grew up with the songs which her parents, for lack of a gramophone, sang to them. Those melodies, some of which still form part of her repertoire, were young Omara's informal introduction to the world of music.
However, before taking up singing as a career, a fortuitous event led her to first try her hand at dancing, following in the footsteps of her sister Haydee, who was a member of the dance company of the famous Tropicana cabaret. One day, in 1945, two days before the opening night of a big new show, one of the dancers gave in her notice. Having watched her sister rehearse for hours on end, Omara knew the steps by heart and so was offered the vacant place in the company. "It was a very classy cabaret", Omara recalls, "but it didn't make any sense. I was a shy girl and was embarrassed at showing my legs". It was her mother who actually convinced her not to let the opportunity go by and so she began a dancing career that led her to form a legendary duo with Rolando Espinosa and, in 1961, to become a teacher of popular dance at the Escuela de Instructores de Arte. The relationship between Omara and the Tropicana remains intact today and up to 1998 she still performed there from time to time.
Omara and her sister Haydee also sang well-known American numbers with a group which included César Portillo de la Luz, José Antonio Méndez and blind pianist Frank Emilio Flynn. They called themselves Los Loquibambla and their style, a Cubanised version of the bossa nova with touches of American jazz, was known as "feeling". In their radio debut, Omara was introduced as "Miss Omara Brown, the girlfriend of "feeling", the name by which she is still known by many Cubans today. As the singer herself recalls, Cuban music of that time was influenced by styles from different countries such as Argentina, Brazil and, of course, the USA.
In 1952, Omara and Haydee, together with Elena Burke and Moraima Secada, set up a vocal quartet, directed by pianist Aida Diestro. This group became one of the greatest in the history of Cuban music despite the fact that the original ensemble only recorded one single, in 1957 on the RCA Victor label. Omara stayed with the Quarteto Las d'Aida for 15 years. "We toured the States and Aida's vocal arrangements were very original. Everywhere we went they cheered us and, when Nat King Cole played at the Tropicana, we went on stage to sing with him", she recalls.
Magia Negra, Omara's debut record, was released in 1959. It combined Cuban music with American jazz and included versions of "That Old Black Magic" and "Caravan", by Duke Ellington. Despite having embarked on this solo project, Omara Portuondo continued as a core member of Las d'Aida. Two years later, she had to cut short a series of concerts at a Miami hotel and return to Cuba due to the Cuban Missile Crisis, which led to the breaking off of diplomatic relations between the USA and Cuba and to a long period of isolation for the Caribbean country. Omara stayed with Las d'Aida until 1967, when she decided to pursue a solo career. "So many singers had left the island that there was a gap that needed filling", she says. Cuban culture took on a new lease of life with the appearance of different schools of art and music, which both produced a great number of respected musicians and inspired artistic creation. From then on, Omara not only took on the role of her country's representative at different international festivals but also consolidated her reputation at national level.
The early years of the Cuban revolution were complicated for a country that found itself isolated from the West. In 1967, virtually the whole population was conscripted in an attempt to achieve a record sugarcane harvest. "Everyone was cutting cane and we artists gave them our support by singing to them right there in the fields", Omara recalls.
Omara joined one of Cuba's most important orchestras, La Orchesta Aragón, with which she travelled all over the world and also recorded several albums, such as the one she did with Adalberto Álvarez in 1984 and Palabras and Desafíos, both on the Spanish Nubenegra label and on which she was accompanied by Chucho Valdés.
However, what really catapulted Omara Portuondo to her well-earned fame was her appearance in the cinema in the mid-1990s. After collaborating in the recording sessions for Buena Vista Social ClubTM (World Circuit), on which she sang "Veinte Años" with Compay Segundo, Omara Portuondo, in a duet with Ibrahim Ferrer and deeply affected herself, gave a profoundly moving rendition of that heart-rending number "Silencio". The success of the record and the film of the same name revealed to the public at large a voice which for years had thrilled those fortunate enough to see her perform in cabarets and clubs in her native Havana. The success of "Silencio" gave a new impulse to Omara's career and to those of other artists involved in the project. In the following years she travelled the world and recorded various songs with a star-studded group which included great names of Cuban music such as Rubén González, Orlando "Cachaíto" López and Manuel "Guajiro" Mirabal.
Omara was the star of the third launching of the Buena Vista Social ClubTM:: Buena Vista Social ClubTM presents... Omara Portuondo (World Circuit). Released in 2000, the album was enthusiastically received and, subsequently, Omara went on tour with Rubén González and Ibrahim Ferrer, thus giving a whole new generation of music lovers the opportunity to discover this illustrious trio live on stage.
As a result of this renewed popularity, Omara experienced one of her most fertile and successful periods. After a solo world tour in 2002, in the autumn of the same year, she performed at the Japan Jazz Festival, accompanied by Michael Brecker, Herbie Hancock, John Patitucci, Wayne Shorter and Danilo Pérez. In 2003, she returned to European soil to take part in the legendary Glastonbury Festival before going on to perform in Canada and the USA in autumn, leading a band which included such heavyweights as Papi Oviedo on the Tres, Rolando Baro on piano and Fabián García on the double-bass. That same year, Omara went back to the studio to record her second solo album for World Circuit. The producers were Nick Gold and Alê Siquiera, a respected Brazilian producer well-known for his work with Carlinhos Brown, Caetano Veloso and Tribalistas, winners of a Latin GrammyTM . The technical team was complemented by two renowned professionals, engineer Jerry Boys and Cuban musician and arranger Demetrio Muñiz.
Flor de Amor (World Circuit) signals a change in direction in Omara Portuondo's career: it is an album marked by a more subtle sound and a richness of texture. Omara brought in a mixture of Cuban and Brazilian musicians for this album, and it is this factor which influences the particular style of the music. ...