---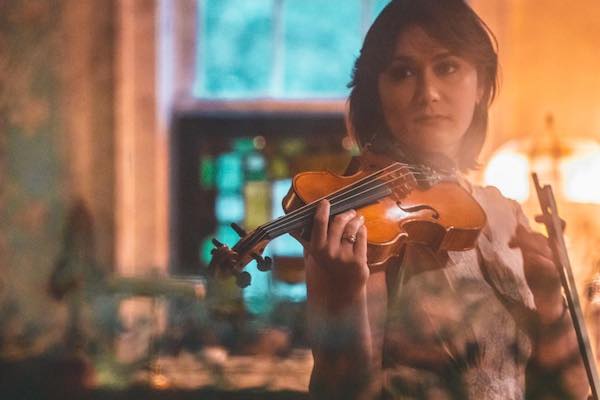 Phoebe Hunt
With their critically acclaimed 2017 release, Shanti's Shadow, Phoebe Hunt & The Gatherers revealed an intimate inner journey through meditation and musical exploration. Neither One of Us Is Wrong takes up where Shanti's Shadow left off, soaring from personal introspection to a third eye colored reflection on our larger culture and the deepening polarity of the time we live in. With this release, Hunt adds an ambitious layer to her expression by expanding creatively into the realm of visual art, releasing a music video for each song on the album.
'I see music, and art in general, as an opportunity to interpret and transmute the experiences we collectively encounter as we journey through life. Through this album, it is my hope to connect as deeply as possible with the most diverse group of people I can find. It is only when we make connections with those who we cast aside as 'other' that we can bridge the divide so prevalent in our current reality.'
Recorded in Brooklyn, NY at the Grand Street Studio with her tribe of musical companions, The Gatherers, (Roy Williams -Guitar/Vox, Dominick Leslie - Mandolin, Mandola, Octave Mandolin, Sam Reider - Piano, Organ, Accordion, all things keys, Dave Speranza - Bass, Jared Engle - Bass, Rachel Loy - Bass, Nicholas Falk - Drums, Stephanie Hunt, Jazz Mills and Sierra Hull - Vocal Harmonies, Mike Barnett and Ethan Jodziewicz - additional strings) Hunt attributes their evolution as a band in Brooklyn, NY to synchronisticl beginnings:
Dom, my fiancee at the time, had met and befriended Roy Williams, an incredible musician who could jam on any instrument. Roy happened to have a room opening up in Bedstuy, and offered up the space to us. It felt like we had entered into an art-centric version of the Chronicles of Narnia. Roy was friends with every musician, and his friends were the greatest musicians I'd ever met in my life. For all practical purposes, we were living in a music conservatory. It wasn't long before we were pulled into Roy's world and became a House Band.
The informal band grew closer and closer as they leaned on each other to survive the demands of being musicians in New York. The spirit of collaboration that imbued Hunt's initiation into music when she was six years old continued to insinuate itself into the life of the new tribe. A deep love of their craft allowed them to share both insecurities and creativity without ego or fear. How do we book gigs? Go on the road? Leverage Instagram? Put out an album? Perhaps unknown to them at the time, this was the beginning of a deep spiritual openness that would later translate to the musical language they created together.
The Gatherer's didn't formally coalesce as a band until Phoebe threw out an invitation to her New York circle of friends to travel together to India and study Indian classical music with Kala Ramnath. They practiced together for up to 10 hours a day, learning scale exercises individually and then coming together to improvise. When they returned, the momentum continued and Hunt intuitively knew that they needed to record together. That's how their first album, Shanti's Shadow, was born.
We realized how much we loved each other, how well we all worked together, and that we were making something special. Two years later, it's snowballed and we've played almost 200 dates a year at festivals, bars, venues and clubs. And we've never even had an argument. I realized that these are my favorite musicians to record and play with. They read my voice, my nuance, my expressions, my breath. They get the songs in a way that reveals a deeper meaning than I ever imagined possible.
Instead of following protocol and becoming a formalized band with rigid structure, this luminescent constellation of musicians run their individual projects as businesses and hire each other for gigs and tours. In one moment coalescing as Phoebe Hunt & The Gatherers, the next Brother Roy, on Friday, Sam Reider & The Human Hands.
We've never formally worked with a producer, because everybody in the band is a producer. Everyone has great ideas, and we always try everybody's idea, even if we don't think we'll like it. In this way, the songs live and breathe together. Our aim is to honor the music.
The original concept for Neither One of Us Is Wrong was to write a bunch of campfire songs that everyone could jam to. As the album came to life, Hunt realized that they were writing songs for the people, but they weren't really campfire songs. The album's title track was co-written with Hunt's long time mentor, Lari White Cannon, just before she was diagnosed with a terminal illness in 2018.
I had asked Lari to produce Neither One of Us Is Wrong, explaining that I wanted a collection of songs "for the people". Lari had a way of bringing universality into songs succinctly and with such power. After a few hours of drinking tea and conversation, she went to her piano and started playing chords. As she played, I wrote the lyrics. I did not know at the time that this co-creation would be our last encounter on the physical plane. She was diagnosed with cancer shortly thereafter and passed by January of 2018.
As if they somehow knew they were saying goodbye, the opening piano of Neither One of Us Is Wrong falls like a sweet sad rain, echoed by the lyrics as the song unfolds. Nothing ever happens/That doesn't touch the soul/The wind blows the tides move/To laws beyond control. The foreshadowing continues as the song reveals that Somewhere in the distance / I feel you walk away / And no part of my existence/Could ever ask of you to stay.
Although the dimensionality and tone of the album transformed that day in Lari's studio, the original intent to create songs for the people stuck. The unspoken agreement underscoring their collaboration that day was a tacit pact to yield to the laws of nature rather than to fight them.
It is just this fusion of the personal with the universal that is the magic of Neither One of Us Is Wrong. Through her music, Phoebe invokes 'liminal space' - a threshold between what has passed and what is to come, a pause in time that allows for miraculous transformation. Each song is a psalm to our every day, an exploration of the fears, fragility and vulnerability that unite us as humans. As we expose these stories to the light and recognize ourselves in each other, the charge of the old divisions dissipate, and we are free to recreate ourselves.
The album's first track 'Take My Love' opens nostalgically, with bittersweet reflection. White walls and a picture frame / Isolation has no shame / Just this side of lonely's all I see / Caught up in my moving game. Wistfulness pervades as the listener is drawn into loss and then the possibility that invariably exists on the other side of pain.
Open and standing before this crucial moment of self-recreation, the huge chorus hits hard. Beyond lyrics, actual healing moments are offered up through the reverberating melody. Take my love, Let it in /Like a thorn / Through your skin/Just this once and for all time/I'm a river running through you let me flow let me unwind.
Hunt wrote the song after she auditioned for NBC's The Voice, a decision that had conflicted and compelled her at the same time. Twisted by self-criticism, she pushed herself to do and be something unique in an environment that was more suitable for karaoke style singing to backing tracks. It ended up being the worst experience she'd ever had as far as her own personal performance.
When I plugged in, my fiddle sounded like a shrill dying cat. I tried to make it through the song but couldn't because it just sounded so bad. I tucked my tail between my legs and ran away. As I got on the airplane to head home, this chorus started playing in my mind. The song in my head was someone telling me to take their love. It was about going after your dream but not really knowing where you fit in the world, and trying to be different in a way that just makes you trip over your own shoelaces. As the first song on the album it feels powerful in the sense that we need to know that our insecurities are ok. It's okay to chase after our dreams, it's ok to mess up too. It doesn't mean you're bad at your art or bad at your craft, it just means you had a bad day. You can just move on from it, brush it off and keep going.
Never one to dwell in any one place for too long, Hunt swings in with 'Good Blood' and romps into our consciousness with a joyous Zydeco tinged incantation. I just want to have good blood with you/Take away the pain I'm going through/You can't make me dance and I won't sing/To prove to you my soul is clean/But I just want to have good blood with you.
Even though the song had been released previously, Phoebe instinctively knew that this old spirit had a place in her new canon of work as a pillar of reconciliation. The ecstatic fiddles, joyful accordion and rollicking organ clear a space for us to dance and shake off the poison of Bad Blood.
This mystic cycling between the past and looking forward toward continues with the story of 'Baba Vanga', a Bulgarian Clairvoyant and Herbalist (circa 1900) who suffered great loneliness and misfortune. Baba surfaced late one night after an all-day all-night jam session in Brooklyn that included Hunt, her sister Stephanie and Roy Williams. Tranced and intoxicated by the jam session and compelled by her story, they felt that Baba deserved a song in her honor.
Baba Vanga's story is told in the language of the blind seer's prophecies. Portentous lyrics and a melodic lamentation open the listener to realms other than logic. Someday when the moon is gone they'll take us for a ride / Will you go or will you stay? / Across the great divide / Across the great divide. As the words repeat, it is impossible not to feel the leap of faith that it takes to follow the shadowy call of our unconscious.
The final moments of Baba Vanga lay her to rest gently following a meditative fiddle interlude. Dawn on the outside/Here we all just need a friend/Here sun don't shine right/Always got a song to lend. Although loneliness can't be erased, music can soften the harshness of living and dying in this world of contradiction.