---
Biography Jean-Louis Matinier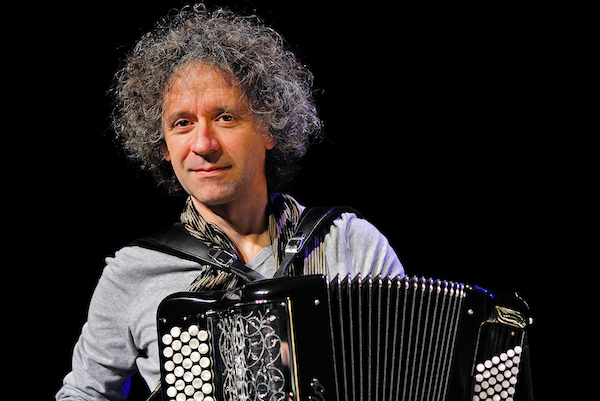 Jean Louis Matinier
Inventio is an inventive project at all levels, beginning with the instrumentation. Marco Ambrosini is one of very few musicians playing nyckelharpa outside the Swedish folk tradition, and Jean-Louis Matinier hassimilarly taken the accordion beyond any 'folkloric' frame of reference. On the present disc, the French-Italian duo plays a programme inspired by the baroque sonatas of Bach and Biber but also by the lyrical cadences of Pergolesi. They adapt and arrange works of each of these masters, and contribute compositions of their own.
Following a path fromancient to modern music, they improvise together, finding new sound-colour combinations in the special blending of their instruments. Inventio is a recording that will delight listeners who have appreciated Matinier's ECM recordings with Anouar Brahem, François Couturier's Tarkovsky Quartet, and Louis Sclavis, as well as Ambrosini's discs with Rolf Lislevand, Giovanna Pessi/Susanna Wallumrød and Helena Tulve.
Kevin Seddiki
Born in 1981, Kevin Seddiki began to play music with Classical Guitar, encouraged by his father, (who plays saxophone) and very early listens to a lot a different music.
Playing the Classical repertoire, his very curious of the many ways a guitar can sound or be approached, and starts to play with a young Rock band, where he plays Electric bass.
His former Teacher J.P Billet, and later on Argentinian Maestro Pablo Marquez will have a great influence on him, but also Dino Saluzzi, or American guitar legend Al di Meola, who teached him his very unique picking technique.
When he meets the Franco-Iranian percussion masters "Chemirani Trio" ( The father and his 2 sons) , he s totally fascinated by the possibilities and versatility of this instrument, that he starts to Study, Mainly with Keyvan Chemirani.
Also, his friendship and musical experiences with Bijan Chemirani will change many things in his approach, and playing guitar with him will also let him discover many things around this instrument and repertoires from the Iran, Turkey, and Greece.
Now playing guitar and Iranian Tombak, but also composing, K.Seddiki plays the whole world ( Carnegie Hall, Berliner Philarmonie, Teatro la Fenice, Tokyo and N.Y Blue Note, Seoul Jazz Festival...etc...) , with names such as Dino Saluzzi, Philip Catherine, Al Di Meola, Michel Legrand, Quatuor Voce...
When he met accordion player Jean-Louis Matinier , they immediately enjoyed sharing the same taste for Sound, Space, Rythm, Improvisation... And after some concerts in Duo in Europe, they recently recorded a First album for the label ECM Records, to be released in Spring 2020.