---
Biography Dexter Goldberg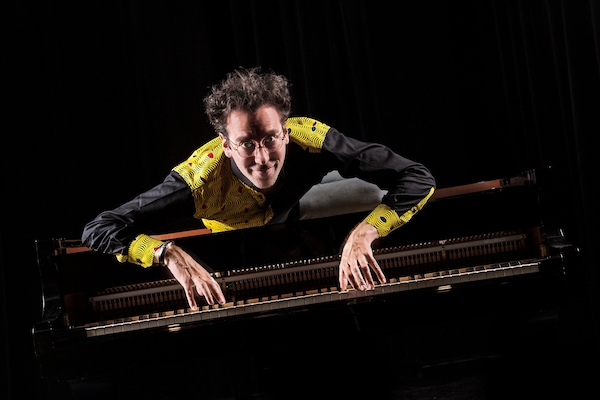 Dexter Goldberg
Born in 1987 in Paris, Dexter Goldberg is the son of professional musician parents, he began music with percussion and very quickly devoted himself to composition and improvisation. He only comes to the piano at the age of 16 but very quickly grows his creative universe there. From 2007, he studied with Olivier Hutman, Misja Fitzgerald, Philippe Baudoin.
In 2010, he was already hired by the American saxophonist Ricky Ford (Charles Mingus, McCoy Tyner etc.) for 2 CDs: "7095" (Harmonia Mundi) and the "Sacred Concert". He also meets drummer Sangoma Everett with whom he will tour internationally.
Dexter then joined the National Conservatory of Music in Paris (jazz and improvised music section) where he studied composition, piano and rhythm with Pierre De Bethmann, Dré Paellmaerts, François Thébèrge and Riccardo Del Fra. The same year he played with the famous Benny Golson in the festival "Les Tombées de la Nuit".
He recorded his third CD with his father Michel Goldberg as a quartet (CD "Pure Imagination") and appeared with various formations ("Ricky Ford Duo", "Robin Mansanti Trio," "BzH Crew" with Maxence Ravelomanantsoa, etc.).
He won the 1st prize of the Paris Conservatory in 2014 and decided to form the Dexter Goldberg Trio, with which he won the "Fresh Sound" device and the Jazz Honor Prize at the International Léopold Bellan Competition.
From then on, the talent of Dexter Goldberg continues to reveal itself through the places or partners who trust him (Sunset-Sunside, Jazz à l'Ouest, Prysme). Dexter also has an intense activity as a sideman and is regularly called upon to play with American and French jazz musicians (Ralph Moore, Gene Perla, Jason Marsalis, Steve McCraven, John Betsch to name but a few).
After a tour in Quebec, the trio recorded their first album "Tell Me Something New" which was released on the Jazz&People label in 2018, which was hailed by the press.