---
Bruno Ganz & Kirill Gerstein
---
Biography Bruno Ganz & Kirill Gerstein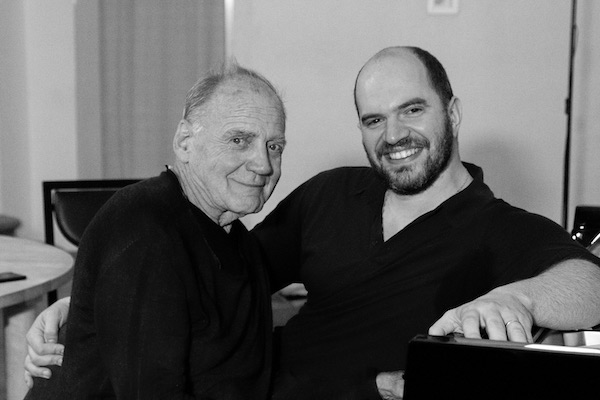 Kirill Gerstein
Gerstein's heritage combines the traditions of Russian, American and Central European music-making with an insatiable curiosity. These qualities and the relationships that he has developed with orchestras, conductors, instrumentalists, singers and composers, have led him to explore a huge spectrum of repertoire both new and old. From Bach to Adès, Gerstein's playing is distinguished by a ferocious technique and discerning intelligence, matched with an energetic, imaginative musical presence that places him at the top of his profession.
Born in the former Soviet Union, Gerstein is an American citizen based in Berlin. His career is similarly international, with solo and concerto engagements taking him from Europe to the United States, East Asia and Australia. This season, Gerstein's flair for curation will be on display as he presents residencies with the Bavarian Radio Symphony Orchestra (BRSO), London's Wigmore Hall and the Festival d'Aix-en-Provence. At the Wigmore, he gives a three-part concert series entitled Busoni and His World, and as 2023 Artist-in-Focus in France, presents chamber music with students of the Académie du Festival d'Aix-en-Provence who he will coach, a cabaret evening with HK Gruber, and Rachmaninov's Third Piano Concerto in celebration of the composer's 150th anniversary year. With the BRSO, Gerstein will be heard in a series of concerts at home and on tour with Alan Gilbert, Daniel Harding, Antonello Manacorda and Erina Yashima.
Elsewhere during 2022-23 season, international highlights include Rachmaninov's Second Piano Concerto with both the London Philharmonic and Nikolaj Szeps-Znaider, and St Louis Symphony and Hannu Lintu; Schumann's Piano Concerto with both The Cleveland Orchestra and Edward Gardner, and on tour with the City of Birmingham Symphony and Mirga Gražinytė-Tyla; Adès with the New York Philharmonic and Ruth Reinhardt; Berg with the Dresden Philharmonic and Marek Janowski; and Rachmaninov's Third Piano Concerto with the Tokyo Metropolitan Symphony and Alan Gilbert. In recital, Gerstein will present, together with Christian Tetzlaff, a new work for violin and piano written for them by Thomas Adès and commissioned by Kronberg Academy and the Wigmore Hall; music by Brahms, Hindemith, Clarke and Shostakovich with his close colleague Tabea Zimmermann on tour in Europe; Brahms and Ligeti Horn Trios with Alan Gilbert and Stefan Dohr; and a solo recital as part of the Concertgebouw's Great Pianists Series playing works by Stravinsky, Schubert and Liszt.
"Pianist Kirill Gerstein is a real phenomenon... The great musical landmarks of this evening were entertaining yet full of depth... Gerstein presents himself as a true artist, as a poet of sound who knows how to cast a spell on his listeners." (Der Tagesspiegel)
Presenting and commissioning new music has long been part of Gerstein's calling and in recent years, he has premièred two new piano concertos written especially for him: the first by British composer Thomas Adès, and the second by Austrian composer Thomas Larcher. Gerstein most recently gave Adès's Concerto for Piano and Orchestra its national premières in France, Belgium and Italy, and in the upcoming season, he and Adès will perform the concerto for the first time in Holland with the Concertgebouworkest and in Austria at the Vienna Musikverein. The pair will also take the work to the States for post-pandemic rescheduled performances with the Chicago Symphony. In the last year, Gerstein gave the world and national premières of Larcher's Piano Concerto with the Berliner Philharmonic – with whom he appeared again in July at the annual Waldbűhne open-air concert with Chief Conductor Kirill Petrenko - and Semyon Bychkov who initiated the commission, the Bergen Philharmonic Orchestra and Edward Gardner and the Netherlands Radio Philharmonic and Karina Canellakis. In addition to a planned recording for ECM with the Bergen Philharmonic next summer, Gerstein will present the work for the first time in Denmark with the Danish National Symphony Orchestra and Petr Popelka.
A long-time believer in the importance of teaching in the life of a musician, Kirill Gerstein is currently Professor of Piano at Berlin's Hanns Eisler Hochschule and on the faculty of Kronberg Academy. Under the auspices of Kronberg Academy, his series of free and open online seminars entitled Kirill Gerstein invites is now in its sixth season. Featuring conversations with leading artistic minds, guest speakers have included Ai Weiwei, Andreas Staier, Brad Melhdau, Thomas Adès, Iván Fischer, Alex Ross, Matthew Aucoin, Kirill Serebrennikov, Elizabeth Wilson, Simon & Gerard McBurney, Robert Levin, Reinhard Goebel, Simon Callow. Emma Smith, Deborah Borda, Rafael Viñoly, Sir Antonio Pappano, Kaija Saariaho, Joshua Redman, Khatchig Mouradian and Michael Haas.
Kirill Gerstein's latest recording project pairs music by Debussy with that of Armenian priest, musicologist and composer Komitas, featuring collaborations with Thomas Adès, Ruzan Mantashyan and Katia Skanavi. His first collaboration with myrios classics was 10 years ago and, as a result of the partnership, has realised many thoughtfully curated projects including Mozart Four-Hand Piano Sonatas with his mentor of 17 years, Ferenc Rados; a compendium of Thomas Adès's works for piano in collaboration with the composer which won a 2021 International Classical Music Award; Strauss's Enoch Arden with the late Bruno Ganz (Wings of Desire; Downfall); Busoni's monumental Piano Concerto with the Boston Symphony Orchestra and Sakari Oramo; The Gershwin Moment with the St Louis Symphony and David Robertson, including special appearances from Storm Large and Gerstein's former mentor Gary Burton; Liszt's Transcendental Études, picked by The New Yorker as one of 2016's notable recordings; and Tchaikovsky's First Piano Concerto in the composer's own final version from 1879.
Earlier recordings on myrios classics include Imaginary Pictures coupling Mussorgsky's Pictures at an Exhibition with Schumann's Carnaval; two discs of sonatas for viola and piano by Brahms, Schubert, Franck, Clarke and Vieuxtemps recorded with Tabea Zimmermann; and a recital disc of works by Schumann, Liszt and Knussen. Deutsche Grammophon's 2020 release of Gerstein's world première performance of Adès's Concerto for Piano and Orchestra with the Boston Symphony Orchestra won a 2020 Gramophone Award and was nominated for three GRAMMY Awards. He has additionally recorded Tchaikovsky with Semyon Bychkov and the Czech Philharmonic as part of The Tchaikovsky Project released by Decca Classics; and Scriabin with the Oslo Philharmonic and Vasily Petrenko for LAWO Classics.
Born in 1979 in Voronezh, Russia, Kirill Gerstein attended one of the country's special music schools for gifted children and taught himself to play jazz at home by listening to his parents' record collection. Following a chance encounter with jazz legend Gary Burton in St. Petersburg when he was 14, he was invited as the youngest student to attend the Berklee College of Music in Boston, where he studied jazz piano in tandem with his classical piano studies. At the age of 16, Gerstein decided to focus on classical music completing his undergraduate and graduate degrees with Solomon Mikowsky at New York's Manhattan School of Music, followed by further studies with Dmitri Bashkirov in Madrid and Ferenc Rados in Budapest. Gerstein is the sixth recipient of the prestigious Gilmore Artist Award – enabling him to commission new works from Timo Andres, Chick Corea, Alexander Goehr, Oliver Knussen and Brad Mehldau - First Prize winner at the 10th Arthur Rubinstein Competition and an Avery Fisher Career Grant holder. In May 2021, he was awarded an Honorary Doctor of Musical Arts degree from the Manhattan School of Music.
Bruno Ganz
1941-2019. Born in 1941 to a Swiss factory worker and an Italian mother, attended Zurich's University of Music and Theater. In 1970, he joined the ensemble of the Schaubühne Berlin. Following this, he worked with greatly renowned directors such as Peter Zadek, Peter Stein, Claus Peymann, Klaus Michael Grüber, Luc Bondy, and Dieter Dorn. In February 1996, actor Josef Meinrad bequeathed to Bruno Ganz the Iffland Ring - a prize passed on, for 100 years now, to "the most outstanding actors" on German stages. 2001 Swiss Film Award, Best Actor for his role in "Pane e tulipani" by Silvio Soldini. In 2004, he incarnated Adolf Hitler in "Der Untergang" ("Downfall"), produced by Bernd Eichinger. 2017 Swiss Films Award, Best Actor in «Un Juif pour l'exemple» by Jacob Berger and the Swiss Honorary Award.