---
Kateryna Kasper & Dmitry Ablogin
---
Biography Kateryna Kasper & Dmitry Ablogin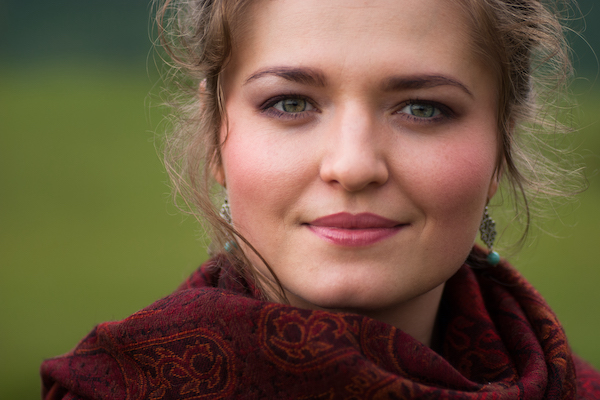 Kateryna Kasper
Stylistic versatility and authenticity of interpretation – these terms characterize the artistic agenda of the Ukrainian soprano Kateryna Kasper. A member of the Opera Frankfurt since 2014, she made her debut there already in 2011 as the Forest Bird in Wagner's Siegfried. She has since performed important roles from almost all epochs in Frankfurt. Those include (early) baroque opera such as ANIMA in Rappresentazione di anima e di corpo by Cavalieri, GIACINTA in L'Orontea by Cesti, ROMILDA and TIGRANE in Handel's Xerxes and Radamisto and ANGELICA in Vivaldi's Orlando furioso as well as the world premiere of Der Goldene Drache by Péter Eötvös, who has composed the role DIE JUNGE FRAU for Kateryna (a co-production with the Ensemble Modern Frankfurt). From the classic and romantic period, Kateryna has sung Mozart roles such as SUSANNA in Le nozze di Figaro and PAMINA in the Magic Flute, belcanto repertoire such as ANTONIDA in Glinka's Iwan Sussanin, the title role in Flotow's Martha, GРЕТЕL by Humperdinck, NANNETTA in Verdi's Falstaff as well as NAJADE (Ariadne auf Naxos) and – in particular – SOPHIE in Strauss' Rosenkavalier. But also the operetta can be found among Kateryna's repertoire with roles such as KOMTESSE ANASTASIA (Die Csárdásfürstin by Kálmán) and VALENCIENNE in Die Lustige Witwe by Lehár.
She has appeared at opera festivals in Edinburgh, Bregenz, Savonlinna and Bergen, and in St. Margarethen (Austria), as well as at the Los Angeles Opera.
During the 2021/22 season, Kateryna will make three role debuts: ORIANA in Händel's Amadigi, TYTANIA in Britten's A Midsummer Night's Dream and ORASIA in Telemann's Orpheus on tour with the B'Rock Orchestra and René Jacobs. Future plans include TAMIRI in Il re pastore at the Mozarteum in Salzburg, a concert tour of Bach's Christmas Oratorio with the Freiburg Baroque Orchestra, Mahler's 4th Symphony and Schubert Lieder with the Frankfurt Opera House and Museum's Orchestra.