---
Dino Saluzzi & Anja Lechner
---
Biography Dino Saluzzi & Anja Lechner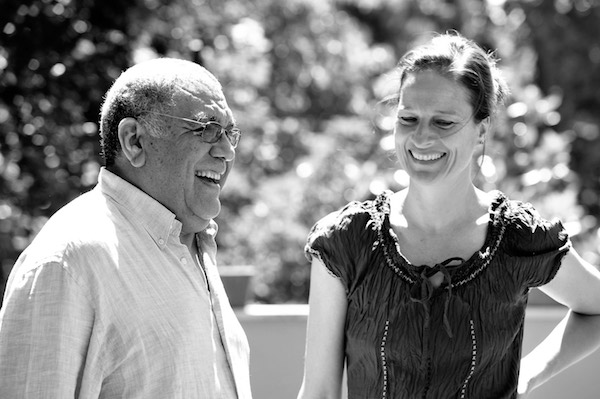 Anja Lechner
born in Kassel, Germany, studied with Heinrich Schiff and Janos Starker. She has performed as soloist with orchestras including the Amsterdam Sinfonietta, the Armenian Philharmonic Orchestra, the Slowakische Philharmonie, and the Tallinn Chamber Orchestra, and plays chamber music with partners including pianists Alexei Lubimov, Silke Avenhaus and Kirill Gerstein, cellist Agnès Vesterman, violinist Patricia Kopatchinskaja, and clarinetist Reto Bieri. Lechner has premiered compositions by Tigran Mansurian, Valentin Silvestrov, Tõnu Kõrvits and Annette Focks amongst others. For 18 years she was the cellist of the Rosamunde Quartet, whose acclaimed ECM New Series albums embraced a scope of music from Joseph Haydn to Thomas Larcher. Her most recent recordings include Mansurian's Quasi Parlando and Double Concerto with the Amsterdam Sinfonietta. In preparation is an album of solos and duos with Agnès Vesterman, playing compositions of Silvestrov.
Dino Saluzzi
At home in all aspects of classical music, she is also fluent in diverse improvisational traditions, and has a long-running collaboration with bandoneonist Dino Saluzzi – documented in the film El Encuentro and on albums including Ojos Negros and Navidad de Los Andes.
He was born on 20th May 1935 in Camposanto, Salta. Composer and bandoneon player. At the age of seven, he was initiated into music by his father, the folklorist Cayetano Saluzzi.
He has developed a language of his own which is stylistically anchored in the northwest of Argentina. It softens the frontiers between popular music and the so-called 'cult' music, between composition and improvisation, and between folk, jazz and tango.
His work includes music as a soloist, chamber music, and orchestra. When he arrived in Buenos Aires in the mid-50s, he joined the Regular Orchestra of Radio El Mundo. He has worked with Alfredo Gobbi, Roberto Caló, Enrique Francini and 'Gato' Barbieri, among others. His first recordings were made at RCA.
His international success as composer and performer came by the hand of Manfred Eicher, founder of the renowned German recording company ECM, whose artists (Arvo Pärt, Valentyn Sylvestrov, Tigran Mansurian and others) marked the artistic avant-garde of the 20th century music. He has been recording with Eicher since 1982. He has recorded with Charlie Haden, Marc Johnson, Tomasz Stanko, Anja Lechner, Jon Christensen, Palle Mikkelborn and others.
In 1991 he started recording with his family band (Celso, Félix, Matías and José María Saluzzi), whose last published work is El Valle de la Infancia (2014). He has been taking part in international festival circuits and his performance has been acclaimed in the most famous theatres in the world. Films by Jean-Luc Godard, Pedro Almodóvar and others have included his music. Documentaries about him have been made in North America and Europe. His latest work is Imágenes (2015) for piano.