---
Kirill Gerstein, St. Louis Symphony Orchestra, David Robertson, Gary Burton, Strom Large
---
Biography Kirill Gerstein, St. Louis Symphony Orchestra, David Robertson, Gary Burton, Strom Large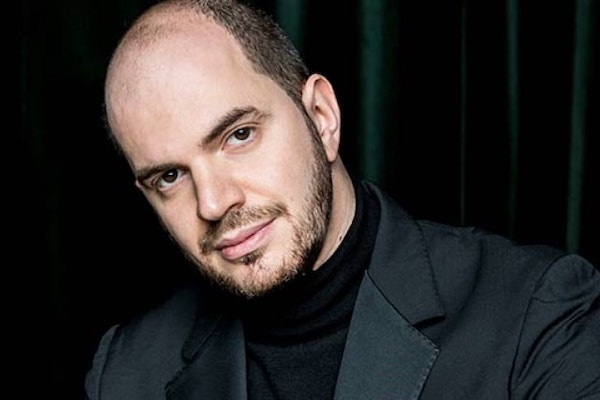 Kirill Gerstein
Gerstein's heritage combines the traditions of Russian, American and Central European music-making with an insatiable curiosity. These qualities and the relationships that he has developed with orchestras, conductors, instrumentalists, singers and composers, have led him to explore a huge spectrum of repertoire both new and old. From Bach to Adès, Gerstein's playing is distinguished by its clarity of expression, discerning intelligence and virtuosity, and an energetic, imaginative musical presence that places him at the top of his profession.
Born in the former Soviet Union, Gerstein is an American citizen based in Berlin. His career is similarly international with world-wide performances ranging from concerts with the Chicago and Boston Orchestras, the Leipzig Gewandhaus, Royal Concertgebouw, Vienna and Berlin Philharmonics, London Symphony Orchestra and the Bavarian Radio Symphony Orchestra, to recitals in London, Berlin, Vienna, Paris and New York. A long-time believer in the role of teaching, Kirill Gerstein is currently on the faculty of Kronberg Academy and Professor of Piano at Berlin's Hanns Eisler Hochschule. Under the auspices of Kronberg Academy, his series of free and open online seminars entitled Kirill Gerstein invites is now into its fifth season, featuring conversations with leading musicians, artists, and thinkers. Guest speakers to date have included Ai Weiwei, Andreas Staier, Brad Melhdau, Thomas Adès, Iván Fischer, Alex Ross, Elizabeth Wilson, Simon & Gerard McBurney, Robert Levin, Reinhard Goebel, Simon Callow. Emma Smith, Deborah Borda, Rafael Viñoly, Sir Antonio Pappano and Samuel Jay Keyser.
Over the last year, Gerstein's decade long relationship with Thomas Adès resulted in the release of two recordings: the world première of Adès's Concerto for Piano and Orchestra written especially for Gerstein released by Deutsche Grammophon; and a compendium of Thomas Adès's works for piano on myrios classics. Both discs garnered an impressive series of accolades which included a 2021 International Classical Music Award, a 2020 Gramophone Award and three GRAMMY Award nominations. In May 2021 in Amsterdam, Gerstein premièred another new concerto written especially for him, this time by the Austrian composer Thomas Larcher, co-commissioned by the Berlin Philharmonic, Czech Philharmonic, Netherlands Radio Philharmonic and Vienna Konzerthaus.
Kirill Gerstein's latest release is a recording of Mozart Four-Hand Piano Sonatas with his mentor of 17-years, Ferenc Rados, for myrios classics. He first collaborated with the label in 2010 and, through the partnership has been able to realise many thoughtfully curated projects including Strauss's Enoch Arden with the late Bruno Ganz (Wings of Desire; Downfall), recorded shortly before the actor's death in February 2019; Busoni's monumental Piano Concerto with the Boston Symphony Orchestra and Sakari Oramo; and The Gershwin Moment with the St Louis Symphony, David Robertson, Gerstein's jazz mentor Gary Burton and Storm Large. Gerstein has additionally recorded Scriabin with the Oslo Philharmonic and Vasily Petrenko for LAWO Classics; and Tchaikovsky with Semyon Bychkov and the Czech Philharmonic as part of The Tchaikovsky Project released by Decca Classics.
Born in 1979 in Voronezh, Russia, Kirill Gerstein attended one of the country's special music schools for gifted children and taught himself to play jazz by listening to his parents' record collection. Following a chance encounter with jazz legend Gary Burton in St. Petersburg when he was 14, he was invited as the youngest student to attend the Berklee College of Music in Boston, where he studied jazz piano in tandem with his classical piano studies. At the age of 16, Gerstein decided to focus on classical music completing his undergraduate and graduate degrees with Solomon Mikowsky at New York's Manhattan School of Music, followed by further studies with Dmitri Bashkirov in Madrid and Ferenc Rados in Budapest. Gerstein is the sixth recipient of the prestigious Gilmore Artist Award, First Prize winner at the 10th Arthur Rubinstein Competition and an Avery Fisher Career Grant holder. In May 2021, he was awarded an Honorary Doctor of Musical Arts degree from the Manhattan School of Music.