---
Andreea Chira, South West German Chamber Orchestra, Pforzheim & Douglas Bostock
---
Biography Andreea Chira, South West German Chamber Orchestra, Pforzheim & Douglas Bostock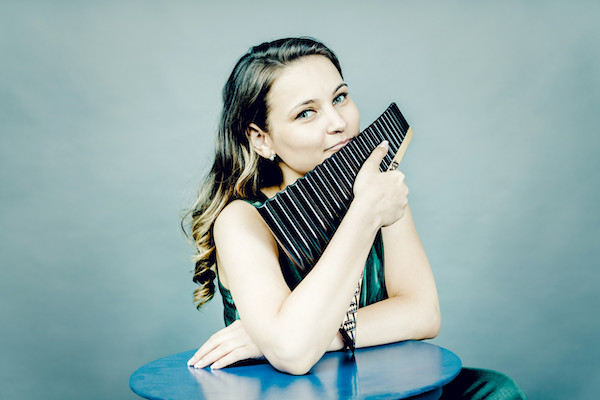 Andreea Chira
"Pan flutist Andreea Chira, born in Bucharest, Romania, is an exceptional artist and true ambassador of her instrument. Her musical interpretations, always passionate and well-balanced, are characterized by crystal clear sound, vivid virtuosity, creative precision and excellent sense of melodic line. Andreea Chira's unconditional devotion to music is appreciated by audiences and critics alike." Izidor Mendaš
As a Vienna-based soloist, chamber musician and pan flute teacher, she is mostly active in Austria, Germany, Switzerland, Italy and Romania. After years of stage experience, she delved into the more specific classical repertoire and intensified cooperation with conductors, composers and other musicians: projects with maestro Claudio Scimone, Gian Luigi Zampieri and composer Constantin Arvinte turned out to be particularly successful. Since 2017 she has performed with numerous orchestras, including I Solisti Veneti, Muse Symphony Wind Orchestra, Camerata Janáček, Elbląska Orkiestra Kameralna, ton.pendium Ensemble Wien, Wels Symphony Orchestra, Filarmonica Oltenia and Filarmonica Pitești. In 2019, she was invited on tour to China and South Korea: her concerts, master classes and workshops were received with great admiration and acclaim. On a regular basis she has also cooperated with the Austrian Cultural Forum (ÖKF).
Andreea Chira's Vienna concert series 4 Composers 4 Concerts with the Syrinx Consort, organized in 2021, has significantly contributed to enhance cultural exchange on a local level. In the summer of 2022, CPO label will release her remarkable CD recording of Vivaldi's Four Seasons with the Südwestdeutsches Kammerorchester Pforzheim under the direction of maestro Douglas Bostock.