---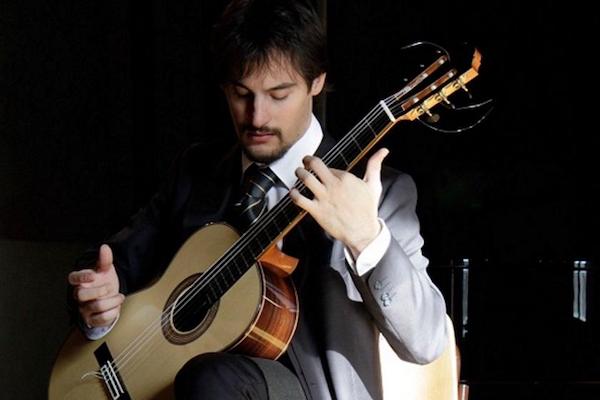 Marco Ramelli
is a guitarist, composer, lecturer and artistic director from Milano, Italy.
Born in Milan (Italy), Marco has graduated from the Royal Conservatoire of Scotland with a Masters Degree of Performance (APEL) with Distinction under the supervision of Prof. Allan Neave and Prof. Rory Boyle in composition.
Marco began studying guitar with Prof. Andrea Dieci. In just seven years he graduated as a private candidate from the Giuseppe Verdi Conservatoire of Music in Milan and obtained a second level postgraduate diploma (with full marks and magna com laude) at the Luca Marenzio Conservatoire of Music in Darfo Boario Terme (Italy). Marco obtained a further postgraduate diploma in "Chamber Music" with full marks; all in addition to a bachelor's degree in Computer science. He has participated in masterclasses throughout Europe with world-renowned guitarists such as Pavel Steidl, Oscar Ghiglia and the Japanese harpist Naoko Yoshino.
Marco currently teaches at DIT conservatory of Music and Drama in Dublin and he is a Doctorate candidate (guitar and composition) at the RCS. Marco's RCS Contemporary Guitar research project involves composers, guitar maker and institutions from all over the world with the aim of widening the guitar repertoire and find new possible development in the technique and the construction of this beautiful instruments.
During his career he has been awarded various First Prizes in international competitions all over Europe, including the inaugural "Scottish International Guitar Competition" at the Glasgow Royal Conservatoire of Scotland, the "Governors' Prize for Strings", the "Blas Sanchez" competition in Spain, the "Città di Seveso" competition, the "Rocco Peruggini" competition, the Riviera Etrusca competition. In addition, he won the second prize in the renowned International Seville Guitar Competition (Spain) and in the "Concours guitare espagnol" in Albi (France). He was a finalist of the Gredo San Diego competition in Madrid (Spain).
His concertistic career also includes performances at several international music festivals, including the "Stagione Internazionale della Chitarra di Lodi", the "Big Guitar Weekend" in Glasgow, "Aberdeen International Youth Festival", the "Guitar Master" in Brighton, "Concerti al Castello Sforzesco" in Milano, Festival Internazionale di Lagonegro, the "Edinburgh Fringe Festival", the "Ullapool Guitar Festival" and the "Tolmen International Guitar Festival" in Cornwall.
As a composer, Marco won the prestigious "World Guitar Composition Competition" in Serbia with his composition "Im Nebel, homage to Kengiro Azuma". His music is performed in Italy and abroad by internationally acclaimed soloists and ensembles including Lorenzo Micheli, Sean Shibe, Andrea Dieci, Marta Dolzadelli, Alberto Mesirca, Duo Ricci-Colonna, Sasha Savaloni, and Juliane Bergemann.
As a keen advocate of contemporary music, Marco has established fruitful and continuous collaborations with some composers. It is especially worth mentioning its first recording of pieces by Blas Sanchez (ES), Rory Boyle (UK), Sergio Sorrentino (IT) and Tomas Marco (ES). Renowned composers dedicated music to him including Raffaele De Giacometti, Fabio Selvafiorita, Matteo Rigotti, Kai Nieminem, e Sergio Sorrentino.
His debut album "Energico" was released by Royal Conservatoire of Scotland and Nimbus Alliance in 2013 with music by Paganini, Llobet, Boyle and Takemitsu. Classical Guitar Magazine wrote about the recording: "A major step towards international recognition from a young guitarists with much to offer". He has also made recordings for Naxos, Dynamic records and Radio of Las Palmas.
But his dedication to music is not only confined to his performances: Marco is also Artistic Director of some music festivals in Italy – for instance, the increasingly important Young European Guitar Stars and Festival Corde d'Autunno in Milan in collaboration with the Sistema Italia – as well as a very enthusiastic guitar teacher. From 2004 to 2014 he inspired the creation of more than sixty events that have evolved a lot of young artists.
Among other activities, Marco regularly teaches in courses and masterclasses organized each year in some of the most beautiful Italian countryside and mountains, including the "Suono, Chitarra e Natura" and "Corso estivo città di Sulbiate e Mezzago". In 2015 he was assistant in the Summer Guitar Course of the Royal Conservatoire of Scotland.