---
Angelo Verploegen, Ed Verhoeff & Eric van der Westen
---
Biography Angelo Verploegen, Ed Verhoeff & Eric van der Westen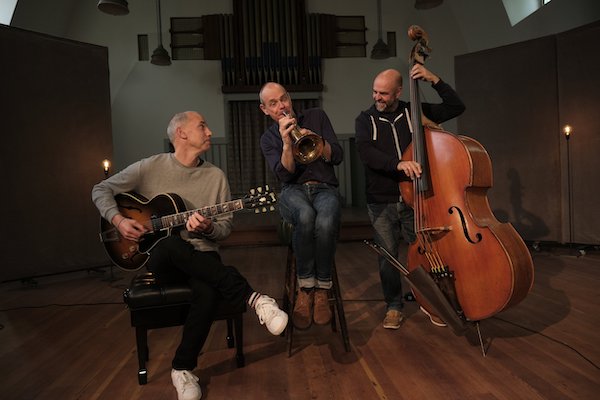 Angelo Verploegen
studied Musicology at the University of Amsterdam and trumpet at the Sweelinck Conservatory in Amsterdam. Since the end of the 80s, he has been very active with sextet The Houdini's (18 CDs; tours in Europe, USA, Canada, Australia; projects with Trijntje Oosterhuis, Amsterdam Sinfonietta, Schönberg Ensemble, Jacob ter Veldhuis). From the late 1990s onward, smaller groups were added, such as the trio Toïs (2 CDs; collaboration with Louis Andriesen, music for feature film Wilde Mossels) and the Amsterdam Jazz Trio (2 CDs; Japan tour). More recent solo projects are Executive Lounge (with Jeroen van Vliet, among others) and The Ballad Album, which was nominated for an Edison in 2012. He is also a frequent performer with the Metropole Orchestra and the Jazz Orchestra of the Concertgebouw and in smaller line-ups with Michiel Braam, Paul van Kemenade, Tony Overwater, Corrie van Binsbergen, Soo Cho and others. As a session musician, he has recorded with De Dijk, Frank Boeijen, Gino Vannelli, Venice, Stef Bos, Gerard van Maasakkers and many others. As a producer, Angelo worked with Benjamin Herman, Jesse van Ruller, Wolfert Brederode, Denise Jannah, Kenny Wheeler, Misha Mengelberg, Sven Ratzke. Photo Angelo by Cees van de Ven.
Ed Verhoeff
started playing at the age of 13. Soon Ed was playing in various pop and blues bands. Studying at the conservatories of Utrecht and The Hague, jazz music really sparked something in him. The continuous challenge of this boundless music has always kept his fascination and is still growing up until now. Today Ed finds himself in the jazz and world music circuit.
Through his career of more than 25 years Ed has developed himself to be a versatile guitarist with a very personal and expressive sound. His versatility, his intuitive, sensitive and at times powerful playing makes him a wanted musician who has co-operated or still co-operates with a.o. Hein van de Geyn's Baseline, The Paul Berner Band, Adam Nussbaum, John Abercrombie, Philip Catherine, Gerard Presencer, Rick Margitza, Ivan Lins, Lincoln Goines, Alex Acuna, Andy Narell, Martin Verdonk, Karim Ziad, Izaline Calister, Lilian Vieira's Samba Soul, the Dutch Metropole Orchestra and such Dutch celebrities as Mathilde Santing and Ramses Shaffy.
Eric Van Der Western
was born in Zierikzee (Zeeland) in The Netherlands on August 29, 1963. At the age of 10 he started to play guitar, switched to bass and as a teenager, formed his own pop bands playing hard rock and new wave in the late 70's and early 80's. He received first serious music education at the age of 19, after quitting his psychology study at the University, when he decided to become a professional musician. It was then that he picked up the double bass. After half a year he enrolled Sweelinck Conservatory in Amsterdam where he graduated in 1990.
While in school Eric started working with Dutch jazz legends like Willem van Manen and Paul van Kemenade followed by countless other (inter)national jazz legends.
He developed a career as composer of modern crossover improvised music in which his band Quadrant (Extended) played a pivotal role. He recorded many albums under his own name and numerous more as a side man.
During the 90's Eric took a serious interest in African music which brought him all over Africa and resulted in concerts with a wide range of top musicians.
In recent decennium Eric has dug deep into Turkish culture, playing all varieties of music with Derya Türkan, Erkan Oğur, Fahir Atakoğlu, Uğur Işik and The Yarkin Brothers. He became a member of The Sezen Aksu Acoustic Band and played all over the world in famous venues like Carnegie Hall New York, Royal Albert Hall London, Circus Stockholm, sometimes playing to audiences of over 50.000 people.
At the end of that era Eric directed his focus on his roots and started the acoustic duo "A Traveller's Tale" with guitarist Aron Raams: a structural musical vehicle based on their mutual admiration for blues, folk, country, jazz & Americana. This was followed by Eric van der Westen's New Quadrant version featuring violin, trombone, trumpet/fluegelhorn, guitar & double bass. Their 1st album was released in October 2021 as part of a trilogy: The Crown & Lobster Trilogy: Part III: New Quadrant.
On November 27 2021 the 1st part was released: The Crown & Lobster Trilogy Part I: PTM (xs) Modus Operandi. This is a small version of his large band Private Time Machine that followed a slightly similar path being influenced by his early influences of heavy blues rock, soul, funk and of course jazz. A powerhouse small big band in which Eric plays only bass guitar and electric upright but also sings.
In 2022 the PTM Project Us-Min(G)-Us will see the light with a contemporary look at the music of Eric's guru Charles Mingus with rappers & poets added to the line-up.
The 3rd part: The Crown & Lobster Trilogy Part II: Blue Is All That's Left is a an overview of a selection of ballads out of Eric's songbook to which some new tunes are added. Release in the fall of 2022. With his brother Dieter van der Westen he works as a duo and in Dieter's band which has an eclectic Americana profile. Check their website for more info.
Besides all musical efforts, Eric has always pursued a business career as well. He runs a Record Label EWM Music since 1998 and took part in several startups like Greenbag.
Since 2019 Eric is heading the Festival Better Get Hit (In Your Soul) in Tilburg The Netherlands. It's a music festival fully dedicated to all forms of Afro-American music:.