---
Doug Deming & the Jewel Tones
---
Biography Doug Deming & the Jewel Tones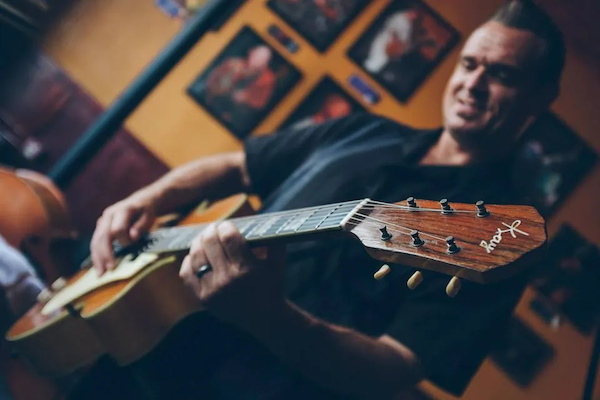 Doug Deming
Eastside Detroit native Doug Deming, now hailing from Florida's Gulf Coast, has garnered widespread attention for his deft guitar work and memorable songwriting. With a nod to the likes of T-Bone Walker and Charlie Christian, as well as Luther Tucker and Robert Jr. Lockwood, Doug leaves his own mark whether swingin' on the big jazz box, or playing straight up blues on the solid body Fender guitar. Since playing the local Detroit scene beginning in the early 90's, Doug has spent much of the following years touring and recording with top blues artists, including Fabulous Thunderbirds frontman Kim Wilson, legendary Louisiana swamp bluesman Lazy Lester, Texas' Gary Primich, Chicago greats Johnny "Yard Dog" Jones and A.C. Reed, as well as Detroit's own Queen of the Blues, Alberta Adams. Leading his band The Jewel Tones, Doug continues to bring noteworthy traditional and original roots music to his audiences.
Doug's third recording, What's it Gonna Take, exhibits the outstanding guitar work and remarkable singing and songwriting that have become Doug's calling card. This critically acclaimed Vizztone debut spent several months on the Living Blues Charts Top Ten, and earned Doug the 2013 Blues Blast Music Awards Sean Costello Rising Star Award.
COMPLICATED MESS, the most recent recording from Doug Deming & The Jewel Tones, is their most courageous effort to date, combining traditional blues, jazz, swing, soul and R&B, delivered in 10 original Deming tunes along with three re-tooled covers. Captured at Bigtone Records in Hayward, CA, this analog recording achieves the tone and warm, authentic atmosphere ideal for Deming's style. The critics took notice, and COMPLICATED MESS showed up on several 'best of' 2018 lists, as well as a nomination for the 2019 Blues Blast Music Awards 'Blues Band of the Year'.
Andrew Gohman
Born in Ohio and raised in Florida, Andrew Gohman started playing traditional blues guitar at the age of 15 and picked up the bass much later at age 25. Andrew played the Tampa/St. Pete blues scene regularly with his group the Bottom Feeders until joining the Jewel Tones full time in 2011. A bona fide audiophile, with interests ranging from traditional blues to jump to jazz, Andrew credits many influences, including Ransom Knowling, Ernest "Big" Crawford, Keith Ferguson, Jack Myers and Bill Willis, to name just a few. Andrew brings the grease to every performance, whether laying down the groove on his Fender, or pullin' and slappin' on his '42 Kay upright.
Zack Pomerleau
Born in 1993 in Auburn, Maine, Zack had an early start at music receiving his first drum set by the age of five. At age of twelve he began performing locally in clubs as a solo act, singing and playing guitar, and by age fourteen Zack was fronting his own group as a harmonica player, playing local gigs and festivals, and eventually representing the state in the International Blues Competition in 2010. As a drummer Zack has performed with several prominent Maine local acts including DW Gill and the Blues Prophets and Tommy O'Connell and his Juke Joint Devils, among others, before moving to Florida in 2019 to join the Jewel Tones as full time drummer. Since 2020, the Jewel Tones have been performing as a trio, and Zack has upped the ante with his solid and spirited traditional-inspired electric blues harmonica playing - in tandem with playing drums. Zack officially endorses Hohner harmonicas and the Rackit! Microphone by BlowsMeAway Productions, and uses Victoria amps.