---
Thomas Wynn & The Believers
---
Biography Thomas Wynn & The Believers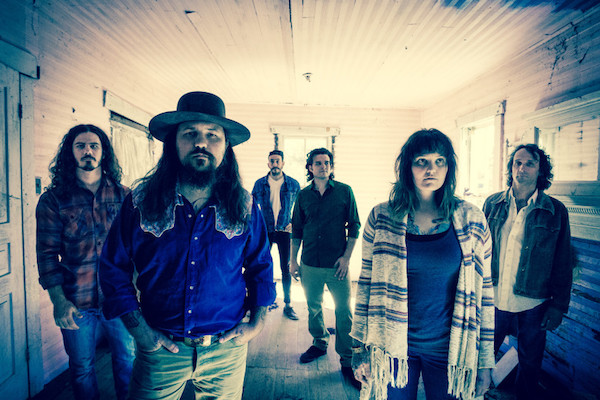 Thomas Wynn and The Believers
A combination of blistering rock and southern soul, sibling-led Thomas Wynn and The Believers is a 6-piece fiery ensemble dubbed by Soundboard as "Southern Rock Muscle ~ Soulful Rock n' Blues." Gibson-sponsored from Orlando, Florida, TW&TB is known for their powerful LIVE performances playing the original music circuit and making "believers" wherever they go. The band personifies a new era that truly crosses generations with just really, really, really good music. If you like Tom Petty, The Band, The Black Crowes, CCR & Pink Floyd, you'll love The Believers!
For the sixth consecutive year, Thomas Wynn and The Believers repeatedly reigns as Central Florida's #1 Rock Band. Orlando Weekly's Best of Orlando Readers' Choice again crowned TW&TB as their Rock favorite (plus #1 Folk/Country Band and #2 singer-songwriter accolades for the band's namesake TW.)
Wynn's spirit-moving vocals, passionate lyrics, and emotional delivery are uniquely supported by sister Olivia's engaging and captivating voice and presence. Her strong vocal harmonies (the other lead) and wide-eyed response is the perfect companion to her brother's yearning banshee cries. The duo calls their perfect blend "blood harmonies"; the press calls the tandem thunder "their secret weapon." Backed by an explosive tight band, they've crafted a new vein of rock -- gritty, yet pure uplifting Soul Rock, a mixture of the classics, R&B and gospel -- creating a sound that has an identity of its own.
Georgia Music Hall Of Famer Alan Walden says, "One of the newest, brightest, tightest, smoothest, most energetic bands to ever come through." Reax Music Magazine states "For once, you have a Florida band that is truly Florida. They look like Florida, they sound like Florida - with a touch of Molly Hatchett, The Band, Neil Young, and The Black Crowes. Not fad hipster, not transplant Florida, but Florida Florida. These guys are on the leading edge of creating a new southern rock scene." Best New Bands writes, "They embody everything authentic and raw."
Hailing from a musical family, the siblings are heavily influenced by their father, Tom Wynn, the original drummer of the country-rockers Cowboy, one of Macon-based Capricorn Studio's (Allman Brothers Band, Marshall Tucker Band, Elvin Bishop, Wet Willie) legendary bands from the 1970s. His influence, as well as their faith and church upbringing, undoubtedly shaped their songwriting and musical interests. Their deeply-rooted principles certainly laid the foundation for what the Wynns bring to The Believers' sound.
Their musical history begins with The Wynn Brothers Band (2005-2008) -- the first family endeavor co-led with older brother Jordan ( bass guitar) that also included Papa Wynn on drums. The band released Feel the Good (2006), the title track a signature song still performed today. But when marriages and other separate goals emerged, the Brothers' band became defunct . . . but by mid 2009, a new direction and desire to continue birthed the band as it's known today, with Thomas and Olivia at the helm . . .
Their debut album The Reason (2009), produced by Tony Battaglia, is a strong, well-crafted studio sampling of Wynn's ability as a unique songwriter, the lyrics and vocals captured perfectly; the band's choice to self-produce their sophomoric album, Brothers and Sisters (2012), for some, was a truer representation of the emotion and intensity experienced in their live performances. Believers' classics are found on both recordings.
The current lineup has stabilized and matured with even more cohesiveness over the last two years (albeit harmonica player "Bell" has been a staple since the inception). The band welcomed Dave Wagner (bass) and Ryan Miranda (drums) in 2012 and keyboardist Colin Fei as recently as early 2014. The band has already tracked a third album, set to be released around the new year 2015.