---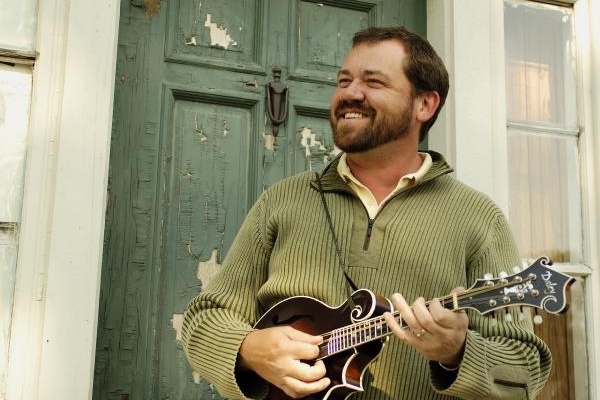 Tyminski
Dynamic on stage, down to earth off stage, 14-time Grammy winner Dan Tyminski has the voice, instrumental chops, and charisma to be counted among the most recognizable and popular male vocalists on today's bluegrass and country music scenes. Yet his demeanor – low-key and laconically sly – ensures that all the accolades are the product of his own innate gifts. Since 1994, his ace instrumental skill (mainly on guitar, but also on mandolin) and burnished, soulful tenor singing have been key components of Alison Krauss and Union Station, arguably the most visible and successful bluegrass band in the modern era.
Tyminski notably stepped ever more deeply into the popular conscience as the singing voice of George Clooney in the Coen Brothers' Odyssean farce O Brother, Where Art Thou? In addition to being a pivotal element in the plot of the film, his powerful rendition of the Stanley Brothers' version of "I Am a Man of Constant Sorrow" became a surprise hit single – firing off a popular renaissance in bluegrass in the process. The song was given the Country Music Association (CMA) award for Single of the Year, the International Bluegrass Music Association (IBMA) Award for Song of the Year, and a Grammy Award for Country Collaboration with Vocals. The project was also honored with the IBMA Award for Album of the Year, as well as the Grammy Award for Album of the Year – a rare achievement for a soundtrack project.
In 2013, Dan's voice again made international musical rounds in a collaboration on another unusual project, when he appeared as a guest lead vocalist for Swedish DJ/electronic dance artist, Avicii. The song, titled "Hey Brother," appeared on Avicii's album True and has become an international, chart-topping hit.
Growing up in the unlikely bluegrass state of Vermont, Dan Tyminski very quickly saw there was little difference between the rolling hills of New England and those of East Tennessee, as his parents raised him to a soundtrack of bluegrass and old-time country music. When barely 21 years old, he was plucked from the ranks of regional bluegrass bands to join the Lonesome River Band, first appearing on their 1989 release Looking for Yourself.
Dan has since been a member of Alison Krauss and Union Station for the past 20 years, where his forceful vocals showcase the band's commitment to classic bluegrass, even as their sound has evolved into a richly hued hybrid that draws from a myriad of styles and sounds. The silken voice of Krauss and more roughly- hewed quality of Tyminski's make an unlikely and utterly riveting combination that has resonated in performances ranging from hometown bluegrass festivals all the way to the East Room of the White House.
With Union Station, Tyminski has participated in a string of highly regarded and commercially successful albums, including So Long So Wrong (1997), New Favorite (2001), Live (2001), Lonely Runs Both Ways (2004) and Paper Airplane (2011). He also appears on the Krauss solo album Forget About It (1999) and on her multi-platinum 1995 compilation Now That I've Found You: A Collection, as well as 2007's A Hundred Miles or More: A Collection. The band has been showered in Grammy, CMA, and IBMA awards, among others, and Tyminski has been named Male Vocalist of the Year by the IBMA four times and was recognized as 2004's Male Vocalist of the Year by the Society for the Preservation of Bluegrass Music in America (SPBGMA).
Tyminski has also released two acclaimed solo albums, the soul-stirring Carry Me Across the Mountain (2000) and the Grammy-nominated Wheels (2008), a riveting collection that blends the sophistication of Union Station with the intensity of Dan's hard-driving approach. Wheels was named the 2009 Album of the Year by the International Bluegrass Music Association.
Dan actively tours with both Union Station and as a solo act in a variety of configurations, and has also appeared as part of Vince Gill's band and has toured with Jerry Douglas and with jazz great Charlie Haden. In 2004, Dan was invited by Eric Clapton to participate in Clapton's Crossroads Guitar Festival, and then again as a part of Union Station in 2007. He has been featured in Rolling Stone, Country Weekly, CNN.com, and by the Associated Press, and has performed on The Late Show with David Letterman, The Tonight Show, Late Night with Conan O'Brien, the Grammy Awards, Good Morning America, the CMA Awards, the ACM Awards, and even Sesame Street. He is also a highly regarded session musician and vocalist, having contributed to projects for Leann Rimes, Brad Paisley, Joan Osborne, Reba McEntire, Dolly Parton, Alan Jackson and dozens of others.
Adding one more eclectic achievement to his resume, Dan designed his very own signature edition guitar through Martin & Co. Guitars. The new version is modeled after his own beloved 1946 Martin D-28, which was Dan's first guitar.
When not on the road, Tyminski lives in the Nashville area and works on his golf game. He often participates in charity and celebrity golf tournaments, and was named by Golf Digest as one of the top ten golfers in music.